Jon Gruden sees 'ways to go' before Raiders turnaround
October 12, 2018 - 1:34 pm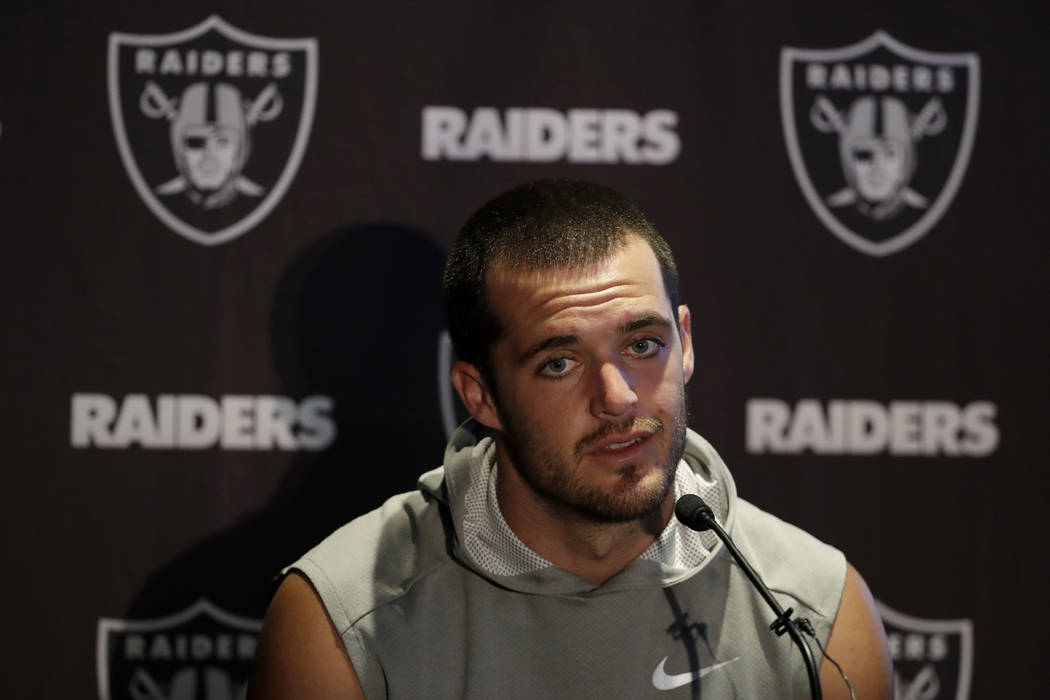 LONDON — The Raiders used an airline and cabin configuration they typically don't for game travel, this one from Virgin Atlantic Airways featuring a bevy of beds on which coaches and players could snooze Thursday and Friday during a red-eye flight from Oakland.
The team checked into a hotel at which it previously hadn't stayed.
For most, this visit to England was the first.
New plane. New hotel. New country. Same question and answer.
At separate news conferences, coach Jon Gruden and five Raiders players met with reporters shortly after landing here in London. An English reporter asked Gruden how close his 2018 team is to turning the corner. On this global stage, Gruden made no promises.
Gruden has been asked a variance of this question on several occasions since rejoining the franchise in January. Each time, he's provided a measured assessment, one that is consistent with his belief the franchise has not found enough production from talent acquired in recent drafts.
And that opinion was formed before defensive end Khalil Mack was traded last month.
"Well, I think we have a ways to go," Gruden said. "We got a lot to prove. We have a lot to prove. As I've said earlier, we're playing eight rookies right now. Before the season the season is over, we might be playing more than that. So we have a lot to prove. We need to see some people get healthy and help us. But we've got a lot to prove."
The Raiders carry a 1-4 record into Sunday's game against the Seattle Seahawks at Wembley Stadium.
Gruden's roster features a blend of veterans — 20 players are 29 of older — and the aforementioned rookie class. Left tackle Kolton Miller, defensive tackle P.J. Hall, offensive tackle Brandon Parker, defensive end Arden Key, defensive tackle Mo Hurst, punter Johnny Townsend, kicker Matt McCrane and long snapper Trent Sieg comprise the latter.
The team expects to be without some experience Sunday.
Defensive end Frostree Rucker, 35, and left guard Kelechi Osemele, 29, were listed as doubtful Friday to face the Seahawks. The two are dealing with a neck and knee injury, respectively. Missing this game would afford both extra time to recover without risk of injury aggravation, give the Raiders' bye will be held next week.
Center/guard Jon Feliciano would make his second straight start in Osemele's place.
"Whether you're a young team or a veteran team, winning one game is no fun," Gruden said. "But I think we're determined to continue building this team. A lot of these veteran players are here for that sole responsibility of laying down the foundation of how we want to play, how we want to prepare, how we want to practice and how we want to compete.
"And I'm proud of our team for doing that. We haven't won a lot of games, but we've had our opportunities; we've been there. Hopefully we continue to do that and see the emergence of some young Oakland Raiders."
Gruden has not used the word "rebuilding" to characterize his club.
But what he's described fits the definition for an organization with one winning season the past 15 years.
More Raiders: Follow all of our Raiders coverage online at reviewjournal.com/Raiders and @NFLinVegas on Twitter.
Contact reporter Michael Gehlken at mgehlken@reviewjournal.com. Follow @GehlkenNFL on Twitter.