Kicking adjustment makes difference for Raiders' Daniel Carlson
Updated December 8, 2018 - 8:38 pm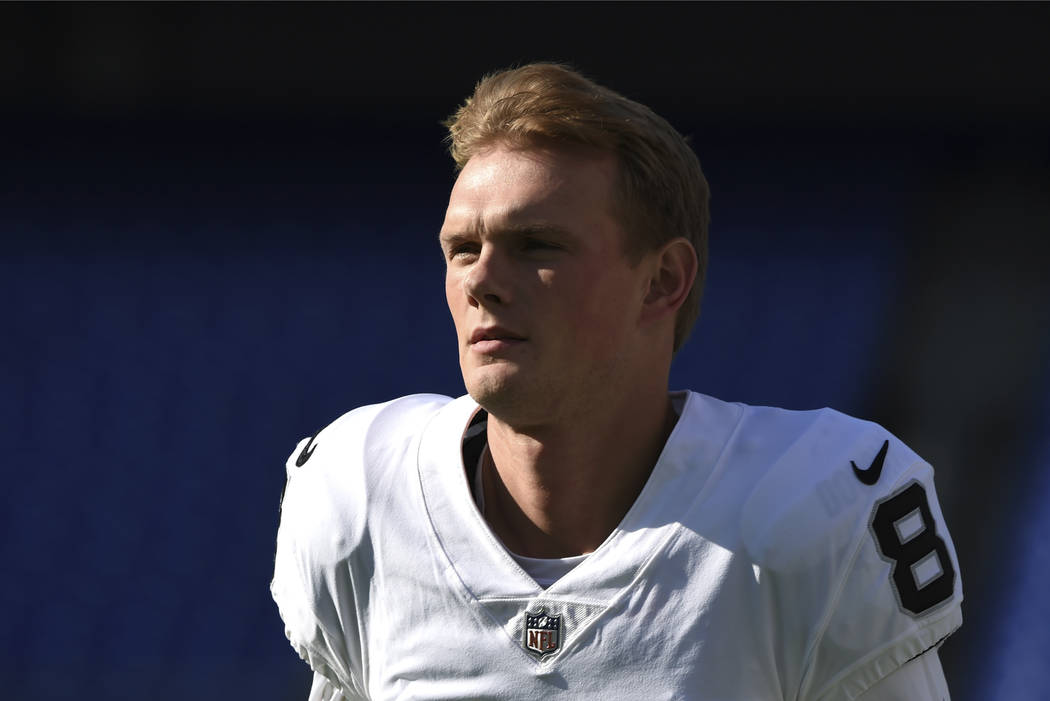 ALAMEDA, Calif. — Daniel Carlson needed to take a step forward.
He knew it. His longtime coach knew it.
So on Sept. 19, two days after the Minnesota Vikings waived him, Carlson and his wife, Katherine, went for a Wednesday drive, commuting three hours south of Minneapolis to Ankeny, Iowa. In the Midwest suburb, he found catharsis, shaking off a rocky NFL start while adjusting his on-field technique.
It was here he turned into the kicker the Raiders know.
On Oct. 23, Carlson became the fifth kicker to inhabit their roster this league year. The union's circuitous nature benefited both. Since joining the Raiders, the rookie fifth-round pick has converted nine of 10 field goals, including his first 50-yard attempt last weekend. He can continue his strong start Sunday against the Pittsburgh Steelers.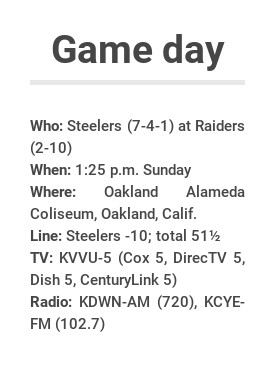 Minnesota cut the 23-year-old a day after he missed three field goals, including two in overtime, during a tie versus the Green Bay Packers. If he has looked like a different kicker for Oakland, that is because, in some sense, he is.
As a free agent, he made a subtle but significant adjustment in his kicking approach. It came under the advisement of trusted coach Jamie Kohl, director of Kohl's Kicking Camps. The two have worked together since Carlson was a high school junior. That year, Kohl ranked him the No. 1 kicker in the country, a development Carlson credits to fueling his Auburn-bound college recruitment.
Before a field goal for the Raiders, Carlson paces to his same starting position as he did in Minnesota.
But now, leading with his size 14 left cleat, he takes one step closer to the ball.
"It's just easier to control when you're a little more compact," said Carlson, who estimates he begins his approach around 124 inches from the hold instead of 140. "Those steps aren't as long. You try to be as repeatable as possible. And I'm already 6 feet 4, 6 feet 5. I'm almost at a disadvantage there because it's harder to be repeatable when you're that tall. As a 5-10 kicker, it's easier to have the same exact angles and levers and stuff.
"I have to continue to work on staying compact in my tall frame. That way, every time I get to the ball, it's the exact same. Adrenaline can change things, too. So you try to be the exact same as in practice as you are in a game and just carry all that technique over."
This adjustment was long considered.
Carlson said he mulled it before his 2017 season at Auburn when coming off a stout 28 of 32 campaign. Ultimately, he stayed the course. During the 2018 offseason, Kohl did not love Carlson's approach and considered tweaking it, but comfort is important for any kicker. And up to that point, it served Carlson well, between his performance in high-pressure scenarios like the Iron Bowl — he went 5-for-5 versus Alabama as a senior — as well as the NFL Scouting Combine.
With his old technique, Carlson was the first kicker selected in the 2018 draft; the Vikings traded up to select him.
Then, Week 2 happened.
"It was the prime time to say, 'You know what, Daniel? We're going to do it a different way,'" Kohl said in a phone interview. "He knew that this was probably the better way based on him being around a lot of our older veterans who had been successful, and he knew he was kind of an outlier, some of the things he was doing. And we were at a perfect spot where he basically had come to a point where he was open to trying it.
"My biggest concern was would he have enough time to adapt to it and be able to do it in pressure situations. I just feel everything timed out perfectly this season with him getting a couple weeks to work on it with live snap-hold, and to gain confidence in it so that when he got his next opportunity with Oakland, he was ready for it."
Carlson spent four days at Kohl's home in Ankeny, making the adjustment. They eased their way into it, ultimately evolving into live reps. Comfort grew over the four days. In the weeks that followed, it grew even more.
Kohl could hear it in the kicker's voice: He was ready for his chance in the NFL.
He's seized it.
"Yeah, he is the real deal," Raiders coach Jon Gruden said last Sunday. "He was a pretty high draft kick for a place-kicker. He had his struggles in Minnesota, but he has found his rhythm here and hopefully he is a long-term solution for us."
More Raiders: Follow at reviewjournal.com/Raiders and @NFLinVegas on Twitter.
Contact reporter Michael Gehlken at mgehlken@reviewjournal.com. Follow @GehlkenNFL on Twitter.