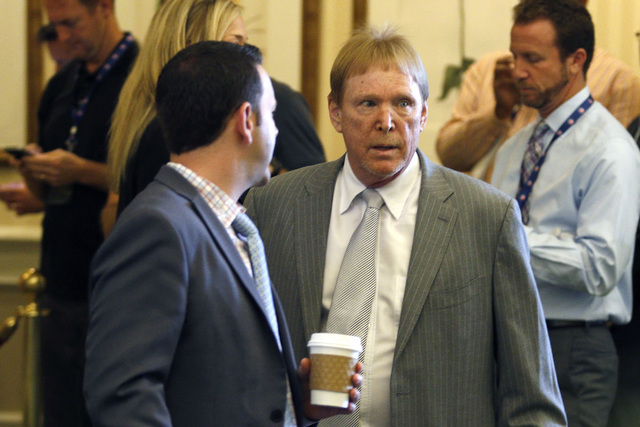 CHARLOTTE, N.C. — Less than a month after Oakland Raiders owner Mark Davis made a "commitment to Las Vegas," it seems several powerful figures within the league are prepared to follow his lead.
The Raiders' potential relocation to Las Vegas will be one of the hottest topics Tuesday, when team owners converge at the Ballantyne Hotel for the NFL Spring Meeting. Sites for future Super Bowls and changes in the replay system also will be discussed.
Although it's not on the agenda, a fair amount of media attention probably will be paid to New England Patriots quarterback Tom Brady, who filed an appeal Monday of his four-game suspension in the controversial Deflategate case.
Brady's long legal struggle with the league has created a rift between NFL commissioner Roger Goodell and Patriots owner Robert Kraft. It will be interesting to see if Goodell and Kraft also disagree on the Las Vegas issue.
Kraft's comments made national headlines last week, when he said Las Vegas "would be good for the NFL," and he plans to support Davis if he wants to move the Raiders to a city that was considered taboo for decades because of legal gambling.
Jerry Jones of the Dallas Cowboys also has voiced support for Las Vegas, putting at least two of league's most powerful owners in the Raiders' corner. Jones and Kraft invested in DraftKings, a fantasy sports business.
Jones was instrumental in helping Rams owner Stan Kroenke relocate his franchise from St. Louis to Los Angeles this year. It is believed Kroenke also is in favor of the Raiders' move to Las Vegas, which would require the approval of 24 of the league's 32 owners.
"I think we'll make them an offer they can't refuse," Davis said on April 28, when a plan to build a $1.4 billion, 65,000-seat stadium near the Strip was presented to the Southern Nevada Tourism Infrastructure Committee. The project would be funded through a public-private partnership including the Raiders, Las Vegas Sands Corp. and Majestic Realty.
For the Las Vegas Raiders to become a reality, numerous hurdles must cleared, and the funding plan for the stadium might be the most imposing obstacle. It will be addressed further Thursday at the next SNTIC meeting.
Goodell has never publicly supported Las Vegas as an NFL city, and he is expected to face that question again at his Tuesday news conference. But several significant owners and league executives appear to be warming to the idea.
The Review-Journal is owned by the family of Las Vegas Sands Chairman and CEO Sheldon Adelson.
Contact reporter Matt Youmans at myoumans@reviewjournal.com or 702-387-2907. Follow on Twitter: @mattyoumans247