Locals with NFL ties eager for Raiders to arrive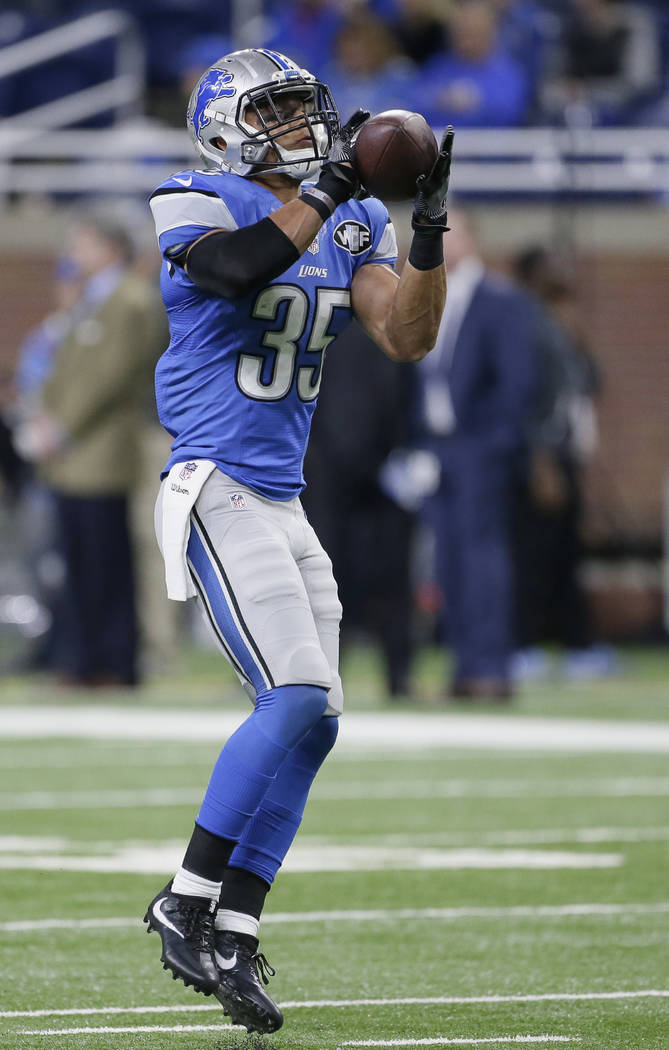 Miles Killebrew missed out on the opportunity to play in Las Vegas during his college career.
Killebrew was in his redshirt year as a freshman in 2011 when Southern Utah stormed into Sam Boyd Stadium and returned three interceptions for scores in a 41-16 win over UNLV.
Now, the Detroit Lions' second-year safety hopes he gets another chance to play here as a professional.
"As a native, oh my goodness, it would be a dream come true, man. Full circle," said Killebrew, a Foothill High product. "Playing high school ball there in Henderson and then, boom, I'm playing there in the league … and see family and friends in the stands. That'd be sweet."
Killebrew isn't the only local player with NFL ties excited about the Raiders' move to Las Vegas, which was approved Monday by NFL owners.
Former UNLV quarterback Randall Cunningham, who spent 16 seasons with four NFL teams, believes having the Raiders will boost the city's profile and help promote football at the grass-roots level.
"I think it's going to help bring something big to Las Vegas," Cunningham said. "If you compare us, and this is just me, I look at Arizona and it has a lot of great things going on. It's a lot like Las Vegas when it comes to the type of people that are there. It's like big brother, as far as I look at them. They're a city that has professional sports, and they take it serious.
"When you bring in a team like the Raiders and you bring in a hockey team like the (Golden) Knights, what happens is you say, 'OK, we're taking it to the next level.'"
The Raiders finished 12-4 in 2016 and reached the playoffs for the first time in 14 seasons.
That success, with the presence of franchise quarterback Derek Carr, will help the team attract new local fans, according to Vernon Fox, a Cimarron-Memorial graduate who played eight seasons in the NFL.
"I reached out to Derek Carr. I went to school (at Fresno State) with his brother (David), so we just kind of hit each other up on social media back when everything first started going," said Fox, the football coach at Faith Lutheran High.
"I'm happy with what he's done and what he's accomplished. It makes me cheer for the Raiders, even though they were a team I always had to battle."
A business visit
One of the concerns about having an NFL team in Las Vegas is legal gambling, but former New York Giants coach and valley resident Jim Fassel doesn't believe that will be an issue.
"During the offseason program and the season, these guys are tied up," said Fassel, the Raiders' offensive coordinator in 1995. "I think a lot of people think that they're just in town to party and all that. No, they're working. Today's athlete, 98 percent of them, are totally committed to their team."
Killebrew echoed Fassel's sentiments and added that players can find trouble in every city they play.
"I think you get guys who are serious about their craft, like a lot of the guys are on the Raiders — I know some of them personally — I think you'll have nothing but success," Killebrew said. "I think they'll handle it like adults, and I think everyone will when they come to Vegas.
"It's not for pleasure, it would be for their profession. It would be to play a game and have fun and put on a good show for the fans."
Fassel was cautiously optimistic the Raiders will build a fan base locally despite the large number of transplants from other parts of the country loyal to their hometown teams.
He said sellouts at the new stadium aren't guaranteed, citing the large number of casino employees working on weekends and the cost of attending an NFL game.
"The Oakland Raiders' fans, they're hardcore, hardworking people," Fassel said. "You look at their crowd. It's not a coat-and-tie crowd."
Contact reporter David Schoen at dschoen@reviewjournal.com or 702-387-5203. Follow @DavidSchoenLVRJ on Twitter.