Mark Davis says he remains focused on moving Raiders to Las Vegas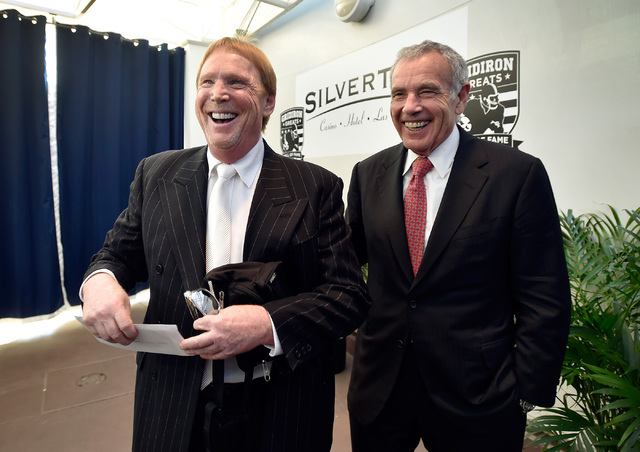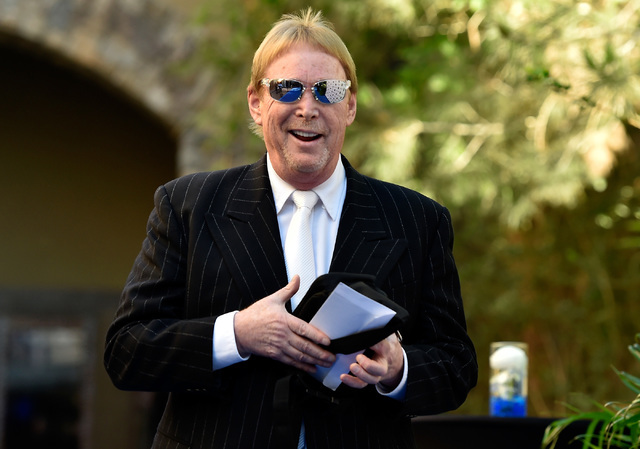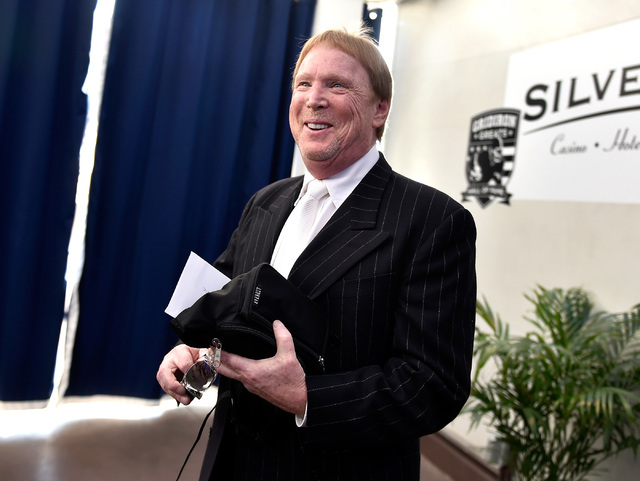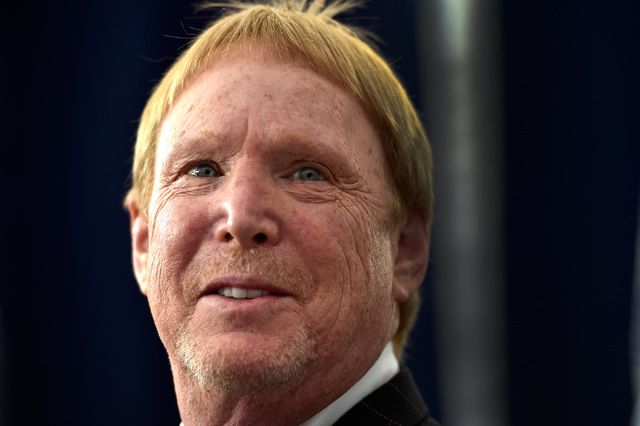 On a 105-degree afternoon, Mark Davis wore a black suit and sunglasses. The owner of the Oakland Raiders had no complaints about the heat. He said he wants Las Vegas to be home.
"It's always been a city that's always intrigued my family," he said. "My father for many years loved coming to Las Vegas."
Al Davis died in 2011, and his son inherited the storied NFL team. A state-of-the-art stadium in Oakland was not part of the deal. So, Mark Davis' search for a new stadium has led him to the desert, where he likes what he sees.
If an unforeseen stadium proposal pops up in Oakland in the near future, Davis was asked if he might turn his back on a plan to relocate the Raiders to Las Vegas.
"No, I would not, and I've made that clear," he said. "The opportunity came up in Las Vegas, and we're giving it full bore. This is not a pawn in a game. We are serious.
"Right now, I'm focused on Las Vegas. We think it could make a great marriage with Las Vegas and the Raiders."
Davis attended the Gridiron Greats Hall of Fame induction dinner Friday at the Silverton. He has made numerous trips to Las Vegas this year to help push for a proposed $1.4 billion, 65,000-seat stadium near the Strip.
The project would be funded through a public-private partnership including the Raiders, Las Vegas Sands Corp. and Majestic Realty. The proposal calls for $750 million from the public via a hotel tax and $650 million or more from private sources, with the Raiders contributing approximately $500 million.
"The main thing is finding out if the public contribution is going to be there," Davis said. "Whatever private money is needed, we'll come up with that."
Mike Ditka, former Chicago Bears player and coach, is chairman of the Gridiron Greats, a charity that assists retired NFL players. Ditka briefly got emotional while speaking about former players who face mental and physical hardships. He also said he supports the Raiders' potential move.
"I have no problem with it. Las Vegas is a great city," Ditka said. "I came here a lot when I was young, and I went home poor. Now I come here a lot when I've got money, and I never go home poor, because you learn. Wisdom is not wasted on the young. I got old, and I got smart."
Ditka brushed off concerns about NFL players running into trouble with gambling in Las Vegas.
"When you go there, you have an opportunity to gamble or not gamble. Nobody forces you to do anything in life. It's a choice you make," Ditka said. "An individual can find gambling in every city in America — Chicago, New York, Philadelphia, Denver, anywhere — and they can find places to get in trouble in any city in America."
Davis stressed the importance of "bringing the community together," with the Raiders working with local charities and schools, and the team not relying on fans from other cities flocking to Las Vegas to fill the stadium.
"The conventions are very important to this city economically and everything else," Davis said. "But what the team brings is something that's here 24/7, 365 days a year, and it brings pride to a community, and I think that's very valuable.
"To build the local market is the most important thing, and that's what we're looking to do. The people here have been great. All of us want to have a home."
The Review-Journal is owned by the family of Las Vegas Sands Chairman and CEO Sheldon Adelson.
Contact reporter Matt Youmans at myoumans@reviewjournal.com or 702-387-2907. Follow on Twitter: @mattyoumans247
RELATED ITEMS
NFL owners warming to idea of Raiders moving to Las Vegas
Committee hears financing details, timeline for domed stadium that could lure Raiders to Las Vegas
Mark Davis 'very optimistic' about Las Vegas; Roger Goodell taps brakes on Raiders move — VIDEO
Minority investors want to block Raiders move to Las Vegas
More NFL in Las Vegas coverage