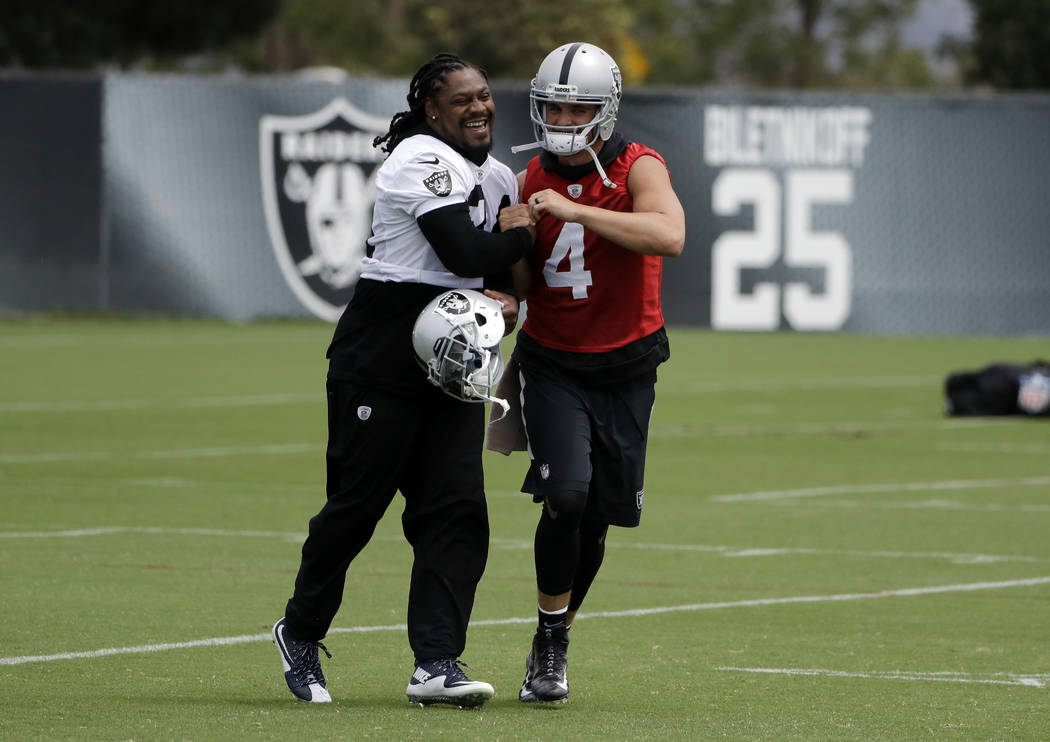 ALAMEDA, Calif. — Trust between NFL teammates is integral.
A cornerback must trust his safety to provide him help downfield. A running back must trust his blockers to seal a lane. A quarterback must trust all 10 other players to do their jobs, being at the right place at the right time.
Marshawn Lynch has been a Raider for mere weeks.
He already has earned his quarterback's trust.
Lynch practiced Tuesday at the Raiders' fourth session of organized team activities. He was a limited participant, however, as he still learns the team's playbook. He observed most drills, walking toward the huddle to hear Derek Carr relay a play call before stepping back to watch it unfold.
Carr trusts Lynch will pick up the playbook soon enough.
His trust factor extends beyond that, too.
"Once he showed up, he's shown that he's a loyal, faithful person," Carr said. "I know for a fact he has my back no matter what. As a quarterback with a running back, it's the same thing I had with Latavius (Murray), same thing I had with D-Mac (Darren McFadden) and M.J.D. (Maurice Jones-Drew). I knew they had my back. It's the same thing with him and the younger backs. I know beyond a shadow of a doubt that they have my back.
"Right away, I could just feel it from him. There was no feeling-out process or anything. I just knew. He's told me multiple times that he does. To have that as a quarterback is big because he's the last line of defense picking up blitzes. He's the one fighting for extra yards to move the chains for us."
More Raiders: Follow all of our Oakland Raiders-to-Las Vegas coverage online at reviewjournal.com/Raiders and @NFLinVegas on Twitter.
Contact reporter Michael Gehlken at mgehlken@reviewjournal.com. Follow @GehlkenNFL on Twitter.