Moving Oakland Raiders to Las Vegas will be tough task for NFL
Updated April 2, 2017 - 9:06 pm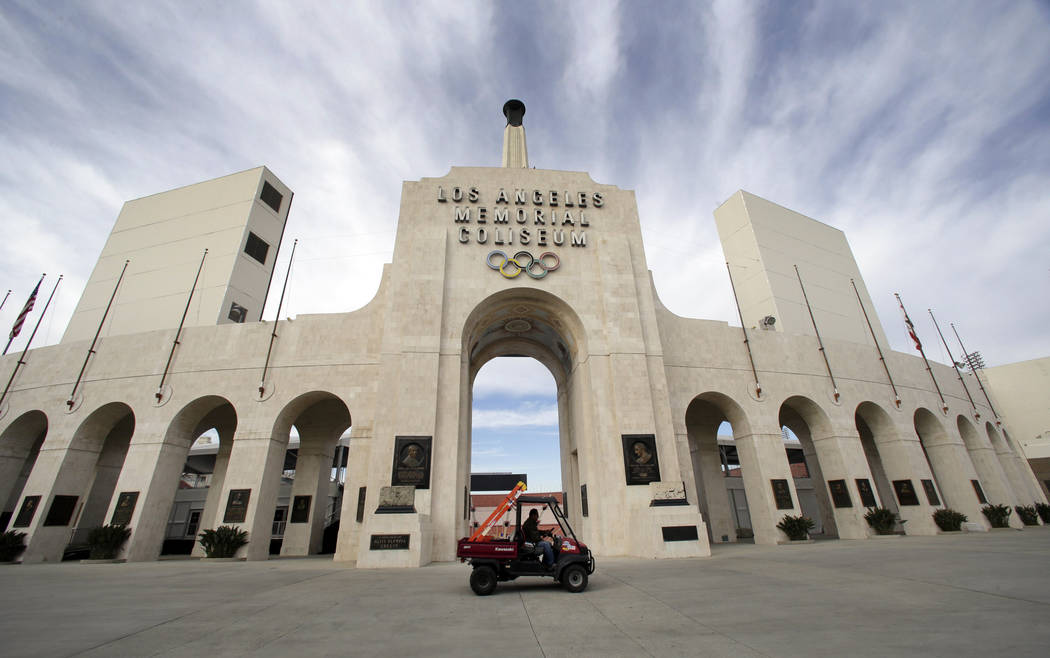 NFL relocation brings dislocation. Hauling a pro football franchise from one NFL city to another is an unsettling, Herculean task.
In the case of the Oakland Raiders, time is on their side, yes it is. A fancy-schmanzy, revenue-generating stadium will be built at an estimated cost of $1.9 billion in time for the 2020 season. But it is conceivable that the Raiders could play in Las Vegas sooner than that or in another city.
While teams who have fled well-established NFL cities all experienced similar logistical hardships and concerns, unique circumstances make a one-way-fits-all model impractical when it comes to backing up the moving trucks. The first NFL team to relocate was the Decatur Staleys in 1921 to Chicago, where they were renamed the Bears the following year.
In the modern era, whether it was the Cardinals leaving St. Louis for Arizona in 1988, or the Cleveland Browns bolting to morph into the Baltimore Ravens in 1996, monumental obstacles remained part of the deal.
Estimating the costs for a humongous multimillion-dollar massive relocation, one the Raiders declined to reveal, is even more difficult with a soft move date. Regardless, other costs, particularly psychological ones, are incurred to the organization, players and employees, many of which have families to consider.
Moving cities might be an exciting prospect for some but it is one filled with stress and anxiety for all.
"Unfortunately, the two teams (Rams and Chargers) who moved to Los Angeles had a tougher process. We have enough time where we don't have to up and do it immediately,'' said Raiders president Marc Badain, who has consulted with other NFL teams about smoothing the difficult process. "But there is trepidation — not everyone loves to move.
"The coaching profession is used to it. The players, for the most part, are mostly younger (so) they haven't established roots there (in the Bay Area). The players who have been there (longer), obviously it's going to be disruptive to them. We'll do what we can to minimize (the disruptions). It's very important to Mark (Davis, Raiders' general managing partner) that we're not rushed.''
The Rams, who left St. Louis last year, did not have the luxury of time.
Owners voted to relocate them in January 2016. By last September, those familiar swirl helmets banged around in old, outdated L.A. Coliseum. Likewise, the Chargers, who notified the league in January 2017 that they were departing San Diego, have to quickly pack their bags to be ready to play next September.
Logistics became so complicated for the Rams last season that they were forced to use practice facilities in Thousand Oaks, Irvine and Oxnard. (When they finally relocate to a permanent home in 2019, it will be a doozy of a ballyard — a gleaming, record-$2.6-billion stadium in Inglewood, funded without taxpayer involvement).
Fortunately for the Rams' franchise, it hired a head coach who knew a little something about swapping NFL cities: Jeff Fisher.
In the 1990s, Fisher assisted the Houston Oilers' geographical makeover not to one new city but two in two years, meaning that the Oilers played in three different cities in three consecutive seasons (1996-98). Twenty years ago, Bud Adams, the late Oilers owner, moved the team to Tennessee when he could not secure a deal for a stadium in Houston.
For one season, the Oilers temporarily played in Memphis. It was a disaster. Low attendance and fan indifference prompted Adams to immediately move the team to Nashville the following season, where they played at Vanderbilt Stadium. Both seasons, the team was known as the Tennessee Oilers.
By 1999, the Tennessee Titans were playing in a new stadium (Adelphia Coliseum later became Nissan Stadium).
"Not an easy experience,'' is how the former Rams coach described franchise transitions.
When it was all said and done in Los Angeles, the Rams used 32 18-wheel transport rigs to move everything from essential training equipment and valuable IT hardware to a Lombardi Trophy and a taxidermy-stuffed Ram named Cliff.
"The number one factor is the logistics for helping (players) move — they're innocents,'' said Kevin Byrne, senior vice president of public and community relations for the Ravens. "If we had it to do over, I think we would have invested more in having people help our players. And, we would've appealed to the league for (financial) allowances.
"There are a lot of expenses involved and the players get angry about it. I would appeal to the players association and the league that we're the ones forcing players (to move) — they shouldn't be penalized in any way.''
The collective bargaining agreement contains a provision relating to what teams are responsible for regarding player moving costs.
Occasionally, an NFL team will move faster than the most recent relocations to southern California.
In 1984, the Baltimore Colts made their interstate move quicker than former quarterback Peyton Manning used to yell "Omaha!'' at the line of scrimmage. The Colts stole away in the middle of the night, loading up 15 Mayflower moving trucks, taking not only decades of tradition but also the team nickname and that famous blue horseshoe logo. Destination: Indianapolis.
Pro football fans in the Hoosier state rejoiced. Back in Baltimore? Denizens of "Charm City'' felt rejected and angry. Mostly, they were heartbroken. Yes, fans' emotions and lives are dislodged, too. When the Raiders finally pack up and leave Oakland, they will leave behind more than an outdated, empty stadium.
Jon Mark Saraceno can be reached at jsaraceno@reviewjournal.com. Follow @jonnysaraceno on Twitter.