New England Patriots move up in RJ's NFL rankings heading into Week 7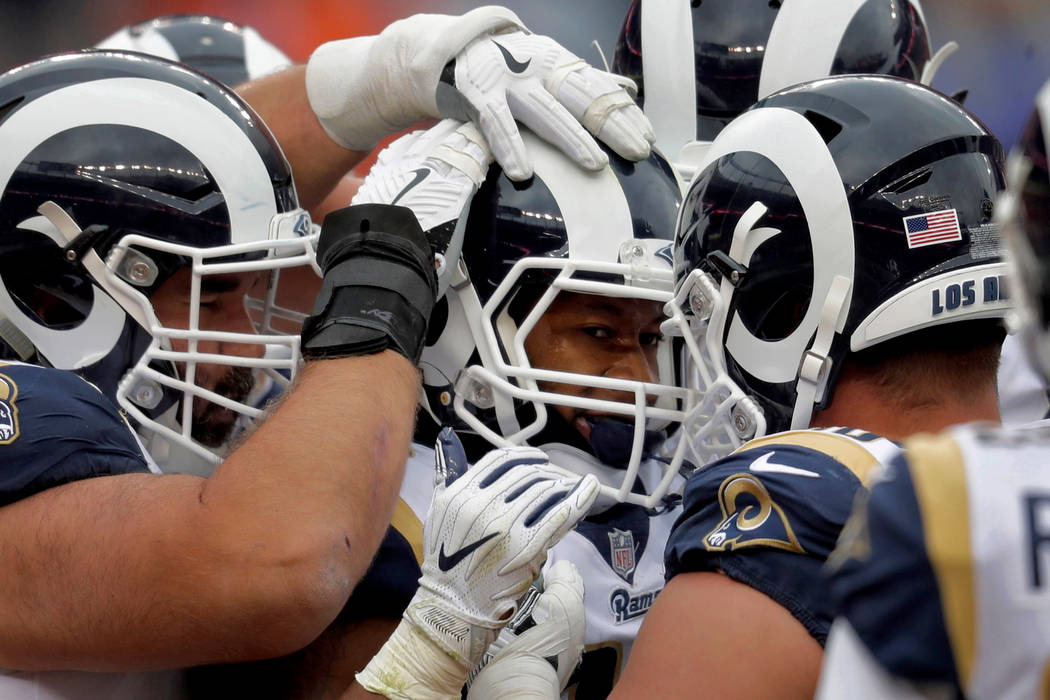 WEEK 7 RANKINGS
Review-Journal NFL reporter Gilbert Manzano's weekly rankings, with last week's ranking in parentheses.
1. Rams 6-0 (1). Todd Gurley's 200-plus rushing yards helped the Rams escape Denver with a win and remain the league's lone undefeated team.
2. Patriots 4-2 (4). The sleeping giant is awake. The Patriots' sluggish September seems like ages ago after a signature win against the Chiefs.
3. Chiefs 5-1 (2). Patrick Mahomes' and Tyreek Hill's clutch performances weren't enough to get a road win in New England.
4. Saints 4-1 (3). Drew Brees and the Saints return from a bye week to face the Ravens on the road.
5. Vikings 3-2-1 (9). An easy two-game stretch against the Cardinals last week and the Jets on Sunday might be what the Vikings needed to get back on track.
6. Chargers 4-2 (11). It's so hard to believe in the Chargers, but this team is on the rise and Joey Bosa is still not playing.
7. Packers 3-2-1 (12). Another comeback performance from Aaron Rodgers. What's new?
8. Bengals 4-2 (6). Do the Bengals always lose to the Steelers in a controversial ending? Asking for a friend.
9. Eagles 3-3 (10). It's now or never, defending champs. The Eagles face the Panthers, Jaguars, Cowboys and Saints in the next four games.
10. Ravens 4-2 (14). Baltimore's stellar defense only allows 12.8 points per game, the best in the league by four points.
11. Steelers 3-2-1 (13). Reports say Le'Veon Bell won't return during the bye week. That might not be an issue with the way James Conner has played.
12. Dolphins 4-2 (16). Brock Osweiler shocked the football world by throwing for 380 yards and three touchdowns against the Bears' stout defense in a big upset.
13. Panthers 3-2 (5). Carolina took two steps back by losing to the Redskins with an opportunity to take first place in the NFC South.
14. Jaguars 3-3 (7). Suddenly, Jalen Ramsey doesn't feel like talking. But there's not much to say after the Jaguars lost by 33 to the Cowboys.
15. Bears 3-2 (8). The hype train on Mitchell Trubisky, Khalil Mack and the rest of the Bears has stopped after a letdown in Miami.
16. Texans 3-3 (19). Houston shook off an 0-3 start by winning the last three games to move to the top of the AFC South standings.
17. Cowboys 3-3 (20). Crushing the Jaguars might have taken coach Jason Garrett off the hot seat.
18. Titans 3-3 (15). The 3-1 start and signature win over the Eagles is now an afterthought with two straight losses to the Bills and Ravens.
19. Redskins 3-2 (21). Josh Norman went from being trolled by Michael Thomas on "Monday Night Football" to making Cam Newton uncomfortable six days later.
20. Seahawks 3-3 (22). Seattle might be a sleeper team to make the postseason. Don't write the Seahawks off yet.
21. Jets 3-3 (23). Rookie Sam Darnold bounced back with an impressive performance versus the Colts.
22. Falcons 2-4 (25). The Falcons finally broke their losing streak, but it might be too late.
23. Browns 2-3-1 (17). Baker Mayfield and the Browns returned to earth after being trounced by the Chargers at home.
24. Buccaneers 2-3 (18). Tampa Bay is back to its old ways of letting Jameis Winston throw for a lot yards in a losing effort.
25. Lions 2-3 (26). The Lions return from a bye week to face the Dolphins on the road.
26. Broncos 2-4 (24). Denver fans are already giving up on Case Keenum.
27. Bills 2-4 (27). Nathan Peterman and the Bills came up short versus the Texans.
28. Colts 1-5 (29). One day the Colts will surround Andrew Luck with help.
29. Giants 1-5 (30). Saquon Barkley looked great on "Thursday Night Football." Just don't ask about Eli Manning.
30. Cardinals 1-5 (31). Arizona might have found something in rookies Josh Rosen and Christian Kirk. But maybe try hiring another offensive coordinator.
31. Raiders 1-5 (28). It got ugly in London for the rebuilding Raiders. Or is it tanking Raiders?
32. 49ers 1-5 (32). Ten more games with C.J. Beathard as the starting QB.
Contact Gilbert Manzano at gmanzano@reviewjournal.com. Follow @GManzano24 on Twitter.