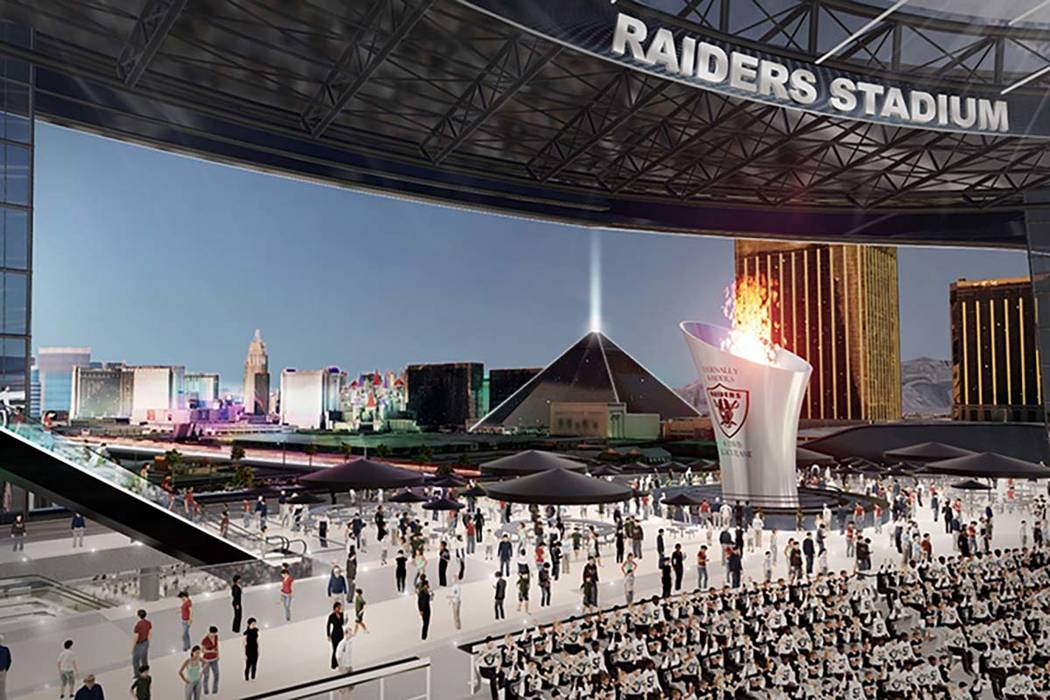 LANTANA, Fla. — A key NFL executive told the Review-Journal on Tuesday that Bank of America's stadium loan offer to the Oakland Raiders is a critical piece of the team's relocation puzzle, but other important pieces must fit before owners vote on a move to Las Vegas.
"That gave (finance and stadium) committee members a fair amount of confidence that this project could be financed in a traditional manner,'' said NFL Executive Vice President Eric Grubman, the league's point man on franchise relocation and stadium construction. "Bank of America is well-known in the NFL. Having (Bank of America officials) appear at the (Monday) meeting saying they were prepared to put up the financing carried a lot of weight.''
Grubman gave no specifics regarding Bank of America's proposed loan. But a league spokesman confirmed to the Review-Journal that it would cover the $650 million withdrawn by Las Vegas Sands Corp. Chairman and CEO Sheldon Adelson and Goldman Sachs in January.
However, Grubman cautioned that the NFL's finance and stadium committees, which met in joint sessions Monday and Tuesday, still want other issues buttoned up before they will recommend a vote by team owners.
One issue, he said, was the Raiders "finalizing their lease'' with the Las Vegas Stadium Authority. The authority's nine-member board of directors meets Thursday in Las Vegas.
"That is an example of something that the committee is going to be very interested in,'' Grubman said.
Pittsburgh Steelers President Art Rooney II, chairman of the stadium committee, did not return calls from the Review-Journal seeking comment.
RELOCATION FEE
Grubman said the primary topic of Tuesday's joint committee session was the Raiders' potential relocation of the franchise from the Bay Area to Southern Nevada. The Raiders returned to Oakland from Los Angeles in 1995. Committee members discussed what conditions might be imposed on owner Mark Davis and the Raiders, including the most significant issue: the relocation fee.
Davis was unavailable for comment Tuesday.
The Chargers will pay the league $550 million to move from San Diego to Los Angeles next season, the same figure the Rams paid to leave St. Louis for Los Angeles a year earlier. The NFL's debt ceiling is $250 million per franchise. Owners waived that limit for the Chargers, allowing them to borrow a portion from a bank, which the league customarily does when a team is involved in a stadium construction project. The NFL has not provided a relocation figure for the Raiders.
SAM BOYD STADIUM
Another important issue for owners: the Raiders' plan for a temporary stadium, which would be Sam Boyd Stadium, home of UNLV. The league requires certain minimum standards before playing in any stadium, whether in the United States or abroad. Proper field conditions and locker room facilities are among the details that will be examined by owners.
If the NFL deems Sam Boyd Stadium suitable for Raiders games, the team could begin playing in Las Vegas prior to 2020, the soonest the $1.9 billion domed stadium could be completed.
"There is no one thing I would call out as a (sticking point) — it's all of those (and others) that have to get done before we go through the formality of a committee vote or a league vote,'' Grubman said.
The deciding vote could come at the NFL Annual Meeting March 26-29 in Phoenix.
"I'll just put it this way: When you agree to buy a house, you have a contract, but you must finish accomplishing those (contract items) in order to get to the closing. Getting to a vote in a matter of relocation means there are things that have to be done. The Raiders seem to be on track to accomplish those by (the Phoenix meeting). But they have to get them done.''
Grubman sounded guardedly optimistic about a relocation vote this month. He said the two committees were left with "a sense that there has been significant progress'' by the Raiders, who "continue to advance the ball towards trying to get this (relocation bid) to a vote at the March meeting,'' in Phoenix in three weeks.
The joint committee made no decisions or recommendations this week. It will make a recommendation prior to the owners' vote, which requires 24 "yes'' votes for the Raiders' move to Las Vegas to be approved.
The Review-Journal is owned by the family of Las Vegas Sands Corp. Chairman and CEO Sheldon Adelson.
Jon Mark Saraceno can be reached at jsaraceno@reviewjournal.com. Follow @jonnysaraceno on Twitter.
RELATED
Raiders' Las Vegas stadium gets boost from Bank of America
Details of lease agreement between Las Vegas officials, Raiders emerging
Rent not always key indicator of NFL stadium deals