NFL owners approve Raiders' 1-year lease for Oakland
Updated March 25, 2019 - 4:52 pm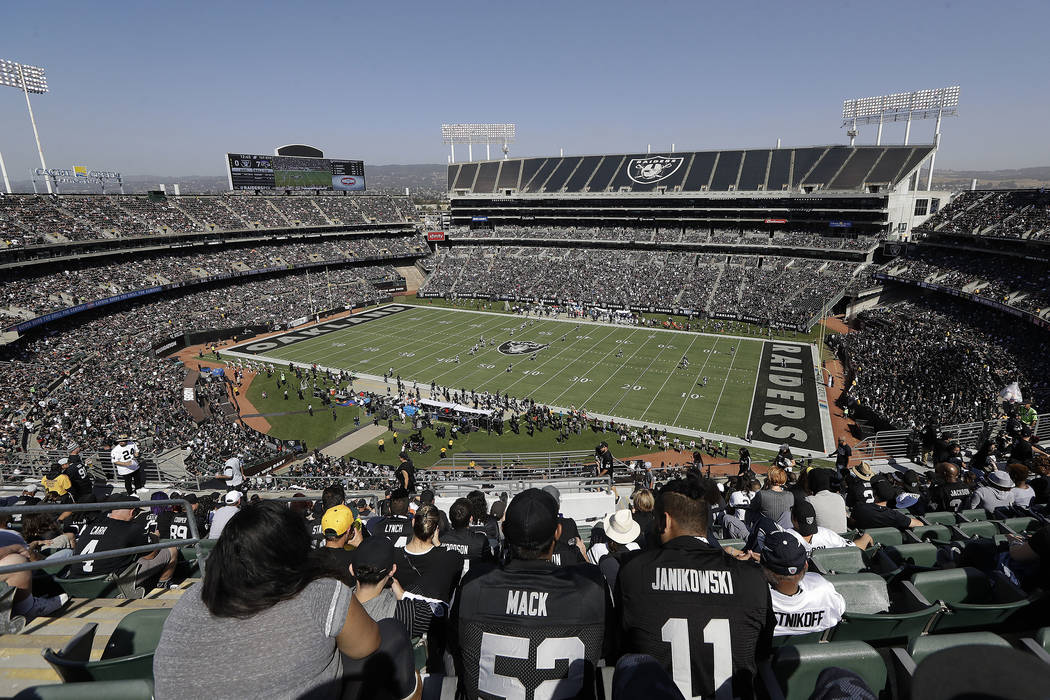 PHOENIX — NFL owners delivered an expected but unanimous vote Monday, approving the Raiders' lease to occupy the Oakland-Alameda County Coliseum until the franchise relocates to Las Vegas.
The Raiders officially will call Oakland home in 2019. Although this resolution was expected for several weeks, the team now can expand ticket-selling efforts for the upcoming season.
It will pay $7.5 million to rent the stadium, a $4 million increase from last season. It also carries a $10.5 million option to stay in Oakland for the 2020 season should construction on a $1.8 billion, 65,000-seat stadium in Las Vegas incur a delay.
No delay is anticipated, club and stadium officials have said.
Should the Raiders need to exercise their option, they must do so by April 1, 2020, according to language in the lease.
Monday's vote was considered a matter of procedure after the Coliseum Authority, Oakland City Council and Alameda County Board of Supervisors all approved the document this month. The Raiders scoured alternative sites after the city of Oakland filed a federal antitrust lawsuit against the NFL and its 32 teams in December.
Negotiations to stay in Oakland resumed in February.
General manager Mike Mayock said that free agents did not express concern about the club's future whereabouts.
"Not really," Mayock said. "I think most people thought, from a common sense perspective, it would be a bus ride, not a plane ride, to a home game. I think that really was the distinction."
Notable
— This week's owner meetings are the first Mayock has attended. He routinely skipped the spring affair, which rotates annually between hotel resorts in Phoenix and South Florida, while an NFL Network broadcaster. "I didn't think the owner meetings really were about football," Mayock said. "I thought I was always better off being at the Iowa pro day, which is today and I'm a little salty about not being at. Mississippi State is on Wednesday. (Texas) A&M, I believe, is tomorrow. I'm a little salty about that, but it's part of the new job."
— Former Cincinnati Bengals linebacker Vontaze Burfict joined the Raiders after defensive coordinator Paul Guenther "banged the table for him, hard," Mayock said. Guenther was Burfict's linebackers coach and later coordinator in Cincinnati across six seasons. Said Mayock: "Paul was point blank: 'This guy will be in shape. He'll come in with a chip on his shoulder. He knows all of our terminology. He can get our front set up, snap to snap.' When your defensive coordinator feels that strongly about something and it's a position of need and he's only 28 years old, let's go. Vontaze Burfict is a Raider, and I'm all in."
—Running backs Marshawn Lynch and Doug Martin became free agents March 13. They remain unsigned, and the Raiders have yet to add anyone at the position. The team has not publicly ruled out a Lynch return, but it seems a real possibility the team could draft its No. 1 back instead. "There's obviously a big question mark at running back with us right now," Mayock said when asked about Lynch. "I think both parties just have to wait until the draft and see what happens there."
More Raiders: Follow at reviewjournal.com/Raiders and @NFLinVegas on Twitter.
Contact reporter Michael Gehlken at mgehlken@reviewjournal.com. Follow @GehlkenNFL on Twitter.