NFL owners warming to idea of Raiders moving to Las Vegas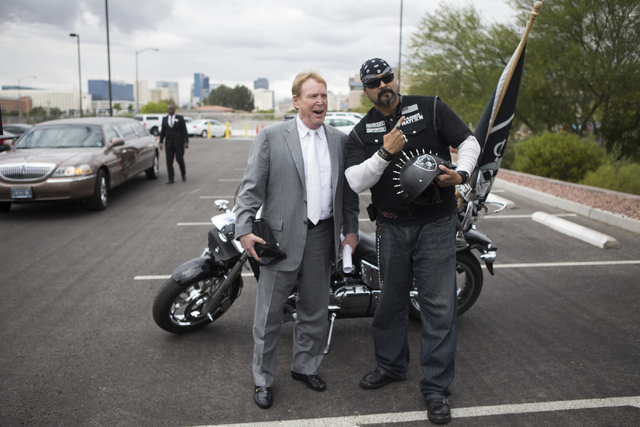 With the idea of an NFL franchise coming to Las Vegas gaining momentum and the Raiders wanting out of Oakland, it seems as if the Black Hole and Sin City could be a match made in heaven.
It appears as if NFL owners are starting to agree.
Robert Kraft of the New England Patriots and Jerry Jones of the Dallas Cowboys, two of the league's most powerful owners, received major publicity over their on-the-record support for the Oakland Raiders becoming the Las Vegas Raiders.
Last month, Jones was laudatory of Las Vegas, calling it "one of the real crown jewels of communities in the United States" in an interview with ESPN. Kraft told USA Today Sports, "I think (a Raiders move to Las Vegas) would be good for the NFL."
But what about the other NFL owners? The Raiders would need the approval of 24 of the 32 owners to move, and there have been more positive than negative comments since the NFL spring meetings two weeks ago.
Five owners — the New York Giants' John Mara, the Houston Texans' Bob McNair, the Philadelphia Eagles' Jeffrey Lurie, the San Francisco 49ers' Jed York and the New York Jets' Woody Johnson — spoke to Jenny Vrentas at Monday Morning Quarterback and gave their thoughts on the move.
Of the five, McNair was most in favor.
"I would look favorably at it," McNair said. "We want Oakland to get a good facility and have stability with their franchise, and if this is an opportunity to do that, then I think it is something we need to seriously consider."
Lurie and York said they would be open to Las Vegas but had some trepidation.
"Is it a great market for the NFL? I don't know enough about that," Lurie said. "We have got to make sure it really will support a team if a team goes there, but I am open to it."
Said York: "I will wait to see, but if there is something that provides all the resources necessary, they go through all the steps and it is a project that works, I'd be supportive of the Raiders getting a new stadium anywhere."
The process of wooing the Raiders still is in its infancy with regard to financing and a stadium site being worked out. In order for public financing to be diverted to the stadium soon, it would require an approval by the governor and a special session of the Nevada Legislature.
That hasn't stopped discussion of the possible move. The Jets' Johnson said he does not think putting a team in the country's gambling capital is a legitimate worry.
"I don't know if (gambling) is as dominant an issue now as it was 10 years ago," he said.
York felt similar about gambling: "I think the stigma about Las Vegas is much different today than where it was in the past."
Mara, the first owner to speak out against Las Vegas, seems to be changing course. In March, he told Bart Hubbuch of the New York Post that Las Vegas would be viewed as a "nonstarter" by "most owners" because of gambling.
Mara then told the Monday Morning Quarterback that he is "open-minded."
"I would want to hear a presentation about it and the pros and cons, and obviously there are some concerns, but I am not going to rule it out," Mara said. "I wouldn't bet one way or the other at this point."
Atlanta Falcons owner Arthur Blank told ESPN.com after the spring meetings he also is more interested in whether the market can sustain a franchise.
"I think whether or not there are enough people in Las Vegas to support a team is a question," Blank said. "I haven't seen the data on that to support it or not support it. It's certainly a dynamic market. It's a growth market. It's got tremendous tourism, a lot of convention business. So it's certainly a consideration. We'll see what the facts bear.
"I want to see all the research on whether (Las Vegas) can support a franchise or not. It's no different than any other city we look at."
Blank added he was not fazed by legalized sports gambling in the state.
"I think, obviously, we'd have to build a wall around the football operations and the franchise itself, which I think they can do effectively," he said. "That (gambling) opportunity exists in any market."
Not all owners are fine with it. Mike Florio of Pro Football Talk reported after the interview with the Monday Morning Quarterback was published that three owners — Mara, the Chicago Bears' George McCaskey and the Cincinnati Bengals' Mike Brown — would vote no, with the possibility that Pittsburgh Steelers owner Art Rooney would, too. Ironically, the Rooney family owns many gambling operations in Pennsylvania and Florida.
That's seven yes votes (Blank, Kraft, Johnson, Jones, Lurie, McNair, York) and three no votes (Mara, McCaskey, Brown) and one undecided (Rooney).
That said, NFL writer Mike Freeman of Bleacher Report wrote that by his count there are only five solid no votes, not enough to keep the Raiders from moving.
The Review-Journal is owned by the family of Las Vegas Sands Chairman and CEO Sheldon Adelson.
Justin Emerson can be reached at jemerson@reviewjournal.com.