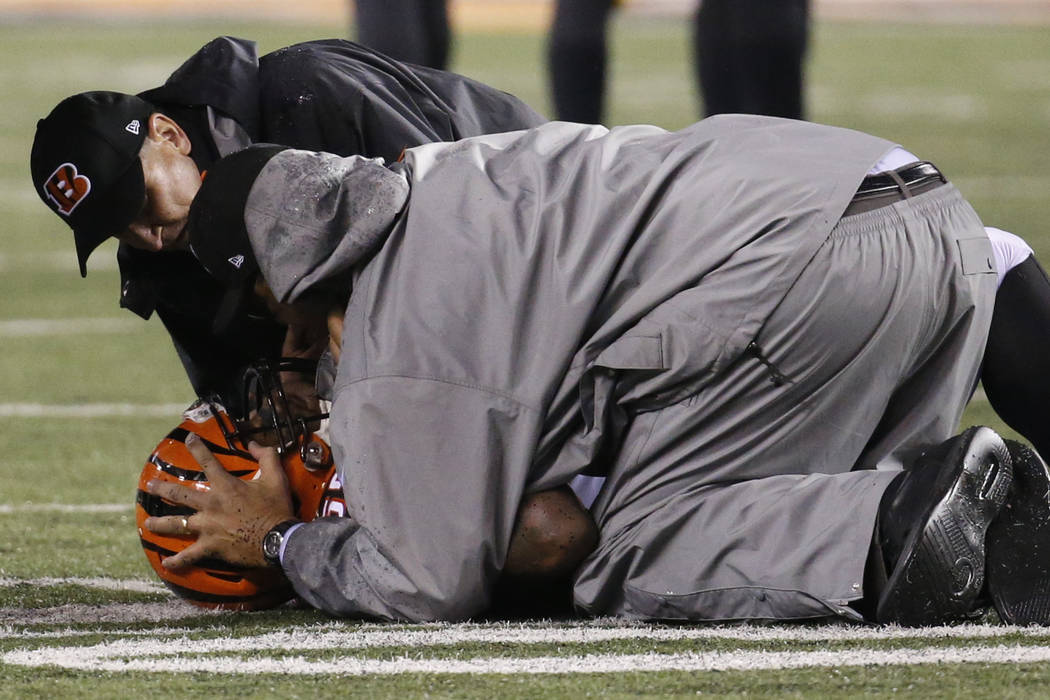 NEW YORK — Pittsburgh Steelers rookie wide receiver JuJu Smith-Schuster and Cincinnati Bengals cornerback George Iloka have been suspended one game each by the NFL for violating league safety rules.
Smith-Schuster was flagged for unnecessary roughness and taunting after a blindside hit on Bengals linebacker Vontaze Burfict in the fourth quarter of Pittsburgh's 23-20 victory Monday night. Iloka was penalized for unnecessary roughness for a helmet-to-helmet hit on Steelers wide receiver Antonio Brown.
Jon Runyan, the NFL's vice president of football operations, ruled that Smith-Schuster "delivered a violent and unnecessary blindside shot to (Burfict's) head and neck area." Burfict left the game on a stretcher and did not return.
Runyan suspended Iloka for striking a defenseless receiver in the head and neck area. Brown, who caught the game-tying pass on the play, remained in the game.
Steelers LB Shazier remains hospitalized
Pittsburgh Steelers linebacker Ryan Shazier remains in a Cincinnati hospital on Tuesday, one day after he sustained a back injury in a game against the Bengals at Paul Brown Stadium.
Shazier's injury will not require surgery at this time, and he will continue to be evaluated with the hopes of returning to Pittsburgh on Tuesday, the team announced.
Steelers coach Mike Tomlin told reporters at Tuesday's news conference that Shazier felt good mentally, but declined to give additional information about his physical condition.
"I really have no update in terms of his medical status," Tomlin said. "Obviously it was a tough evening, but, man, Ryan's a trooper. I had an opportunity to spend some time with him. He's in really good spirits. Tough guy."
Tomlin credited the assistance of several different groups in Cincinnati in helping Shazier, a former Ohio State star.
"We got extraordinary support from the people in Cincinnati, specifically the University of Cincinnati Medical Center staff and personnel, the Cincinnati paramedics, the Cincinnati Police Department went above and beyond in terms of assisting Ryan and us," Tomlin said.
Shazier, the Steelers' leading tackler with 89, was injured while making a tackle on Bengals wide receiver Josh Malone with 11:14 remaining in the first quarter. Shazier hit Malone low with his shoulder pads, then immediately reached for his back while his legs remained motionless.
Steelers safety Mike Mitchell took to Twitter to announce that he spoke with Shazier on the phone.
"For those concerned just got off the phone with (No.) 50," he wrote. "He's in good spirits already making progress! God has him. Keep praying keep believing in faith. Never thought I'd say this but #Shalieve lol."
The NFL Network's Aditi Kimkhabwala reported shortly after Monday's game that the team was told Shazier had a spinal cord contusion, similar to what former Steelers quarterback Tommy Maddox sustained in 2002. Maddox lost feeling initially but fully recovered and only missed one game.
Shazier, a fourth-year linebacker, remained mostly motionless while he was attended to by trainers. He lifted his head at one point but never moved his legs.