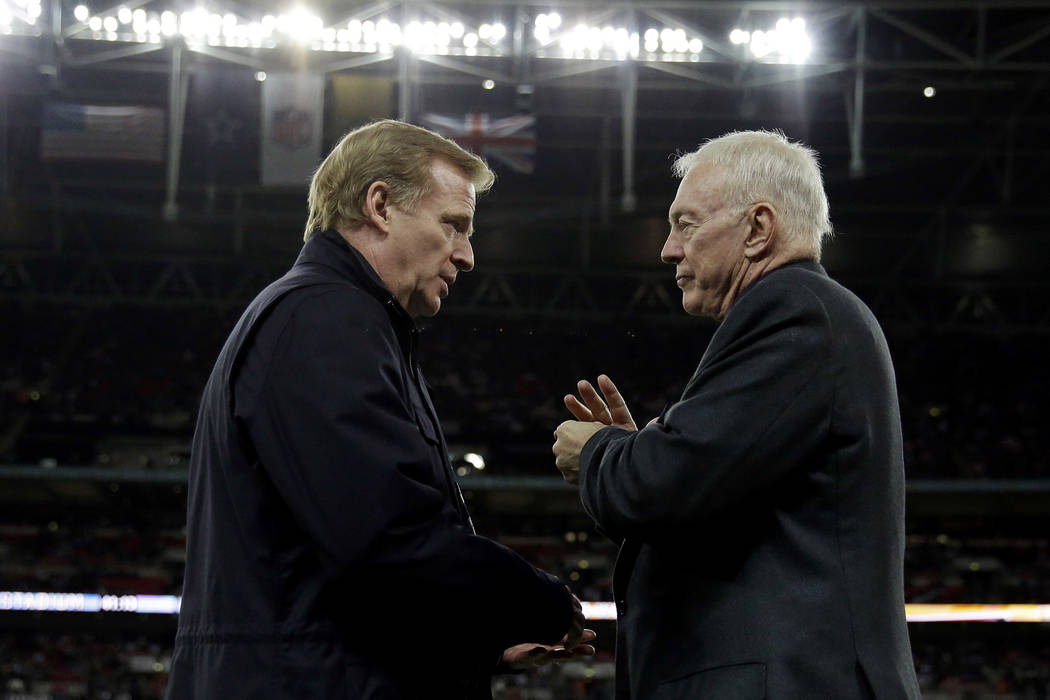 Contract talks of a new five-year extension for NFL commissioner Roger Goodell reportedly are being slowed down by Dallas Cowboys owner Jerry Jones.
Jones has slowed down, if not impeded, negotiations aimed at an extension for Goodell, sources familiar with those talks told ESPN's Adam Schefter and Chris Mortensen.
"If not for Jerry, this deal would be done," one person familiar with the contract negotiations told ESPN this weekend.
Jones has interjected himself on to the NFL's six-man compensation committee, becoming the unofficial seventh member, according to ESPN.
Goodell's current deal as commissioner expires in 2019, and it was reported last month that he and the NFL were close to a new five-year extension that would run through the 2024 season.
The relationship between Jones and Goodell has sharpened to the point where Goodell's long-term future as NFL commissioner could come under fire, league sources told ESPN.
The NFL is currently in a court battle with Cowboys star running back Ezekiel Elliott, who remains eligible to play under an injunction despite the league's six-game suspension for alleged domestic violence.
The next movement of the negotiations with the commissioner could come this week as the compensation committee's conference call Wednesday is expected to produce a specific term proposal for Goodell, according to the report.
One league source told ESPN that said Jones considers himself a representative of the remaining 26 owners who are not on the compensation committee that consists of chairman Arthur Blank (Falcons), Clark Hunt (Chiefs), Robert Kraft (Patriots), John Mara (Giants), Bob McNair (Texans) and Art Rooney II (Steelers).
The 58-year-old Goodell succeeded Paul Tagliabue in September 2006. Goodell made nearly $32 million in fiscal year 2015, according to the league's tax filing from that year, and has made $212.5 million in his first 10 years as commissioner. The NFL is no longer required to file his salary as the league office has given up its non-profit status, thus salary figures are no longer available.
Goodell first joined the league as an intern in 1982, working his way up the executive ladder. He was appointed executive vice president and chief operating officer by Tagliabue in 2001. Five years later, Goodell succeeded Tagliabue.
The NFL's collective bargaining agreement is set to expire after the 2020 season, and NFL Players Association executive director DeMaurice Smith said last month he believes there will be a work stoppage in 2021.
Since the agreement was signed, the players union has clashed with Goodell and the league in notable cases such as Elliott's suspension, Tom Brady's Deflategate suspension and Adrian Peterson's suspension for child abuse.