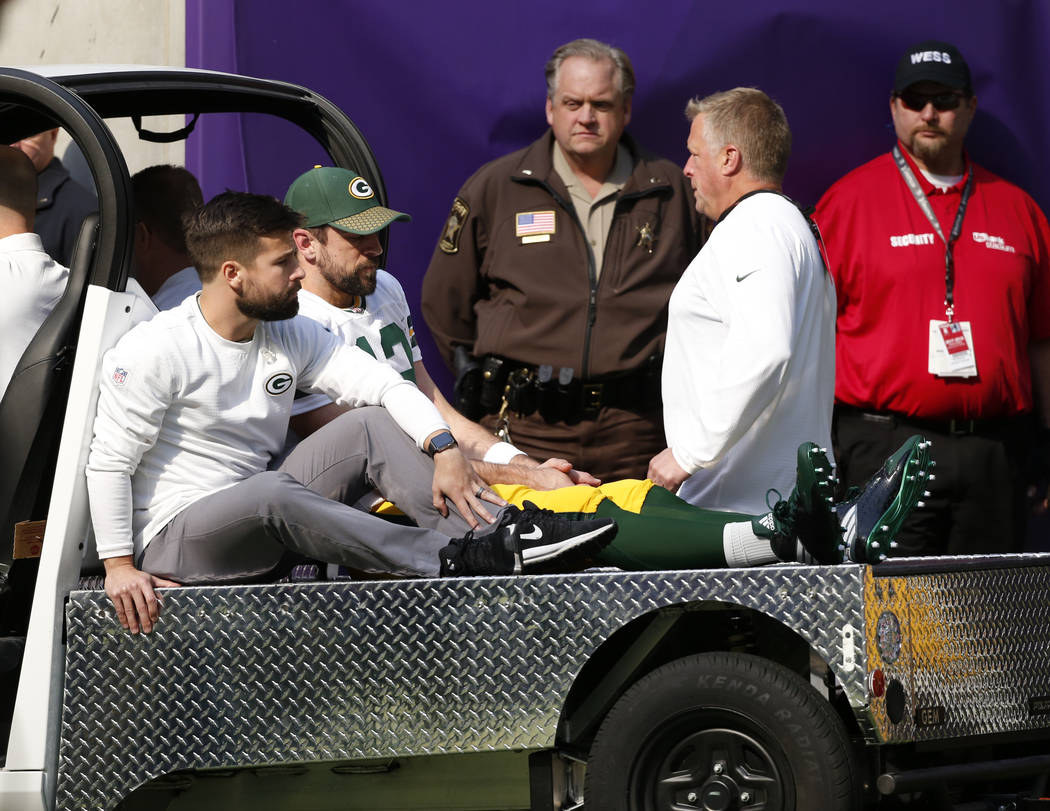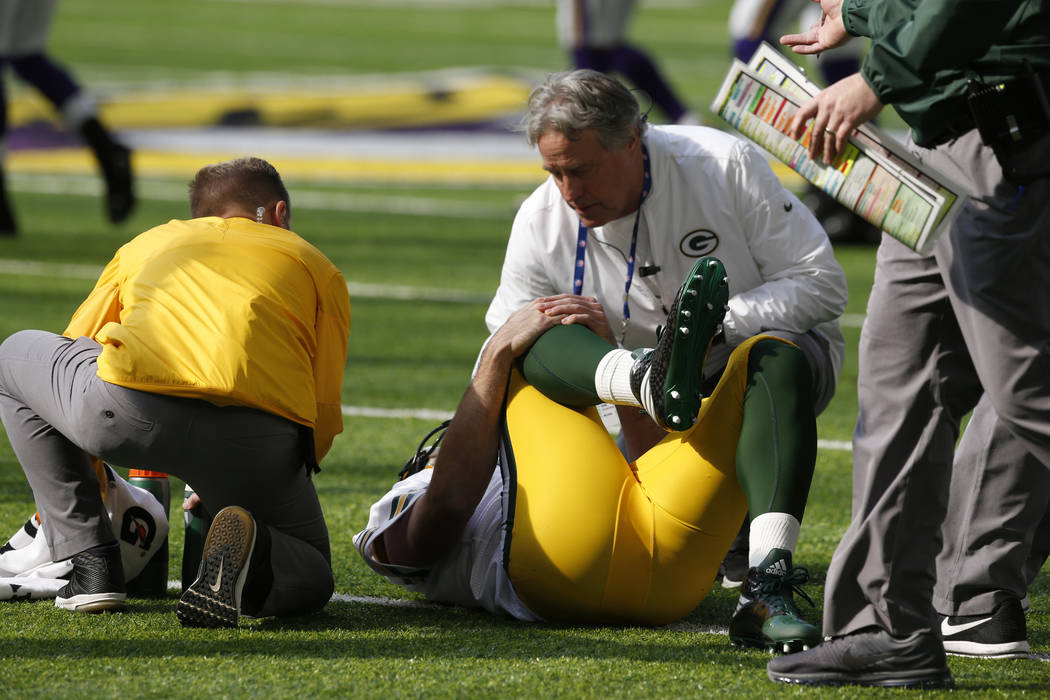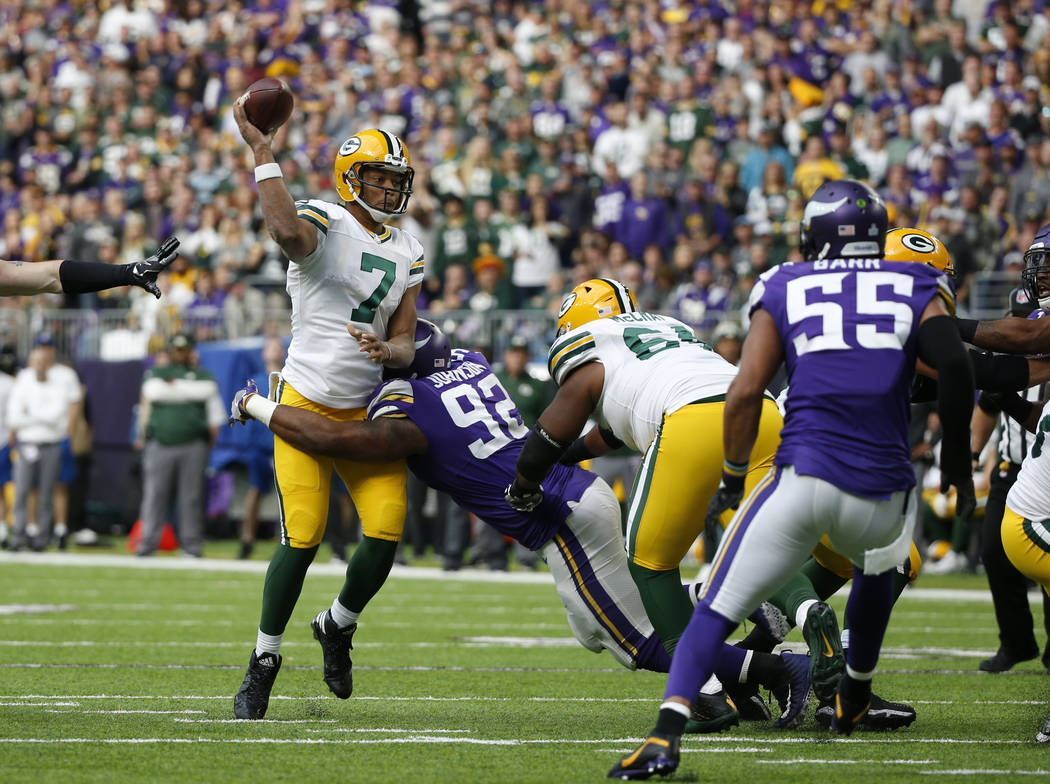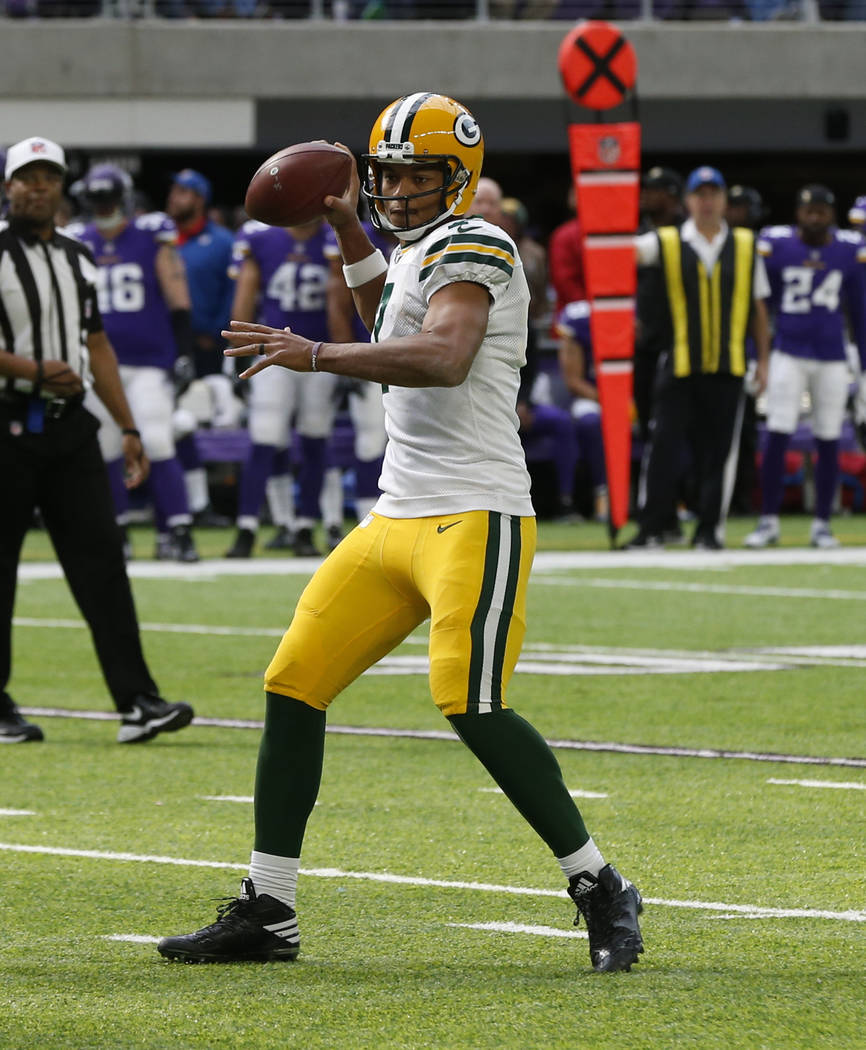 Finding a spot for Green Bay in this week's NFL power rankings wasn't easy. There's no telling in what directions the Packers are headed after quarterback Aaron Rodgers' possible season-ending injury.
The Packers aren't Super Bowl contenders anymore, that's obvious. But is their season really over like many believe it is?
Green Bay is 4-2 and tied for first place in the NFC North with the Minnesota Vikings. Making it to the postseason with Brett Hundley under center isn't far-fetched. So for now, putting the Packers at No. 15 in the Review-Journal power rankings seems fair.
Having a top quality backup quarterback is a must in the NFL, especially this season. Green Bay isn't the only team counting on a backup to lead them to the playoffs.
Case Keenum has filled in nicely for Sam Bradford with a 2-2 record as the Vikings' starter this season. Keenum has developed a strong connection with wide receiver Adam Thielen, and rescued Minnesota during a "Monday Night Football" matchup with the Bears when it became clear Bradford wasn't ready to play.
Bradford's knee injury could be long term, according to reports. Looks like the NFC North will come down to two backups and the highest-paid quarterback in the NFL, the Lions' Matthew Stafford.
Hundley, a 2015 fifth-round pick out of UCLA, struggled against the Vikings last week with three interceptions. But playing against a tough Minnesota defense on short notice isn't easy for any quarterback.
With a week of practice as the starter, Hundley could have a solid outing Sunday against the Saints. He has a strong arm, can make plays with his legs and has been mentored by arguably the NFL's best quarterback.
Top franchises such as the Packers and Patriots know how to groom players. There's a reason the Patriots aren't letting Jimmy Garoppolo go. Tom Brady can get hurt on any play, and Garoppolo could be the next star quarterback in the near future.
Speaking of New England backups, Jacoby Brissett is enjoying a solid season as the Colts' starter. Brissett, once the third-string quarterback for the Patriots, was traded to Indianapolis last month to fill in for Andrew Luck, who could miss the entire season because of his lingering shoulder injury.
The Colts might be a long shot to come out of the weak AFC South, but it won't be Brissett's fault.
Game of the week: Falcons (3-2) at Patriots (4-2)
The Falcons meet the Patriots on Sunday night for the first time since blowing a 28-3 lead in the Super Bowl.
Atlanta's offense has stalled with new coordinator Steve Sarkisian and has been hit by the injury bug. A motivated Falcons team could bounce back against a weak Patriots defense, especially if Atlanta decides to feed running back Devonta Freeman.
Falcons fans are still wondering why Atlanta chose to stop running the ball in the Super Bowl.
Rising quarterbacks
Leading up to the past two NFL Drafts, the quarterback prospects as a whole were labeled weak.
There was no Jameis Winston or Marcus Mariota like in 2015. Every team was told to wait for 2018 with quarterbacks such as Josh Rosen and Sam Darnold possibly coming out.
Unfortunately for the Browns, they listened to the draft experts. And the ones that didn't probably got rewarded.
Second-year quarterbacks Carson Wentz, Dak Prescott, Jared Goff and rookies Deshaun Watson and Mitchell Trubisky have flashed their promising potential this season.
Contact Gilbert Manzano at gmanzano@reviewjournal.com. Follow @GManzano24 on Twitter.
The replacements
Here's a list of backup quarterbacks who became starters this season:
Vikings: Case Keenum, replaced Sam Bradford (injury)
Texans: Deshaun Watson, replaced Tom Savage (performance)
Colts: Jacoby Brissett, replaced Andrew Luck (injury)
Packers: Brett Hundley, replaced Aaron Rodgers (injury)
Bears: Mitchell Trubisky, replaced Mike Glennon (performance)
49ers: C.J. Beathard, replaced Brian Hoyer (performance)