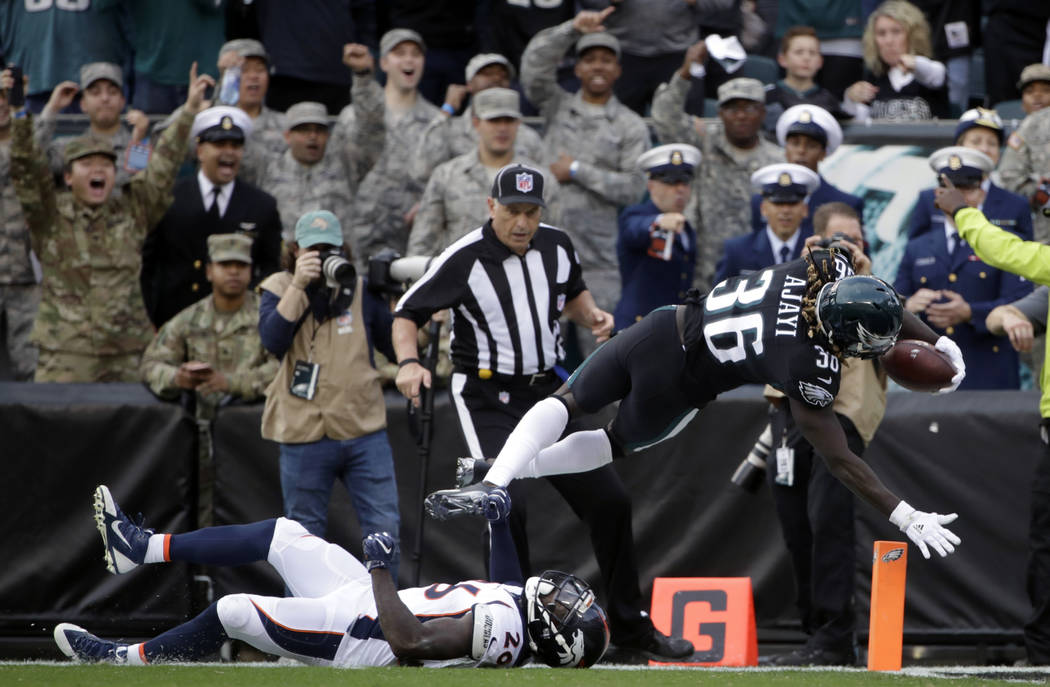 Las Vegas Review-Journal NFL reporter Gilbert Manzano's weekly rankings, with last week's ranking in parentheses.
1. Eagles 8-1 (1). The first-place Eagles return from a bye week for a big NFC East showdown against the Cowboys.
2. Patriots 7-2 (2). What happened to the Patriots' leaky defense? New England hasn't given up more than 17 points in the past five games.
3. Rams 7-2 (4). Los Angeles looks like the real deal. We'll find out in the next five weeks when the Rams play against the Vikings, Saints, Eagles and Seahawks.
4. Steelers 7-2 (3). The Steelers got a scare against the Colts, but they got the job done.
5. Vikings 7-2 (5). Case Keenum and the Vikings' wide receivers went off for 38 points versus Washington's top secondary.
6. Saints 7-2 (6). Drew Brees might be playing with his best rushing attack and defense in his 12 years in New Orleans.
7. Chiefs 6-3 (7). The Chiefs return from a bye week trying to play catchup. They get the lowly Giants.
8. Seahawks 6-3 (8). Russell Wilson really enjoys starting slow and making dazzling plays at the end to win games.
9. Titans 6-3 (10). The AFC South leader gets a big test against the Steelers on "Thursday Night Football."
10. Panthers 7-3 (12). Cam Newton finally has the Panthers' offense going. Watch out, NFC leaders.
11. Jaguars 6-3 (11). The Jaguars' rising defense continues to shut down quarterbacks and wide receivers.
12. Falcons 5-4 (14). Atlanta picked up a much-needed victory versus Dallas to get back in the playoff race.
13. Cowboys 5-4 (9). Cowboys were without two all-pro offensive players last week. Dallas needs Ezekiel Elliott and Tyron Smith if they want to reach postseason.
14. Lions 5-4 (16). The Lions are back on track after winning two straight games.
15. Bills 5-4 (13). Buffalo was embarrassed by the Saints' vaunted rushing attack.
16. Redskins 4-5 (15). Josh Norman is still trying to chase down Minnesota's Stefon Diggs and Adam Thielen.
17. Cardinals 4-5 (17). The Cardinals are stuck in the mediocre zone.
18. Raiders 4-5 (18). Oakland returns from the bye week and is only one game behind for a wild-card spot. But the Raiders get Tom Brady next.
19. Packers 5-4 (22). Brett Hundley finally made Aaron Rodgers happy.
20. Ravens 4-5 (24). The Ravens are also somehow one game behind for a playoff spot. Does anyone want the sixth seed in the AFC?
21. Broncos 3-6 (19). Put a fork in the Broncos' defense. They're not the same.
22. Texans 3-6 (20). Might be time to bench Tom Savage for T.J. Yates. Yeah, that won't help.
23. Dolphins 4-5 (21). Jay Cutler operates the worst offense in the league.
24. Chargers 3-6 (23). The Chargers continue to find painful ways to lose.
25. Jets 4-6 (25). The Jets couldn't beat the terrible Buccaneers.
26. Bengals 3-6 (26). A.J. Green didn't choke anyone on the Titans last week.
27. Bears 3-6 (27). Keep pushing, Bears.
28. Buccaneers 3-6 (28). Ryan Fitzpatrick got his revenge against his former team, the Jets.
29. Colts 3-7 (29). The Colts couldn't finish off the upset versus the Steelers.
30. 49ers 1-9 (31). The proud franchise from the Bay Area avoids 0-16 infamy.
31. Giants 1-8 (30). Close your eyes for the next seven weeks, Giants fans.
32. Browns 0-9 (32). Final winless team in the NFL.
Gilbert Manzano covers the NFL for the Review-Journal. He can be reached at gmanzano@reviewjournal.com. Follow @GManzano24 on Twitter.