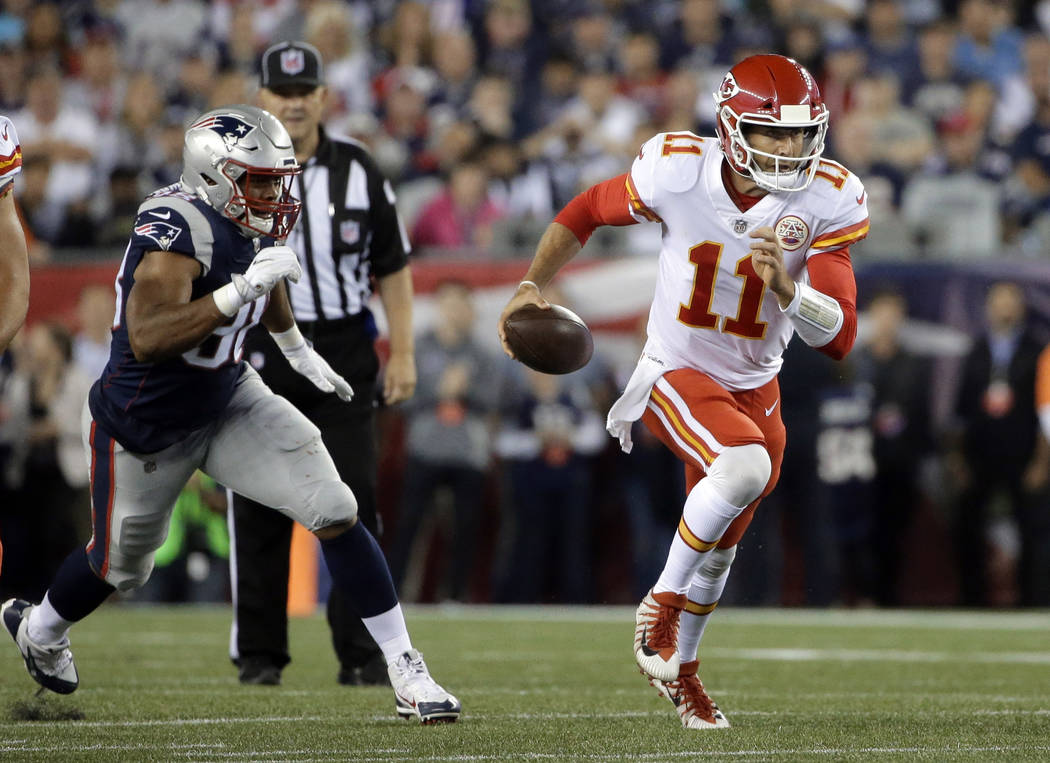 So who had the trio of Alex Smith, Sam Bradford and Trevor Siemian sweeping proven veterans Tom Brady, Drew Brees and Philip Rivers on primetime during Week 1?
Anyone?
Smith and Bradford going deep and Siemian's mobility were the biggest surprises to open the season. The Kansas City Chiefs look like the early top AFC contender and the Minnesota Vikings and Denver Broncos could be headed to the postseason thanks to their respective quarterbacks' standout starts.
But there's always overreaction after Week 1. Can the so-called game managers sustain that type of play through December and possibly January?
The 2005 first overall pick, Smith, played like he was fighting for his job by carving up the defending champion Patriots on their home field.
Smith has been a solid regular-season quarterback for the Chiefs, but his inability to throw down the field has led to quick exits in the playoffs and a big reason why Kansas City drafted the big-arm of Patrick Mahomes in this past year's draft.
Seeing what Mahomes could do with the deep ball during the preseason might have forced Smith to take more risks and utilize the speed of Tyreek Hill. Smith's time in Kansas City might be coming to an end soon, but he can still showcase his improvements to other quarterback-needy teams and there are a lot of them.
Why not go out with a bang and get the Chiefs past the divisional round. Although that might be a littler harder against the Philadelphia Eagles' stout defensive line in Week 2.
Bradford has showed flashes of being a top quarterback but usually resorts back to frustrating fans by opting to dink-and-dunk instead of attacking the secondary.
But did Bradford ever really go back to being a mediocre signal-caller a year ago? He practically had no time to operate with one of the worst offensive lines in recent memory and still completed 71.6 percent of his passes, an NFL record.
It wasn't the 2010 first overall pick's fault the Vikings blew a 5-0 start. Bradford joined Minnesota a few weeks before the 2016 season started, lost his offensive coordinator midway through the year and somehow played in every game with that atrocious line.
Bradford showed what he could do with time against the Saints last Monday night. He has two of the best route-running wide receivers in Adam Thielen and Stefon Diggs. The offensive line gave them time to get down the field and Bradford delivered perfect passes.
If the offensive line continues to play like that, we'll get to see who Bradford really is in Minnesota. But it gets a lot harder starting Sunday against the Steelers who have fast playmakers on defense. Something the Saints don't have.
How about Siemian running past the Chargers' Joey Bosa to get into the end zone. He might want to reconsider doing that next time he's in front of a Pro Bowl defensive lineman. But Siemian proved to his Denver teammates he wants to win at all cost.
Siemian doesn't need to be lights out with a stacked Broncos defense, but he gave them wiggle room and time to rest by going on deep drives against the Chargers.
If Siemian can keep that up, the Broncos are back in the playoff hunt after many pundits had them finishing last in the loaded AFC West.
Siemian goes up against Dak Prescott and the Cowboys at home Sunday.
Who will be the suprise quarterback of Week 2? Josh McCown or Jacoby Brissett? Just kidding.
Brees vs. Brady
The Saints and Patriots were left licking their wounds after poor showings last week. Now they meet as two desparate teams trying to avoid an 0-2 hole.
Brees holds the series advantage over Brady, 3-1. But the Patriots rarely lose two straight and facing an angry Brady will be a tough task for the Saints' terrible defense.
Saints-Patriots will be the first game ever featuring two quarterbacks with at least 400 career touchdowns passes each.
Contact Gilbert Manzano at gmanzano@reviewjournal.com. Follow @GManzano24 on Twitter.