Oakland Raiders officials tour Reno for training camp sites
August 11, 2016 - 4:10 pm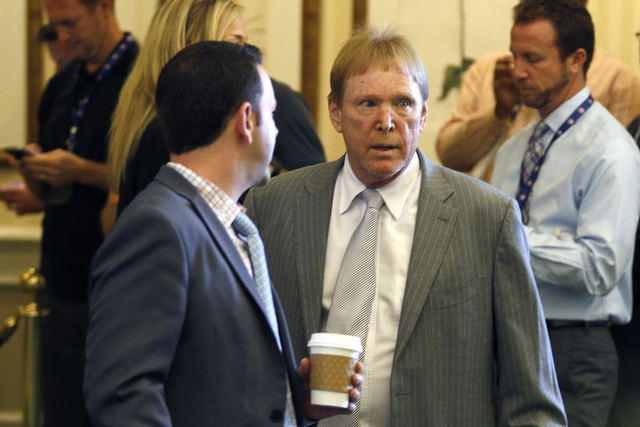 Oakland Raiders owner Mark Davis confirmed Thursday that team representatives toured the Reno area Wednesday for training camp sites should the NFL franchise move to Las Vegas.
"We're looking at some sites up there and checking things out," Davis said. "As I've said all along, we want to make it the silver and black state and we want to include everybody.
"We have a great training camp site in Napa (California) and we want to see if Reno can match that."
Davis reiterated that the team is serious about seeking a move to Las Vegas, promising to pursue relocation to Las Vegas if a financing plan for a domed stadium is approved by state lawmakers. The project would cost an estimated $1.7 billion to $2.1 billion and, as proposed, would have a public funding component.
The 65,000-seat stadium has been proposed by Las Vegas Sands Corp., Majestic Realty and the Raiders.
The Southern Nevada Tourism Infrastucture Committee has narrowed the stadium site to five choices and is expected to review the new stadium site developments when it next meets Aug. 25.
Davis said he was not in Reno for the meetings. He said Raiders President Marc Badain was there, scouting sites including the University of Nevada, Reno, area high schools and sports complexes.
The Reno Gazette-Journal reported the Raiders and stadium proponents also met with Northern Nevada legislators.
Andy Abboud, executive vice president of government affairs for Las Vegas Sands Corp., told the Gazette-Journal that while the site tour was preliminary, the cooler Reno climate made sense for training camp.
"First, they're looking for an opportunity to have a training camp that works for them in terms of weather. Reno seems like a logical place for that," Abboud said. "Secondarily, they understand the importance of maximizing the Raiders coming to Las Vegas statewide. This may be an effective way where there could be a benefit to Northern Nevada."
The Review-Journal is owned by the family of Las Vegas Sands Chairman and CEO Sheldon Adelson.
Contact Matt Youmans at myoumans@reviewjournal.com or 702-387-2907. Sports Editor Bill Bradley contributed to this report.
RELATED
Raiders' focus is on NFL season, not potential move to Las Vegas
Optimism surrounding Oakland Raiders is real