Oakland Raiders owner Mark Davis says 'everybody wins' in Las Vegas stadium vote
September 15, 2016 - 11:56 pm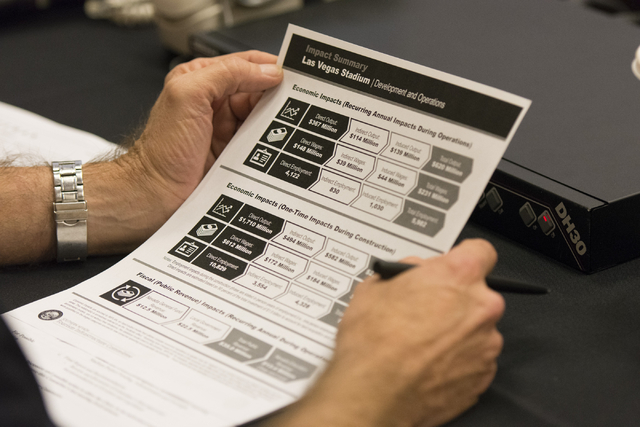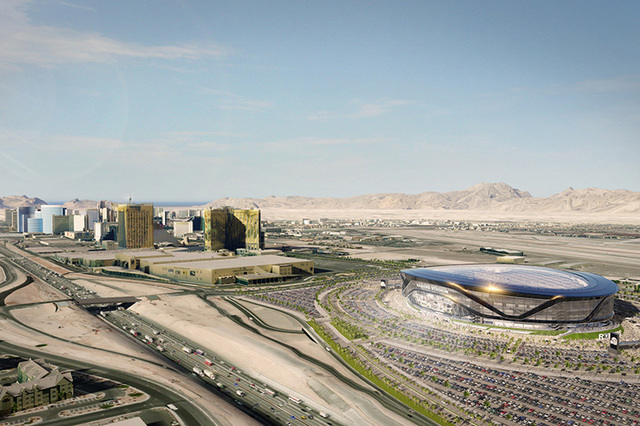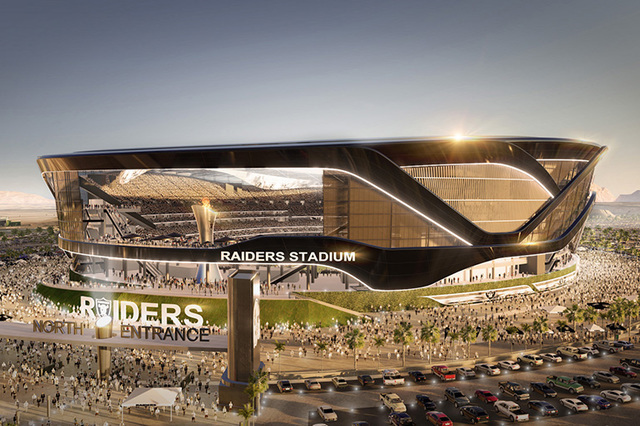 It's just the beginning, Mark Davis cautioned, but the Oakland Raiders owner on Thursday expressed more optimism about someday seeing the finish line.
Davis spent Thursday in the Bay Area, where he monitored results from the Southern Nevada Tourism Infrastructure Committee meeting at UNLV. The 11-member panel voted unanimously to recommend a financing proposal for a $1.9 billion, 65,000-seat stadium that would serve as the new home for the NFL franchise.
"I think everybody wins in this," Davis said in a phone interview. "We're just really excited.
"A lot of thanks to everybody on the SNTIC because they put in a lot of hard work. It was a lot of hard work by a lot of people, and that's how things get done. But we still know there's a lot of work ahead of us."
The SNTIC's recommendation will be forwarded to Carson City and Gov. Brian Sandoval, who could elect to call a special session of the Nevada Legislature to vote on the financing plan.
According to terms of the deal, there will be a $750 million public investment funded by Clark County hotel room taxes, a contribution of at least $650 million from the family of Las Vegas Sands Corp. Chairman Sheldon Adelson and a $500 million pledge from the Raiders.
As he has since April, Davis reiterated his intention to relocate the Raiders from Oakland to Las Vegas if the stadium plan passes.
"We're going to make Las Vegas and Nevada proud," Davis said.
Clark County Commission Chairman Steve Sisolak, the most vocal member of the SNTIC throughout the process, was ecstatic about the unanimous vote for the stadium plan.
"I think it moves Las Vegas to a whole new level," Sisolak said. "Now that we've got an NFL team hopefully coming to Las Vegas says a lot. You don't get this chance very often. It's putting us on the map with other major cities. People from around the world will be coming here to watch professional football. It's an exciting time for Las Vegas.
"I was confident the vote would pass, but I wasn't sure it would be unanimous. The fact that it's unanimous, it means an awful lot."
Sisolak credited Bill Foley, the owner of Las Vegas' recently awarded NHL expansion franchise, for paving the road for the possibility of luring the NFL.
Where to build the stadium remains undecided, though a 62-acre area northwest of Russell Road and Interstate 15 is widely considered the leading site.
If the stadium plan passes in the Legislature this fall, the final hurdle would be a vote by NFL owners that likely would come in January.
"I think we've all dreamed of this day, and it is about to come to fruition," said Andy Abboud, vice president of government relations and community development for Las Vegas Sands. "We take each step as it comes. There's a three-step process. This was a big step. The NFL is the final step. We feel confident that we'll have the support of the NFL.
"We're going to have a Super Bowl in Las Vegas if we get this done. Who would have thought that was going to happen?"
In comments to the Los Angeles Times in August, Dallas Cowboys owner Jerry Jones said he does not expect widespread league opposition to Las Vegas. Votes of approval for relocation are required from 24 of 32 owners.
"You'll have certain individual owners with thoughts, but you won't see people clumping together to try to stop it — not with Las Vegas in the Raiders' case," Jones said. "You're not going to have factions and things like that. Not here."
Brian McCarthy, the NFL's vice president of corporate communications, responded to a Review-Journal interview request in an email: "We do not have a comment."
The proposed stadium would be the home of the Raiders and UNLV, prompting Abboud to make an optimistic prediction about its impact on the Rebels.
"We know this is going to change the future of UNLV football," Abboud said, "that we're going to see them as a perennial Top 25 team."
The Raiders were represented at Thursday's meeting by team President Marc Badain, who has worked behind the scenes while Davis has made most of the public comments on behalf of the franchise.
"Mark (Davis) says he wants to make the league an offer it can't refuse. We took a big step today," Badain said. "The Raiders really appreciate the months and months of hard work and discussions and deliberations by the committee that produced an encouraging outcome."
The Review-Journal is owned by the family of Las Vegas Sands Corp. Chairman and CEO Sheldon Adelson.
Contact reporter Matt Youmans at myoumans@reviewjournal.com or 702-387-2907. Follow on Twitter: @mattyoumans247
RELATED
MGM's buy-in was key to stadium project gaining recommendation
Giunchigliani places stadium plan on Tuesday County Commission agenda
Southwest critical of Bali Hai site for proposed stadium
Gov. Sandoval calls for clarity on proposed stadium's road infrastructure costs