Patriots' Robert Kraft says Raiders' move to Las Vegas 'would be good for NFL'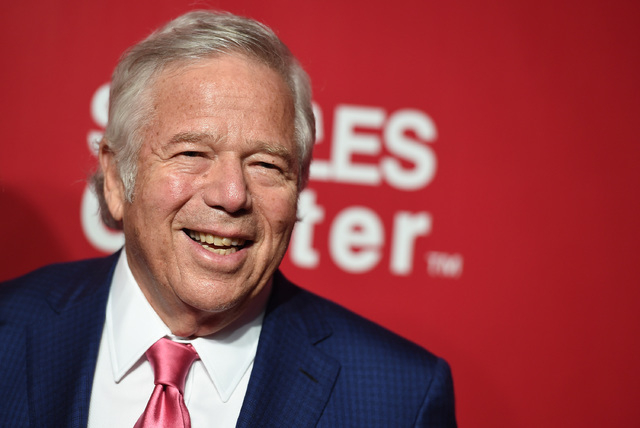 New England Patriots owner Robert Kraft said Friday he would support Raiders owner Mark Davis if he wanted to move his NFL franchise from Oakland to Las Vegas.
"I think it would be good for the NFL," Kraft told USA TODAY Sports. "I know Mark Davis has tried so hard in Oakland. If they won't do it … I want to support him."
Kraft becomes the second influential NFL owner to provide oral support for a franchise in Las Vegas. Last week, Dallas Cowboys owner Jerry Jones said he would back a Raiders move to Southern Nevada if a new stadium is built in Las Vegas.
"I came into the league in '94," Kraft said as NFL owners prepared to meet in Charlotte, North Carolina, on Tuesday. "Back then, any exploration of that market was dismissed out of hand. I'm looking where we are today and thinking of the last 10-15 years, and the emergence of new media, with Google and Facebook and the like.
"We're just living in a different world, technologywise. The (sports gaming) risks in Vegas are no longer exclusive to Vegas."
At last month's meeting of the Southern Nevada Tourism Infrastructure Committee, Davis pledged a $500 million contribution toward a $1.4 billion, 65,000-seat domed stadium. Casino operator Las Vegas Sands Corp. and Majestic Realty would contribute $150 million, and the remaining $750 million would come from tourist taxes under a preliminary funding proposal. The infrastructure committee meets again Thursday to discuss the stadium financing plan.
The Nevada Legislature would have to approve any diversion of tax revenues or tax increases to fund the stadium. Moving the Raiders would require approval of 24 of 32 NFL owners.
"Whatever the risks," Kraft said, "they are no greater (in Las Vegas) than playing a game in New Jersey."
The Review-Journal is owned by the family of Las Vegas Sands Chairman and CEO Sheldon Adelson.
Bill Bradley is sports editor of the Review-Journal. He can be reached at 702-387-2909 or bbradley@reviewjournal.com. Follow on Twitter: @billbradleyLV