Promoters, sports execs envision Las Vegas stadium as setting for major events
October 15, 2016 - 11:04 pm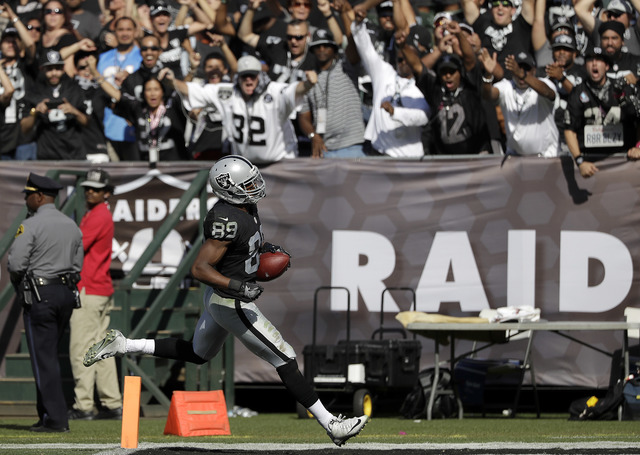 Bob Arum's head was filled with countless ways the new Las Vegas stadium could be used.
Arum, the CEO of Top Rank Boxing, envisioned Alabama and Michigan playing a college football regular-season game in Las Vegas.
"They could play here for a neutral site game and all the people from Alabama and Michigan would come in," Arum said. "That's one way where a lot of businesses benefit.
"The stadium going through is fantastic for the town, and it's going to really make it a big league town."
A supermajority of Nevada lawmakers on Friday passed an increase in Clark County's hotel room tax to help finance the $1.9 billion, 65,000-seat domed stadium, clearing the way for the relocation of the NFL's Oakland Raiders to Las Vegas.
The passage made Arum's day. He also rattled off NFL, soccer and collegiate events before getting to his sport.
"Oh, and what a wonderful thing to have in town for boxing," Arum said. "If we get another Mayweather-Pacquiao type of fight, it would draw 40,000 to 60,000 people here. Just the way Jerry Jones got 50,000 to come in for a second-tier Canelo (Alvarez) fight."
Jerry Jones' AT&T Stadium in Arlington, Texas, has hosted three boxing events since it opened in 2009, with each fight attracting at least 40,000.
Arum said he was worried that the stadium bill wouldn't get enough votes to pass because people were too focused on the tax money.
"It's not really citizens' money," he said. "This is an increase in the tourist tax. No citizen is going to have to pay any more money, and the way it's set up, the stadium will grow enough money to pay back whatever tax revenue that goes into it.
"I saw that with Jerry Jones and his Cowboys stadium. He had a similar deal, and they're paying back every nickel."
Arum is a close friend of Jones, the Dallas Cowboys' owner, and is optimistic the Raiders will get enough support from NFL owners to move to Las Vegas. Twenty-four votes — 75 percent — are needed for approval.
"I really believe Jerry, Robert Kraft (New England Patriots) and Stan Kroenke (Los Angeles Rams) will make it happen," Arum said. "They are three owners who support the move."
The Ultimate Fighting Championship also liked the idea of hosting events at the new stadium.
"UFC is excited about the prospect of a world-class, 65,000-seat stadium in our hometown of Las Vegas," said Lawrence Epstein, the UFC senior executive vice president/chief operating officer, in a statement. "Adding a state-of-the-art facility on the Las Vegas Strip will allow UFC to hold even larger events in our backyard."
Las Vegas 51s president Don Logan said the NFL "is the biggest sporting league we have in the United States, and to have a team here is great for our community."
Logan said the Triple-A club would continue to do business as usual.
"We're about locals," he said. "We're the most normal family entertainment option here in the valley. The more that people get used to going to sporting events, the better for us."
Not everyone liked the idea of using public money to build a stadium. Bill Foley, the owner of the Las Vegas NHL expansion franchise, said he stood by his comments last week when he was asked about the stadium at a team Fan Fest.
"I'm not going to be politically correct here, but I believe if you're going to spend $750 million of the public's money, it should be on policemen, firefighters and teachers," Foley told fans Oct. 8 at Toshiba Plaza.
But Foley said Friday he'll be among the first in line to buy season tickets for the Raiders if they move to Las Vegas. He added that he hoped to work out a deal to play an outdoor NHL game at the stadium.
"We'd certainly look into it, and it would be a great way to showcase Las Vegas," Foley said.
The Review-Journal is owned by the family of Sheldon Adelson, chairman and CEO of Las Vegas Sands Corp.
Contact Gilbert Manzano at gmanzano@reviewjournal.com or 702-383-0492. Follow @gmanzano24 on Twitter. R-J reporters Steve Carp and Betsy Helfand contributed to this report.