Raiders again fail to score TD in 20-6 loss to Chargers
Updated November 11, 2018 - 10:25 pm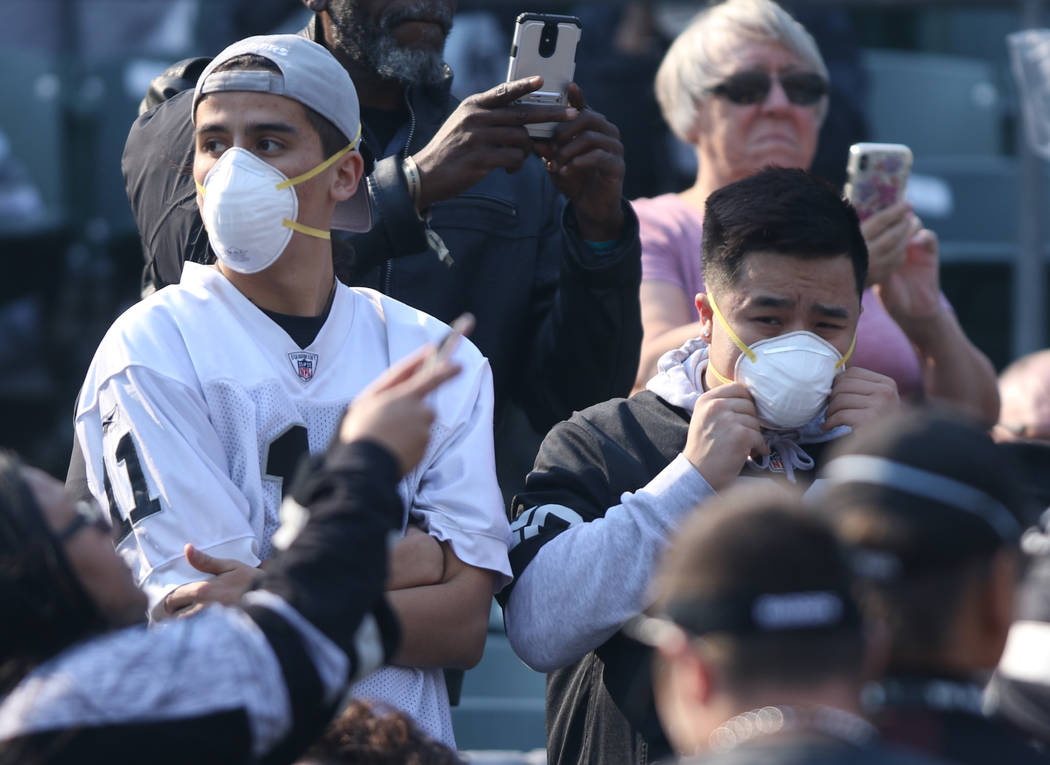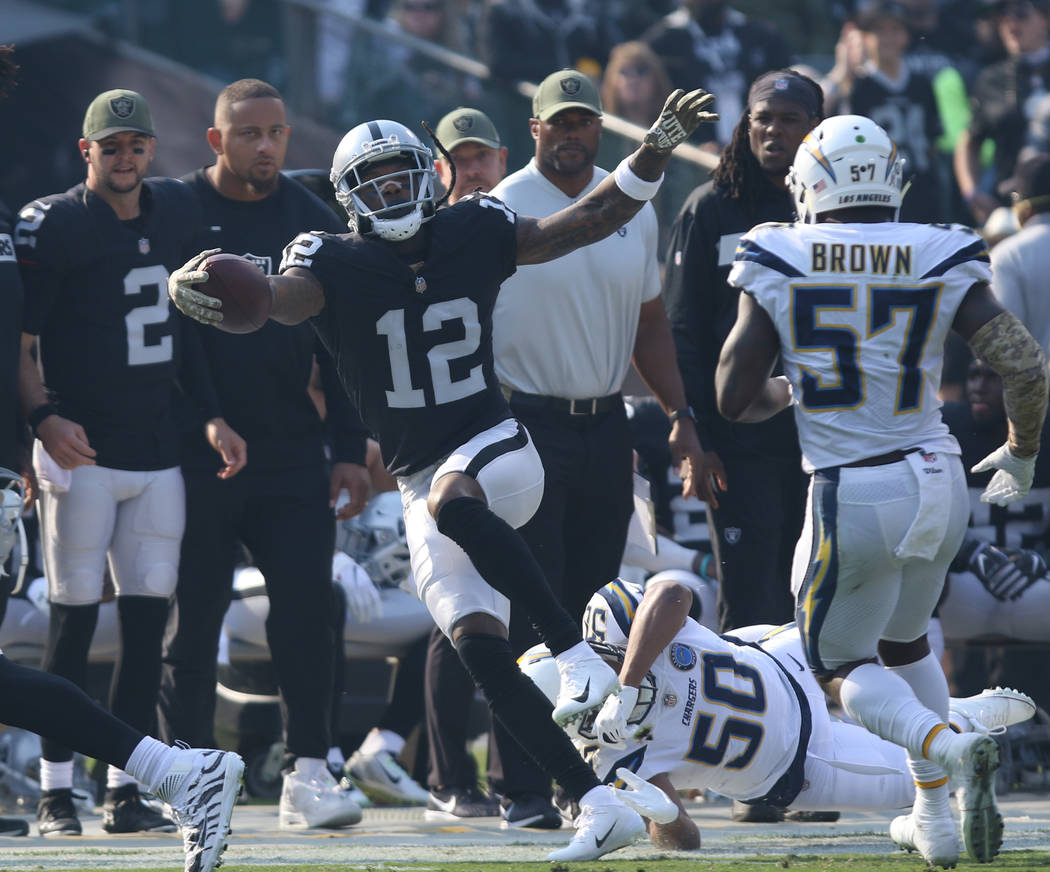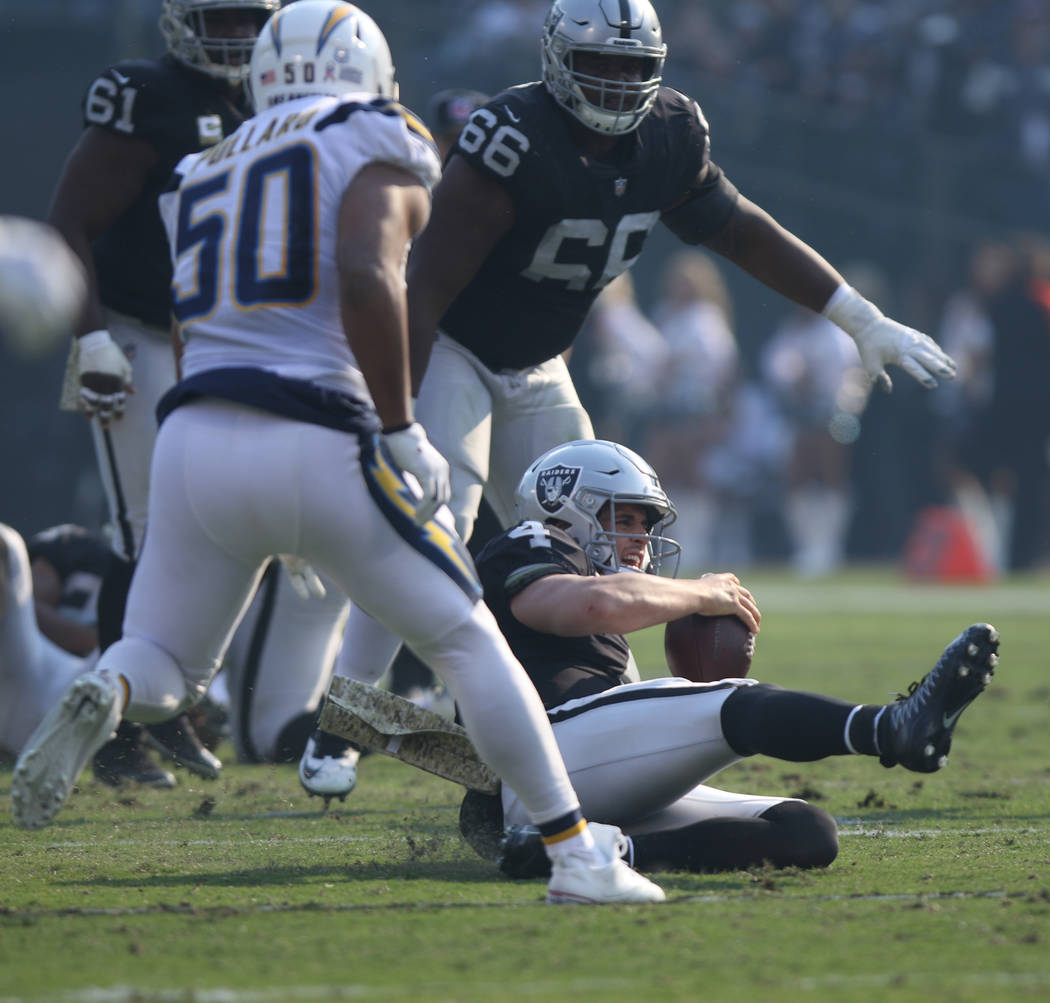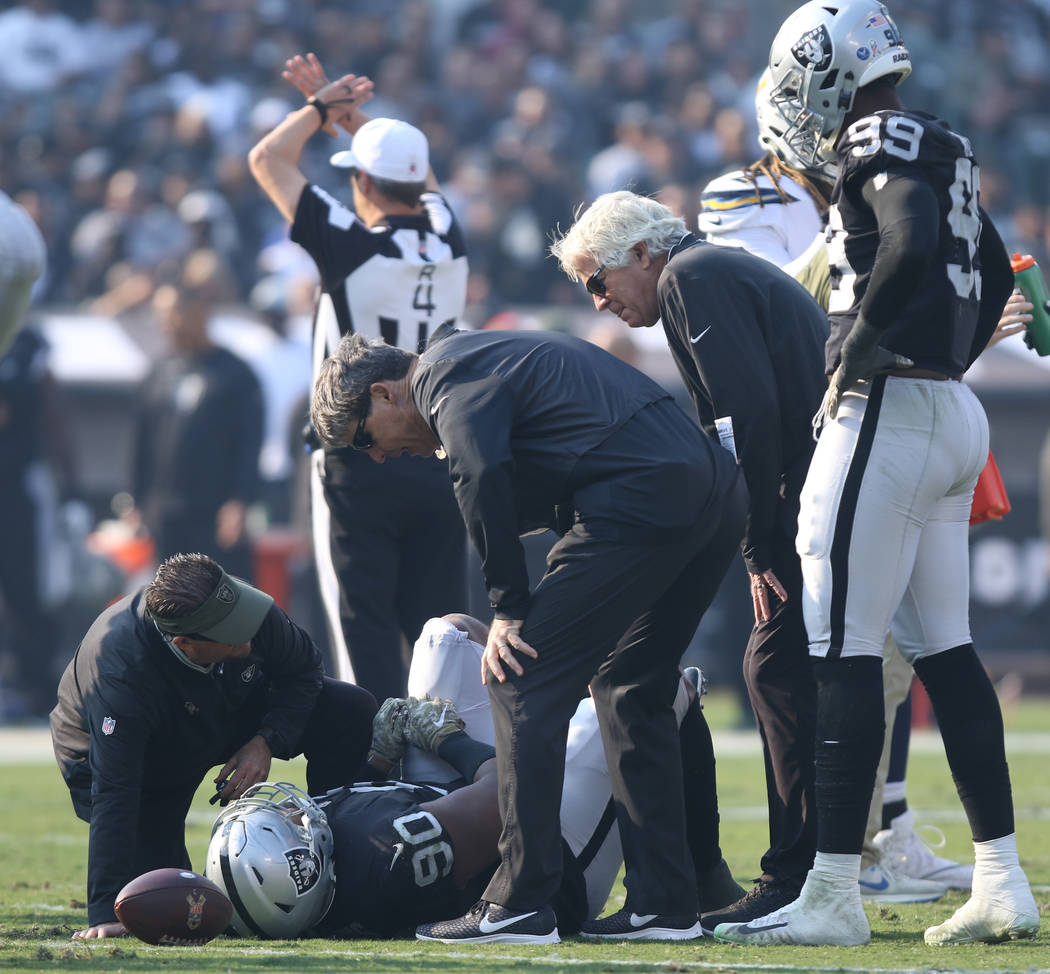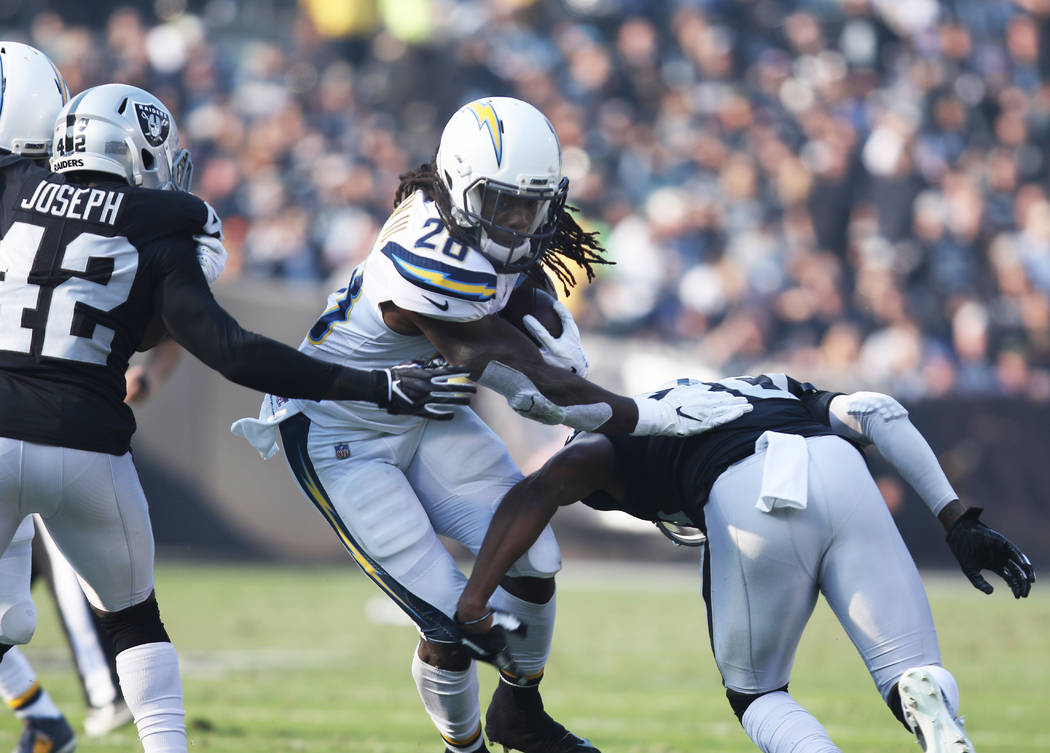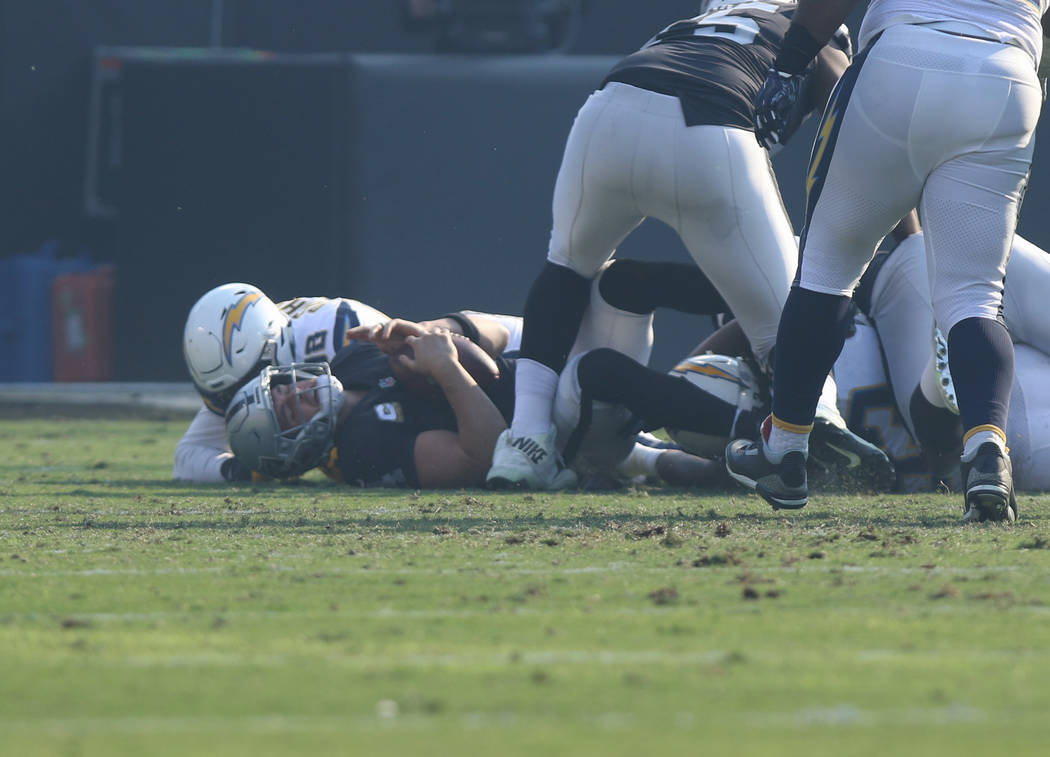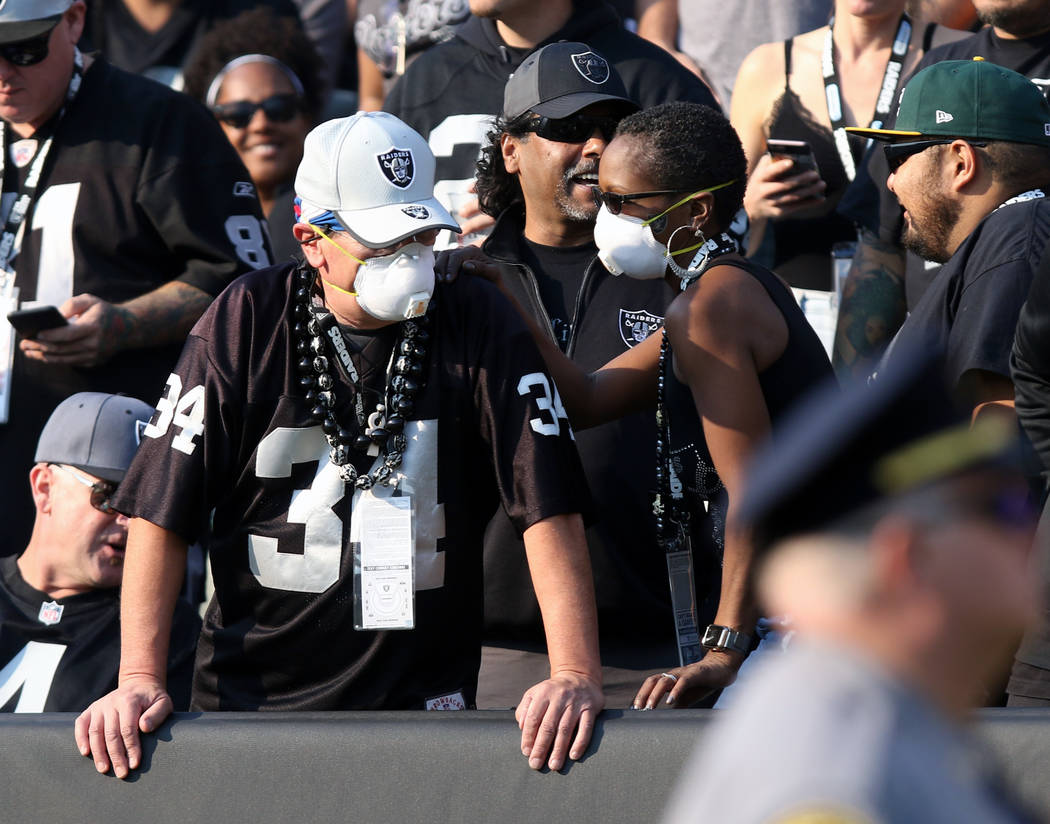 OAKLAND, Calif. — The Raiders ran a fake on their first punt of the afternoon. Defenders celebrated a second-quarter stop on third-and-short like it was the Super Bowl. In the third quarter, they blitzed aggressively with a seven-man rush on Cover-0 — and were burned.
Then, there was tight end Jared Cook.
In a season already decided, in a game essentially over, he caught a short, fourth-quarter pass and struck Los Angeles Chargers cornerback Desmond King II to the ground with a violent right jab to the face mask. The shot drew cheers from the fans who hadn't left yet.
"I don't know what his problem was," King told Los Angeles media. "He was trippin' for real."
The one-win Raiders predictably lost their eighth game Sunday, failing to score a touchdown for a second straight week. No one who sees the 20-6 result, though, ought to hurry to a notepad. It was expected. What was evident, what was noteworthy, is how the defeat came.
This team hasn't quit.
Not yet.
These next seven games will reveal whether the Raiders ever throw in the white towel on a season that continues to inch toward a No. 1 overall draft pick. For now, amid a five-game losing streak during which they've been outscored 149-50, some fight remains.
Fight is a critical brick to build whatever there is to come.
"This will be a year that a lot of us will never forget," coach Jon Gruden said. "And it's painful. It's really hard. It's painful. It's going to be hard to sleep again, hard to get up in the morning, but we are going to keep working hard. This will be the foundation that this program leans on: mental toughness; physical toughness; doing everything you can in the eye of adversity.
"And I know it sounds corny to some people, but that's the grit and toughness that this organization was built on, and that's what we are going to continue to strive for."
Meanwhile, it seldom has been pretty.
Sunday was no different.
Punter Johnny Townsend's 42-yard fake extended the opening drive, but it ultimately fizzled on a busted jet sweep on fourth-and-goal. The sweep had a similar design as one the Kansas City Chiefs twice ran for goal-line touchdowns against the Chargers in Week 1. The Raiders tried their luck.
Effort, even if for naught.
In the third quarter, defensive coordinator Paul Guenther brought the house on second-and-10, sending the likes of cornerback Leon Hall, linebacker Nicholas Morrow and linebacker Tahir Whitehead after quarterback Philip Rivers. But Rivers dumped a short pass to running back Melvin Gordon, who weaved past cornerback Gareon Conley and safety Reggie Nelson for a 66-yard touchdown.
Effort, even if for naught.
Cook aside, few counter punches landed on offense. Carr was sacked four times. None of its three drives that reached the red zone culminated in a touchdown. Only one of those three produced points. The unit has not scored a touchdown in nine quarters.
However important, such shortcomings won't define this season's second half.
They can't.
About 15 minutes before kickoff, more than 40 Raiders players huddled midfield around the franchise's silver and black shield. There, standing atop the logo painted on overseeded Bermuda grass, 23-year-old linebacker Marquel Lee shouted various messages of encouragement.
Because of a local wildfire, they practiced in conditions Thursday so smoky that the video quality of the team's practice was compromised. On Sunday, ash particles still blew inside the stadium.
Lee told teammates it was time to get their season on track.
He told them everyone would be needed.
"I talked about the smoke because we want all of it," Lee said. "It means whatever comes our way, we're going to take it, and we're going to persevere."
More Raiders: Follow online at reviewjournal.com/Raiders and @NFLinVegas on Twitter.
Contact reporter Michael Gehlken at mgehlken@reviewjournal.com. Follow @GehlkenNFL on Twitter.