Raiders coach Jack Del Rio eyes present more than Las Vegas future
Updated March 28, 2017 - 7:57 pm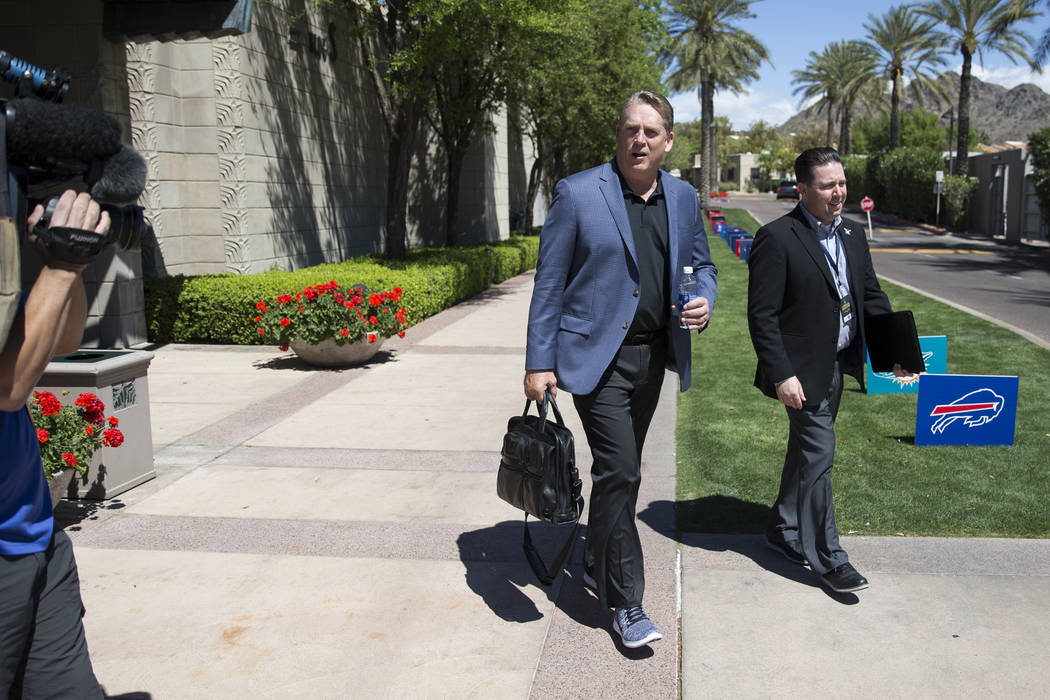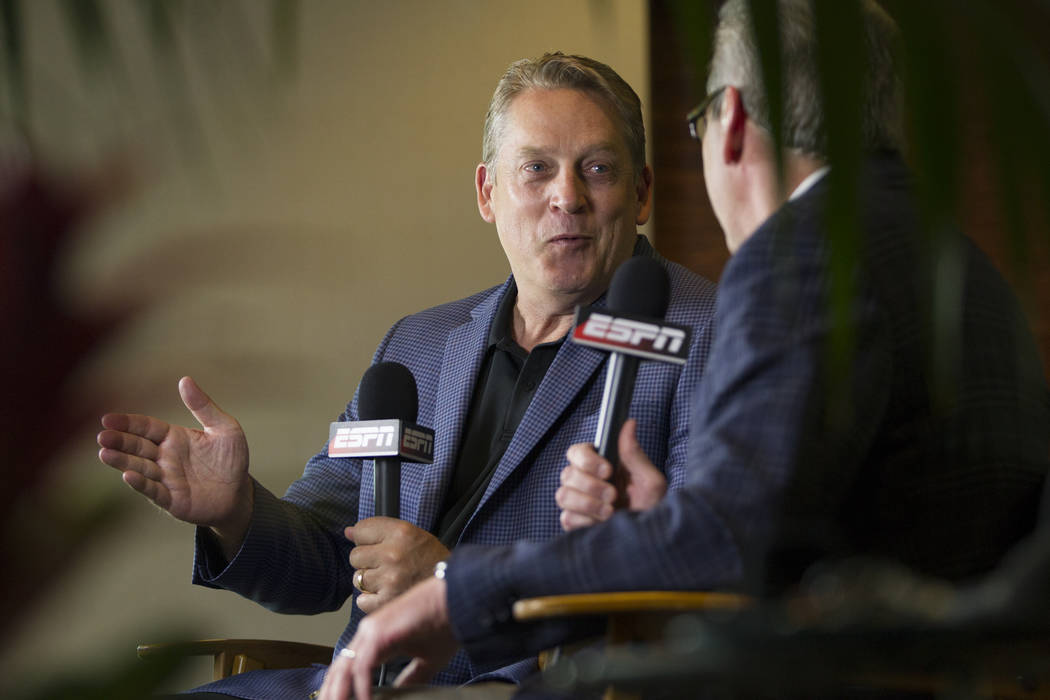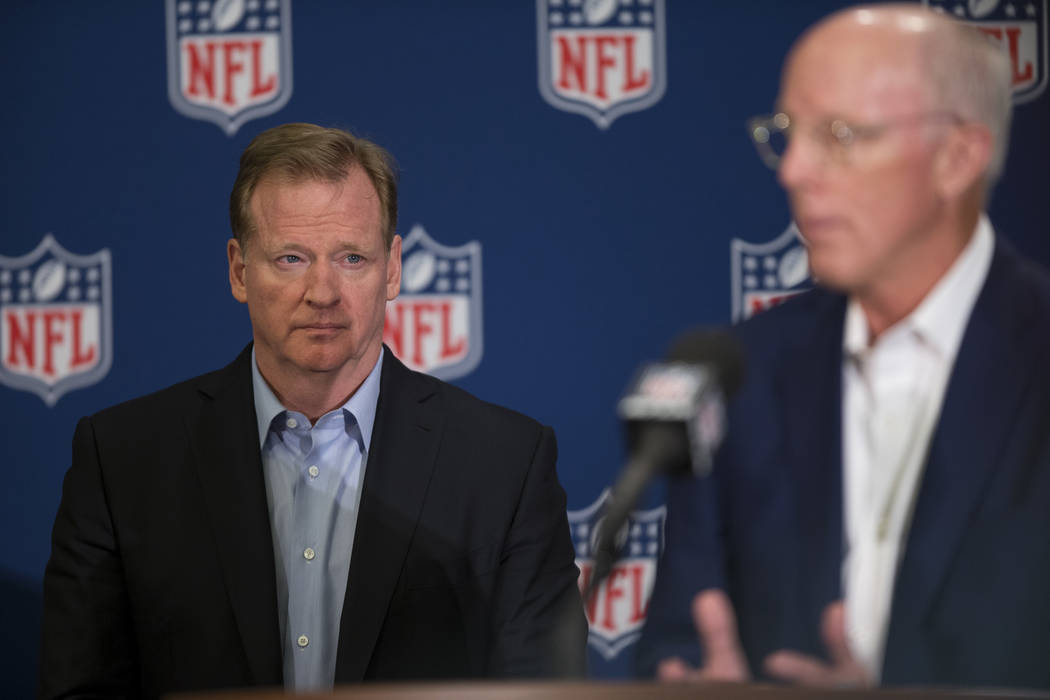 PHOENIX — Jack Del Rio has been to Las Vegas a few times.
Golfed a little. Gambled a little. Caught a few shows with his wife.
Loved the shows. Loved the food.
But now he must envision making Southern Nevada home and, perhaps more significantly, preparing an NFL team and all its families to do so. There isn't a head coach in league history who will have faced such a challenge over the extended period of time Del Rio and the Raiders now inherit.
"The last time I heard something like that, we were starting a third-string quarterback in a playoff game," Del Rio said. "That didn't go very well. Let's hope this goes better.
"It's a little unique. There isn't a handbook out there on this. If there is, please send it to me. We will do the best we can to put a plan together and execute it."
Del Rio was a helmet full of mixed emotions Monday, when NFL owners voted 31-1 in favor of allowing Oakland's relocation to Las Vegas, where the team is expected to open the 2020 season in a new state-of-the-art domed stadium.
The Raiders could arrive sooner, depending on how things play out in Oakland with one-year leases for the 2017 and '18 seasons, but questions about the potential readiness of Sam Boyd Stadium as a temporary facility are for another time.
So too, for the most part, are specifics as to how a coach who was born and raised in the Bay Area and grew up loving all that was the Raiders will approach the Las Vegas storyline with his team.
Del Rio, the coach in Jacksonville from 2003 to 2011, signed a four-year contract extension with the Raiders in February, meaning while many of his players might not be wearing silver and black when the Raiders make Las Vegas home — there is usually a 25 to 35 percent turnover of NFL rosters annually — the guy coaching should be.
The Raiders followed 13 straight nonwinning seasons with a 12-4 regular-season record last year and AFC playoff berth, losing to Houston in the wild-card round without starting quarterback Derek Carr (broken fibula) or backup Matt McGloin (shoulder).
How his team continues to improve and keep a franchise quarterback in Carr healthy is paramount to Del Rio's thinking right now, but he realizes there is no avoiding the realities of relocation.
He spent the past few years addressing players about a potential move to Los Angeles, but when the league placed the Rams in Southern California over a stadium plan that included Oakland, those talks ended.
Now, they begin again.
"The difference is, there is a destination for the organization," Del Rio said as AFC head coaches met with the media Tuesday at the league's annual spring meetings. "There will be constant conversations about movement, and I'm sure (Las Vegas media) will be (in Oakland) covering us. But there is a fine line between where we are and then transitioning to Las Vegas and engaging that community as well. We have to focus on the task at hand, and that's winning football games.
"I think the No. 1 thing you have to do as player or coach is talk to your wife and kids and educate them. Everyone needs to understand what the landscape is. I don't think you can dismiss that part of it — there are wives at home right now asking their husbands about it, and the husbands don't have the answers.
"The first thing I want them all to know is, don't worry about what we're going to be doing two or three years from now. Be worried about taking care of your job now so you are part of it in two or three years. It's about the here and now. Let's just worry about taking care of business. We have a lot of work to do just to get back to the playoffs."
He was a football and baseball player at Southern California when the Raiders first went on the move, relocating from Oakland to Los Angeles in 1982. The idea of East Bay fans losing their team crushed him, but he was ecstatic at seeing his favorite club up close and personal.
Now that it has happened again, and one the league's most devoted and passionate fan bases will eventually watch their franchise pack its bags and leave, Del Rio is unsure how those so historically invested in his team might react.
"We draw globally," said Del Rio, 53. "I am sure there are some people who are angry and won't ever get over it and just won't support us, and it's understandable. But there are die-hards, and to them, it won't matter where we play.
"They don't really take the opinion of the coach into consideration when they make this type of decision. I'll focus on the decisions I do get to make — whether or not I throw my red flag, who I'm going to play at right tackle. There is a story about Las Vegas that's going to be written, and it's going to take off, but we're in Oakland right now. That's where we will be competing. It's about getting back to the task of this coming season."
Translation: For now, the shows and food can wait.
Follow all of our Oakland Raiders to Las Vegas coverage online at reviewjournal.com/Raiders and @NFLinVegas on Twitter.
Contact Ed Graney at egraney@reviewjournal.com or 702-383-4618. He can be heard on "Seat and Ed" on Fox Sports 1340 from 2 to 4 p.m. Monday through Friday. Follow @edgraney on Twitter.