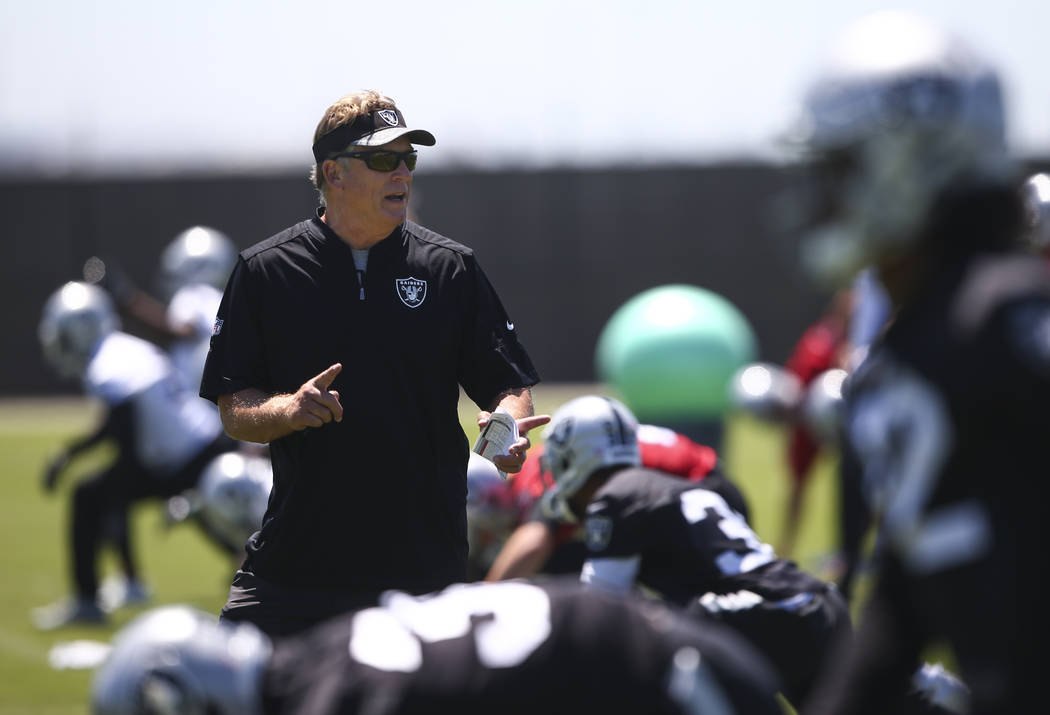 ALAMEDA, Calif. — Rap music blasted from the on-field stereo. Jumbo jets roared in the sky. After practice, midway into his press conference, Jack Del Rio was forced to shout answers to questions, the Raiders coach barely audible because a leaf blower screamed on the other side of a fence.
Del Rio hopes for something during these next six weeks.
Quiet.
Backup quarterback Connor Cook converted a back-shoulder touchdown pass to rookie wide receiver Isaac Whitney. And so it ended Thursday, the final play of the final spring practice. All veterans are off until the July 28 report date for training camp in Napa, California. Del Rio hopes the next month-plus passes by uneventfully.
No late-night phone calls about this. No concerning developments about that.
"I look forward to this little break we get," said Del Rio, who plans to find a beach somewhere before returning to work. "The message for our guys, I told (them) two major things: Show that you're taking care of your bodies, so you arrive in camp ready to work. We'll have a tough camp. We have a tough schedule ahead of us, and we've got to put in the work. Don't let the good things we just did go away. …
"Two, stay out of trouble. Be safe. Make good decisions. That's what we expect from our guys all the time. But just a reminder, more occurrences than ever happen at this time of the year, so don't take any liberties. Don't take any chances. Don't take anything for granted. Appreciate where we are and the opportunity we have. Remember that it's all about the team."
His team was productive this spring.
It worked to acclimate a rookie class along with veteran additions like running back Marshawn Lynch and tight end Jared Cook. Certain position battles that will carry into training camp have begun; Connor Cook and E.J. Manuel exchanged second- and third-team quarterback reps in minicamp. The defense focused on disguising better, working to confuse quarterbacks by showing a certain pre-snap look before executing a different concept once the play begins.
Safety Karl Joseph said Thursday that he often spoke to Derek Carr between series for feedback.
"It helps having one of the best quarterbacks in the league," Joseph said. "A lot of our disguises, he'll pick it up. Just a regular quarterback wouldn't be able to pick it up. He's been very helpful for that. I'll ask him, 'What do you think you saw there?' I think we've been pretty good, me and Reggie (Nelson), Obi (Melifonwu) and Keith (McGill), all the safeties as far as disguising."
The Raiders capped their spring on a lighter note.
Thursday's minicamp practice ended about an hour earlier than Tuesday and Wednesday's sessions. The starters largely observed, as the reserve units handled all the work during the team's 11-on-11 periods. This structure effectively curtailed any chance of a major injury to core players.
The team seemed to fair well from a medical standpoint.
There were injuries along the way but none known to be overly serious. Right tackle Marshall Newhouse, center Jon Feliciano, defensive lineman Jihad Ward and cornerback Gareon Conley were among the players who started the spring but did not finish it. Conley's ailment is known to be minor, and there is not long-term concern with Feliciano, Del Rio said.
The Raiders have work behind and ahead of them.
They seek some quiet in between.
More Raiders: Follow all of our Oakland Raiders-to-Las Vegas coverage online at reviewjournal.com/Raiders and @NFLinVegas on Twitter.
Contact reporter Michael Gehlken at mgehlken@reviewjournal.com. Follow @GehlkenNFL on Twitter.
Summer break
The Raiders won't reconvene for training camp until July 28 in Napa, California. Veterans have 42 full off-days before then. Rookies have an orientation this weekend they must attend at the team facility.