Raiders' Cordarrelle Patterson volunteered for larger role Sunday
December 4, 2017 - 5:30 pm
Updated December 4, 2017 - 5:48 pm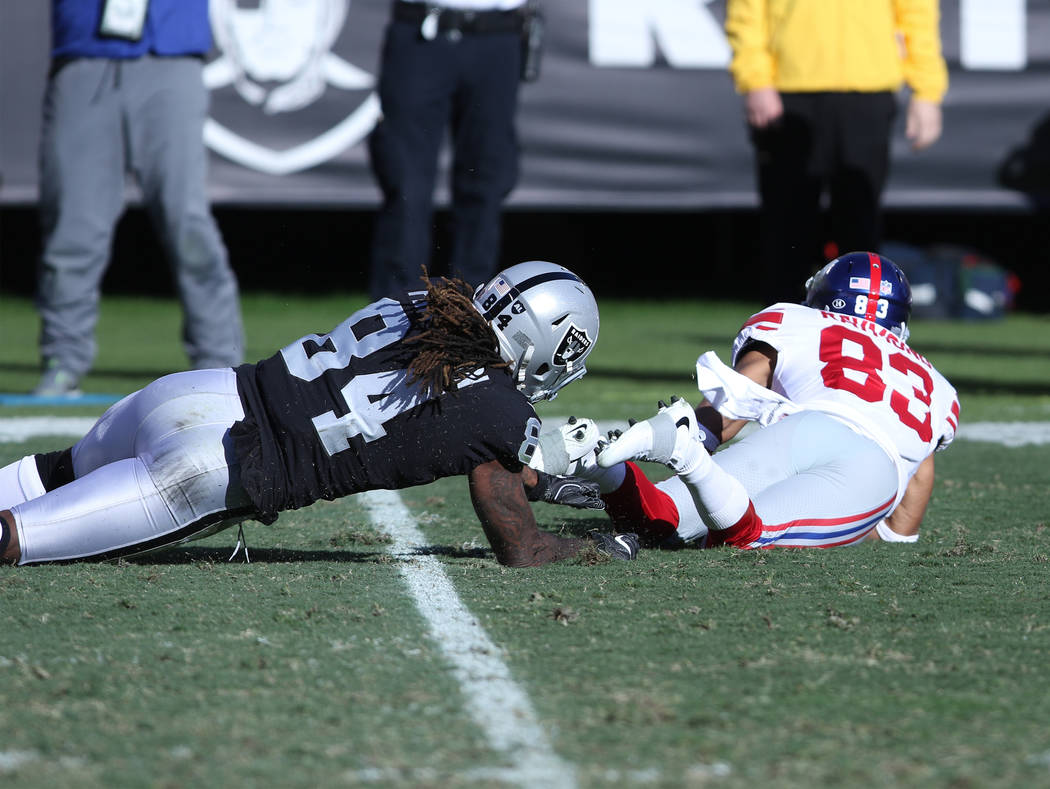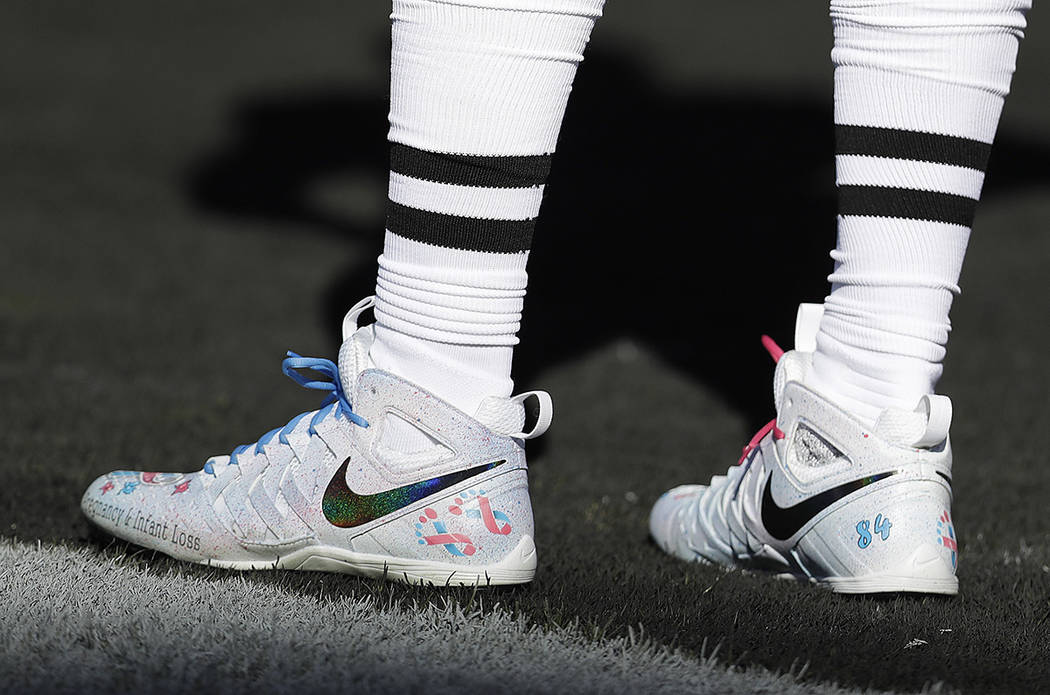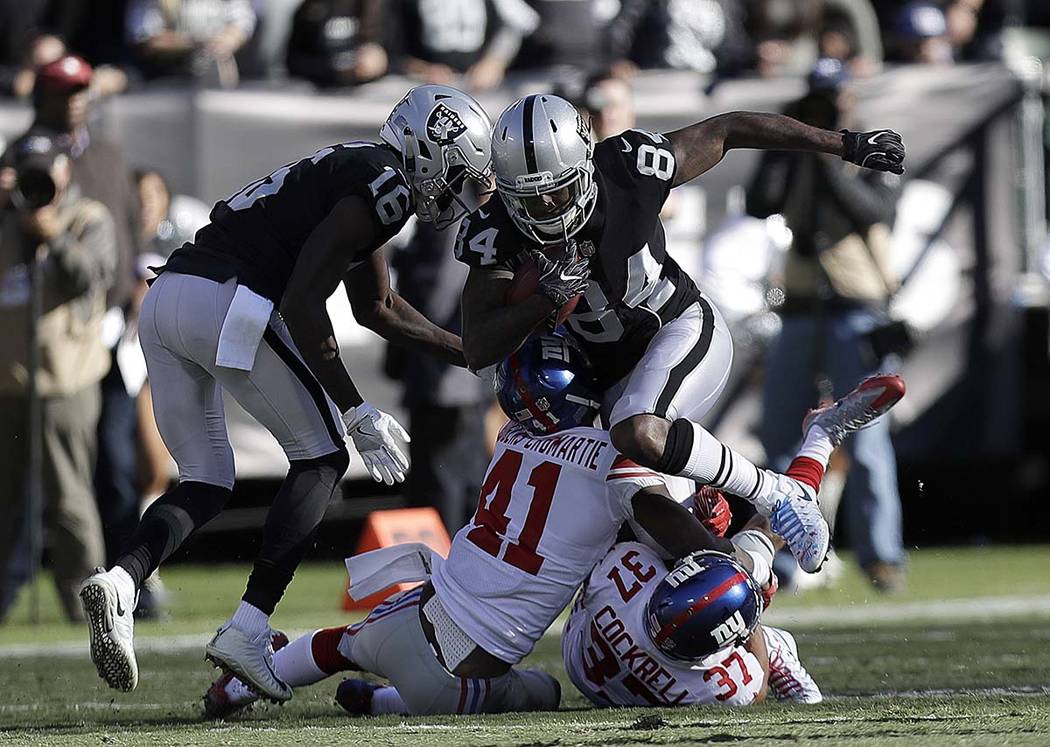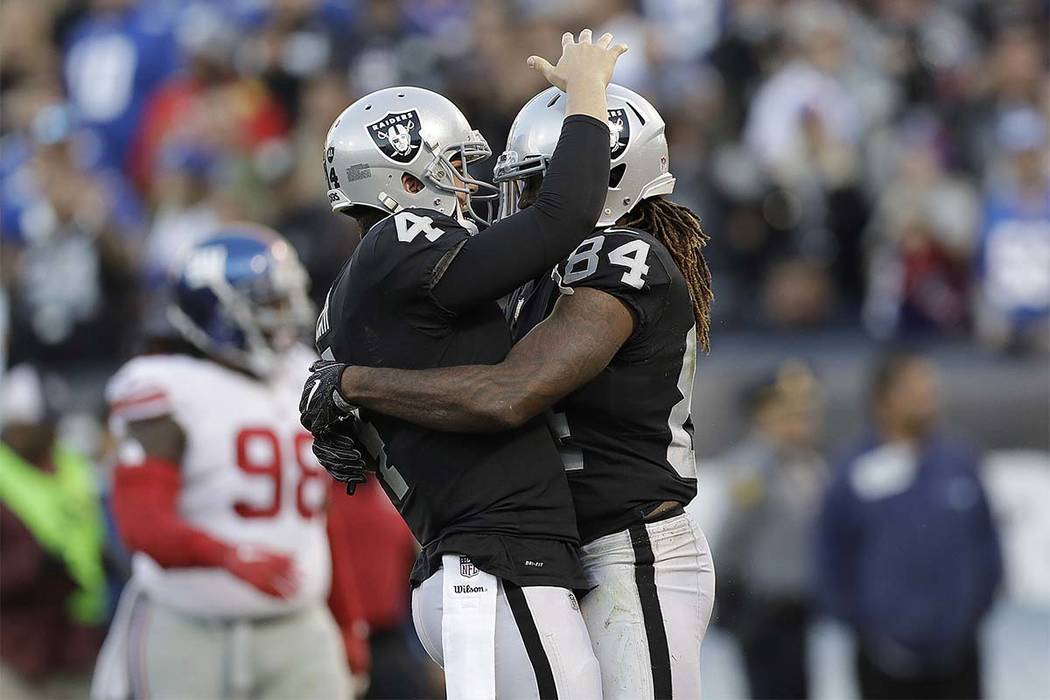 ALAMEDA, Calif. — Cordarrelle Patterson was set to see a larger offensive role Sunday, given the absence of wide receivers Michael Crabtree and Amari Cooper. To accommodate those duties, special teams coordinator Brad Seely notified him days before that his involvement in kick coverage would be scaled back.
Then the game began.
He wanted it back, Patterson decided.
The Raiders used rookie wide receiver Isaac Whitney and rookie safety Obi Melifonwu as their gunners on the team's first punt of the game. In the few minutes between their first and second punt, Patterson approached Seely on the sideline and volunteered to resume his usual gunner responsibility. He promptly made an important tackle in a 24-17 win over the New York Giants.
Patterson played 35 offensive snaps, his third-highest total of 2017. He caught four passes for a team-high 97 yards, 59 of which came on a fourth-quarter screen to help seal the result. He added two carries for 1 yard.
Still, he wanted more.
"I'd seen my guys, and it seemed like they were tired," Patterson said after Sunday's game. "I told Seely, 'Hey, I'm going to go out there. If they can't go, I'm going to go out there. If they can go, I'm still trying to get out there.' I saw an opportunity. Isaac had a deep ball (on third down); it was a pass interference, but they didn't call it. He couldn't go. He was a little tired. And I was like, 'Hey, I'm going to do what I've been doing this whole year: I'm going to go out and make a play.' "
And so he did.
On the Raiders' second punt, Patterson lined up at gunner with Melifonwu on the other side. The Giants made the peculiar decision to double Melifonwu rather than double Patterson, who has been a gunner along with wide receiver Johnny Holton all year. Patterson easily beat his man and made a shoestring tackle on an 8-yard return of a 62-yard Marquette King punt.
Melifonwu, unable to shed his double team, made it less than 10 yards downfield. Whitney was unable to down King's first punt, resulting in a touchback.
On Monday, coach Jack Del Rio confirmed Patterson's account of how he entered the game.
"He loves ball," Del Rio said. "He wants to help his teammates any way he can. We had two young guys in there that can run, but they're green. He thought he could make an impact, and he did."
Patterson signed a two-year, $8.5 million contract in March.
Crabtree back, Cooper not?
That the Raiders reinstated Crabtree to the 53-man roster Monday was a predictable development, an entirely procedural move sure to be made following a suspension served. Ho-hum.
The corresponding transaction, though, was interesting.
Rather than cut a wide receiver to create roster room for Crabtree, the Raiders waived defensive lineman Darius Latham instead. This appears an indicator the team is bracing for a scenario in which Cooper will be unable to return in time for Sunday's vital divisional game against the Chiefs in Kansas City.
Cooper suffered a concussion and ankle sprain on Nov. 26 versus the Denver Broncos. The latter is believed to be the greater concern as it relates to his Sunday availability. Cooper was spotted walking gingerly in the locker room last Thursday and Friday.
Del Rio offered little insight Monday when asked about Cooper's status.
"I just remain hopeful," Del Rio said in a news conference. "We'll see how the week goes."
Notable
With four drops on offense Sunday, the Raiders' season total of 33 is tied for most in the NFL. Their quarterbacks also lead the league with 333 yards in the air on dropped passes, according to Pro Football Focus. Wide receiver Johnny Holton had two drops Sunday. Running back Marshawn Lynch and tight end Jared Cook each committed one.
— Since Monday is a weekly off-day for players, Crabtree won't return to the team facility until Tuesday, Del Rio said. He was suspended last week for his role in a melee involving Broncos cornerback Aqib Talib. Both then won an appeal to reduce their two-game suspensions to one week.
Contact reporter Michael Gehlken at mgehlken@reviewjournal.com. Follow @GehlkenNFL on Twitter.