Raiders' costumes keep things light on Halloween
October 31, 2018 - 4:55 pm
Updated October 31, 2018 - 11:51 pm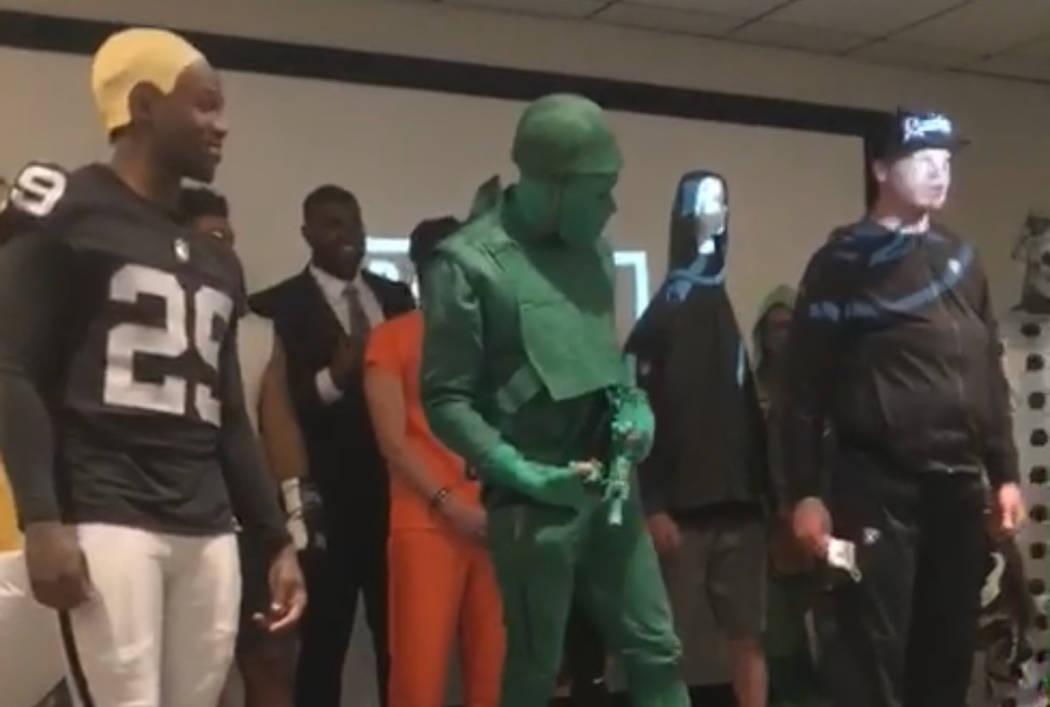 ALAMEDA, Calif. — Typically, a rookie avoids arriving late to a team meeting.
Halloween morning was an exception.
Saeed Blacknall, a wide receiver on the Raiders' practice squad, reported to team headquarters Wednesday wearing a fairly generic sweatshirt themed after the Netflix television series "Stranger Things." He also donned a neon green headband and told teammates he was a character from the show.
Sighs. Head shakes. Eye rolls.
Their disappointment was evident, believing he'd mailed it in.
They didn't know what Blacknall had planned.
"I went hard," Blacknall said. "I had to. Once I started buying the (Nerf) gun and all the spray paint, I said, 'I gotta go all the way. I can't go halfway now.'"
A heavy, stuffy air can accompany the sort of losing season in which the Raiders are entrenched. Certainly, at times in this 1-6 campaign, it's been tiresome for coaches and players alike to breathe it inside the club's facility. That is what makes moments like a rookie Halloween costume contest so welcome, or even necessary.
The revelry offered lightness before the Raiders face the San Francisco 49ers (1-7) on Thursday evening.
"It's very important," cornerback Rashaan Melvin said. "We know that we're not having the season we want to have, but we still have many more weeks to improve and get back on track. You need those moments. You need that energy, that laughter. That's what brings this team together."
Said defensive end Frostee Rucker: "That was fun. Just to make it a little more lively around here. It's Halloween. You've got to stay festive."
A group text message initiated the contest.
At Tuesday around 5 p.m., tight end Lee Smith informed the rookies they'd partake in a costume competition. All were to wear a costume and be judged at the next morning's meeting. And so, just like that, rookies had to find an outfit — on the night before Halloween.
Purchasing one, of course, proved difficult.
Wide receiver Marcell Ateman was among the rookies who visited various party stores in the Bay Area. Chaos greeted them. Most items were chosen. Bags once containing full costumes now were littered on the ground, containing partial elements. Customers moved at the speed of procrastination realized.
"Crazy," Ateman said. "So many people."
He found nothing at a Halloween store near his home. So, he drove to Berkeley where a similar setting awaited.
"I was like, 'Man, I can't be spending all night,'" Ateman said. "So I was just looking around, and some lady was like, 'Anybody want to be peanut butter? I'm jelly. Here's a costume.'"
And that is how Ateman walked into an NFL team meeting as a slice of bread with peanut butter on it.
Linebacker Jason Cabinda wore an inflatable Donald Trump costume. Defensive tackle Mo Hurst Jr. was a pilot from the movie "Top Gun." Kicker Eddy Pineiro borrowed an inmate costume from a friend. Offensive tackle Brandon Parker purchased a navy blue suit to be Wizard Kelly, a character from the "Proud Family" animated sitcom.
"I needed a suit anyway," Parker said.
Running back Chris Warren wore boxing gloves and athletic clothes. A boxer.
Running back James Butler was rapper 50 Cent, donning a weight-room vest and do-rag.
Offensive tackle Kolton Miller, the team's first-round pick, was a scarecrow, although some weren't convinced.
"I think people are still trying to figure that out," tight end Derek Carrier said with a laugh. "It was a very awkward costume. I think he meant to be a scarecrow. … Everyone was like, 'What are you supposed to be?' He mumbled something. Nobody even heard what he said."
There were impersonations.
Tight end Paul Butler went as Frank Smith, his position coach. That required ample bubble gum and hand gesturing. Cornerback Nick Nelson, who has dreadlocks, was veteran cornerback Leon Hall. He dressed in Hall's full uniform, sans the helmet, with a bald cover-up placed atop his head.
Naturally, someone had to be coach Jon Gruden.
With help from the equipment staff, that was fullback Ryan Yurachek. The ensemble involved a visor, glasses, game-day polo, hoka tennis shoes, and play sheet with "Spyder 2 Y Banana" written on it.
"And you've got to get the expressions down," Yurachek said. "That's probably the biggest part."
Blacknall won the contest.
Starting at 8 p.m. Tuesday, he devoted three hours and seven cans of metal-green spray paint to cover military-style clothing that he purchased earlier in the evening. This included the aforementioned Nerf gun.
As others shuffled into Wednesday's meeting, he remained in the locker room and changed into his real costume as a plastic toy soldier, similar to those in the film "Toy Story."
Teammates laughed and cheered.
Now, they march on.
More Raiders: Follow online at reviewjournal.com/Raiders and @NFLinVegas on Twitter.
Contact reporter Michael Gehlken at mgehlken@reviewjournal.com. Follow @GehlkenNFL on Twitter.