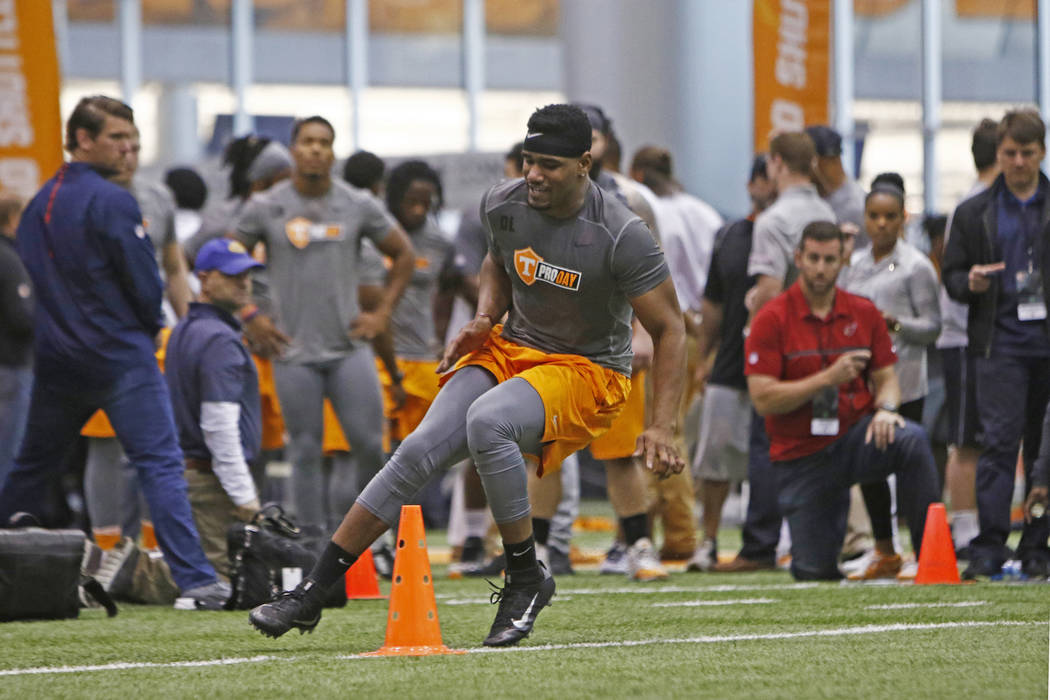 ALAMEDA, Calif. — Last Thursday was Orientation Day at the Raiders' facility. But it was not all handshakes and introductions.
When dozens of rookies and other NFL hopefuls arrived, they were sized for football equipment and met their coaches and peers. Soon thereafter, they were hit with a message, a message sent in their first meeting and then repeated Friday before practice.
This three-day rookie minicamp, they were told, was about competition.
By Sunday, the message was received.
Three players who began the weekend with NFL jobs no longer have one. The Raiders confirmed Monday that former Wagner College linebacker Najee Harris, Tennessee defensive lineman LaTroy Lewis and Faulkner defensive lineman Chris Casher were signed after participating at camp on a tryout basis. Former Oklahoma safety Ahmad Thomas, Oklahoma defensive tackle Jordan Wade and Duke linebacker Dwayne Norman were waived in corresponding moves.
A tone has been set for later this month when the Raiders begin organized team activities (OTAs).
Competition has begun.
Thomas and Wade received signing bonuses as undrafted rookies added on April 29. Those thousands of guaranteed dollars did not matter. They are gone. Norman was signed to a future/reserve contract in early January. He participated in the Raiders' workout program prior to the rookies arrival, meaning he had weeks of a head start in the team's system.
He, too, is gone.
Now the Raiders' rookie class has a good sense for how its time with the team will go. If the players perform like Harris, Lewis and Casher did, they will be rewarded, potentially passing up a more-experienced or better-compensated player on the depth chart. If they do not perform adequately, their roster tenure is at risk of expiring as it did for Thomas, Wade and Norman.
That was the message all along, and it wasn't empty talk.
The Raiders followed with action.
Meanwhile, a fourth tryout player could be added to the Raiders' roster soon. Former Kentucky safety Marcus McWilson also impressed this past weekend. There is belief he will be signed at some point, perhaps as early as this week, a source said Monday.
Michael Gehlken can be reached at mgehlken@reviewjournal.com. Follow @GehlkenNFL on Twitter.