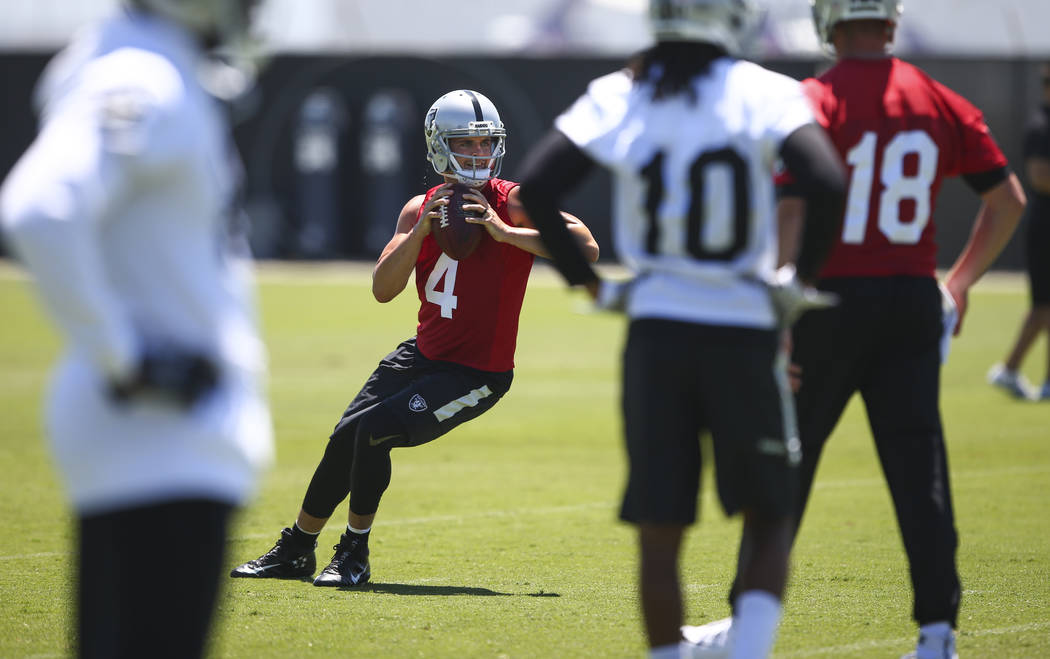 OAKLAND, Calif. — No more waiting. No more questions asked at press conferences. No more watching teammates be interviewed on national television and hearing reporters inquire about his unresolved contract status.
Now it's done From the jump I've wanted to be a Raider 4 life. One step closer to that! Blessed!!! Business done! Let's just play now!!!

— Derek Carr (@derekcarrqb) June 22, 2017
It's done.
The Raiders have finalized a five-year, $125 million extension that keeps Derek Carr under team control through the 2022 season, a source confirmed Thursday morning. It concludes a storyline that lingered for months. In truth, there seemed little doubt a deal would materialize before the late July start of training camp; both sides wanted it. Now that it's here, Carr and the front office can look ahead to other business.
This contract allows them to do so.
Specific figures regarding the deal's structure are expected to be released in the coming days. But a source familiar with the contract said that it features a delayed cash flow in key respects that will assist the Raiders when entering negotiations with other top in-house impending free agents. Right guard Gabe Jackson, defensive end Khalil Mack and wide receiver Amari Cooper — in that order — are among those due for extensions in the coming years.
The cash devoted to Carr, whose contract is the most lucrative in NFL history, won't prohibit those players from being retained.
This was important to Carr. A source characterized him as being very much involved in discussions. The 26-year-old, part of a young Raiders core that has sparked a turnaround of the organization, wants that core to remain intact.
Delaying cash flow can come with risks; players tend to push for as much money as possible in the first couple years of an extension so as to avoid their release before cashing in. But since Carr is a franchise quarterback, he figures to be largely immune to that risk. Also, California has the highest state income tax rate in the country at 13.3 percent. Nevada has no state income taxes. So, there is a tangible incentive for he and other Raiders players willing to backload money in their deals.
The Raiders are scheduled to move to Las Vegas in 2020.
Carr will be under center when they do.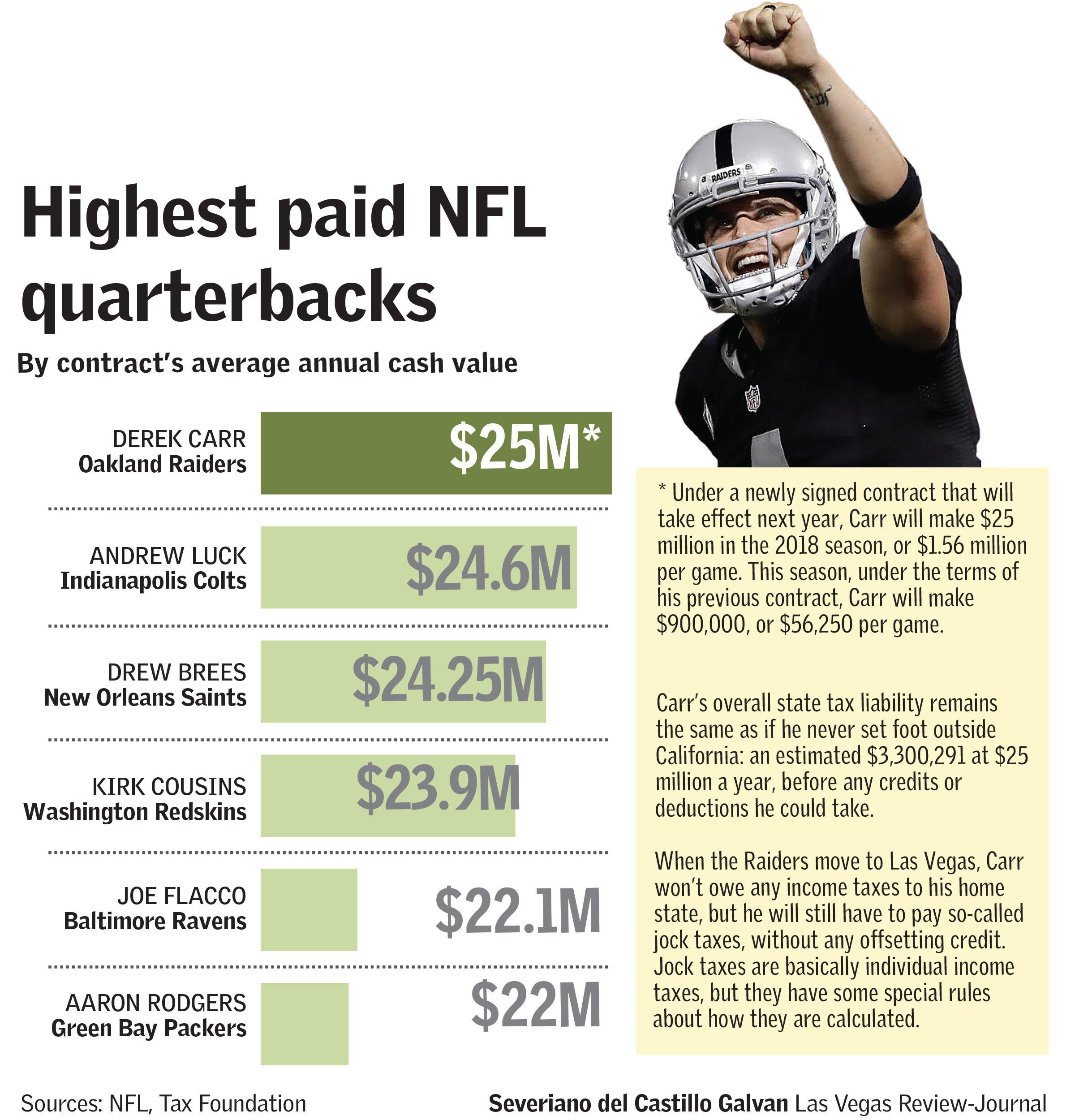 More Raiders: Follow all of our Oakland Raiders-to-Las Vegas coverage online at reviewjournal.com/Raiders and @NFLinVegas on Twitter.
Contact reporter Michael Gehlken at mgehlken@reviewjournal.com. Follow @GehlkenNFL on Twitter.
Highest 10 active QB salaries, average per year
— Derek Carr, Raiders: $25 million
— Andrew Luck, Colts: $24.59 million
— Drew Brees, Saints: $24.25 million
— Kirk Cousins, Redksins: $23.94 million
— Joe Flacco, Ravens: 22.13 million
— Aaron Rodgers, Packers: $22 million
— Russell Wilson, Seahawks: 21.9 million
— Ben Roethlisberger, Steelers: $21.85 million
— Carson Palmer, Cardinals: $21 million
— Eli Manning, Giants: $21 million
Source: overthecap.com