Raiders' Derek Carr says he's 'ready to rock'
Updated April 17, 2017 - 8:12 pm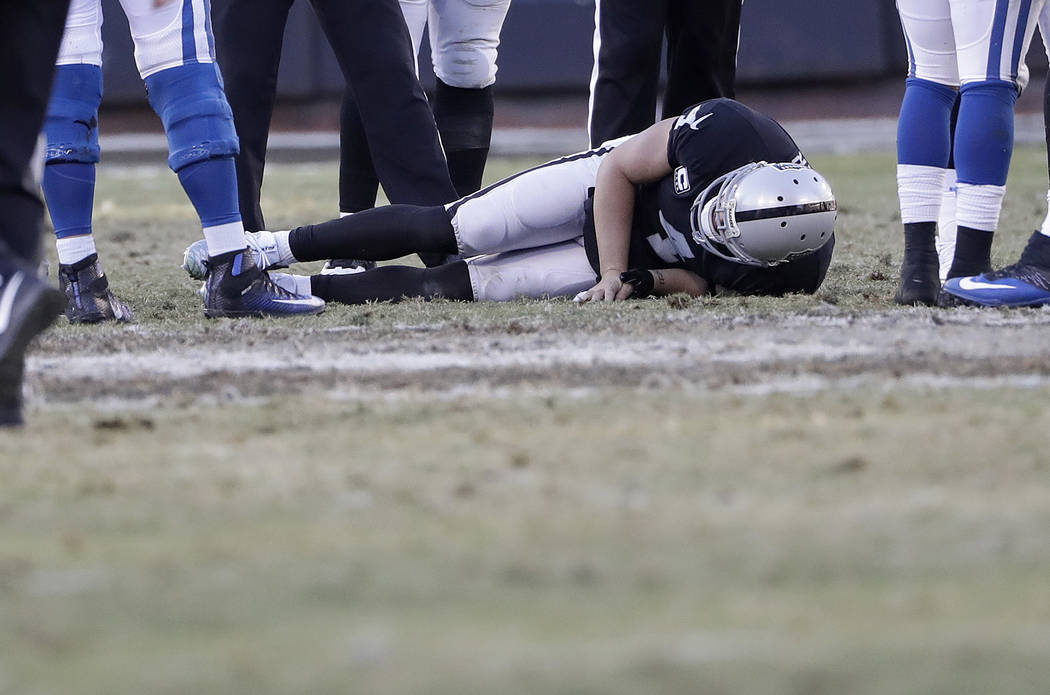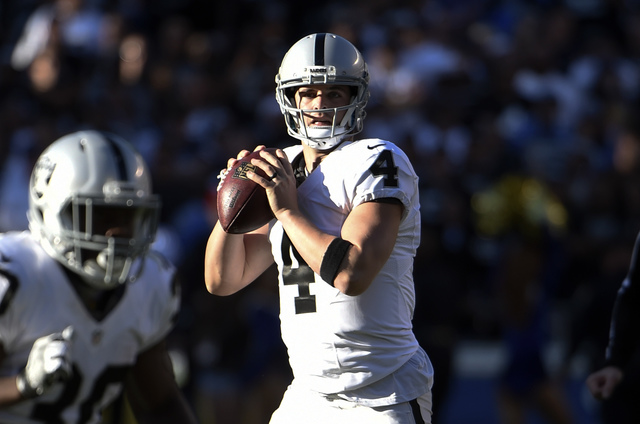 ALAMEDA, Calif. — Since the beginning, no one has shown a better pulse of Derek Carr's injury than Carr himself.
The Raiders quarterback knew the diagnosis immediately. He was spun to the ground in the fourth quarter of a Christmas Eve game against the Colts. Before the medical staff could begin its sprint onto the field, Carr shouted to the sideline: "It's broke! It's broke! It's broke!" A broken right fibula later was confirmed.
On Monday, Carr made another declaration.
"I'm ready to rock," he said.
The Raiders started their voluntary workout program Monday morning, beginning with coach Jack Del Rio meeting with players at 8:30 before positional meetings and player training with the strength and conditioning staff. Maybe the greatest storyline was the status of Carr, whose season-ending injury derailed a 12-4 campaign and preceded a first-round playoff loss to the Texans.
Much will be made about the Raiders hopping on a plane for Las Vegas someday.
For this team today, it all starts with Carr.
"I feel great," Carr said. "I've been running, jumping, throwing, cutting. Everything.
"I'm ready to rock. I'm ready to do absolutely everything. I did everything my teammates did today. I'll do everything my teammates do again tomorrow. Hopefully that just gives an idea. … Truly blessed it wasn't worse."
Carr underwent surgery shortly after breaking his leg. He hoped to return to the field if the team made a Super Bowl run.
That timetable, at the time, seemed optimistic. The scenario ultimately proved implausible, reserve quarterback Matt McGloin injuring his shoulder the next week and rookie Connor Cook making his first NFL start in the postseason. Neither maintained his standard of play.
Carr has yet to stand tall in a collapsing pocket since the injury.
He's yet to roll out from a pocket to evade a rush. He's yet to be hit or be sacked.
Still, he said that he doesn't anticipate any mental obstacles in his road back.
"My wife, I made her tackle me a couple times," Carr said. "Wrestling Khalil Mack in pool obstacles, that helped me get the mental pictures out of my head. … I've broken a lot of things. I've torn a lot of muscles. I've torn a lot of ligaments. Because this one happened at such a dramatic time, because it happened to where I couldn't play the next couple games, it's kind of bigger than it was. It wasn't hard for me to take that boot off and take my first step, if that helps.
"For me, the mental side is easy to defeat because it's me versus me. That's going to be a win every time."
The Raiders know what Carr means to their franchise.
A lucrative contract extension this offseason, before he enters the final year of his rookie deal, is expected to reflect that value. Negotiations are scheduled to heat up after the draft, although talks between general manager Reggie McKenzie and Carr's agent began long ago.
Ideally, Carr said that he hopes to sign a deal before the late July start of training camp.
Follow all of our Raiders to Las Vegas coverage online at reviewjournal.com/Raiders and @NFLinVegas on Twitter.
Michael Gehlken can be reached at mgehlken@reviewjournal.com. Follow @GehlkenNFL on Twitter.