Raiders downplay heated exchange between Gruden and QB Carr
Updated November 18, 2018 - 8:23 pm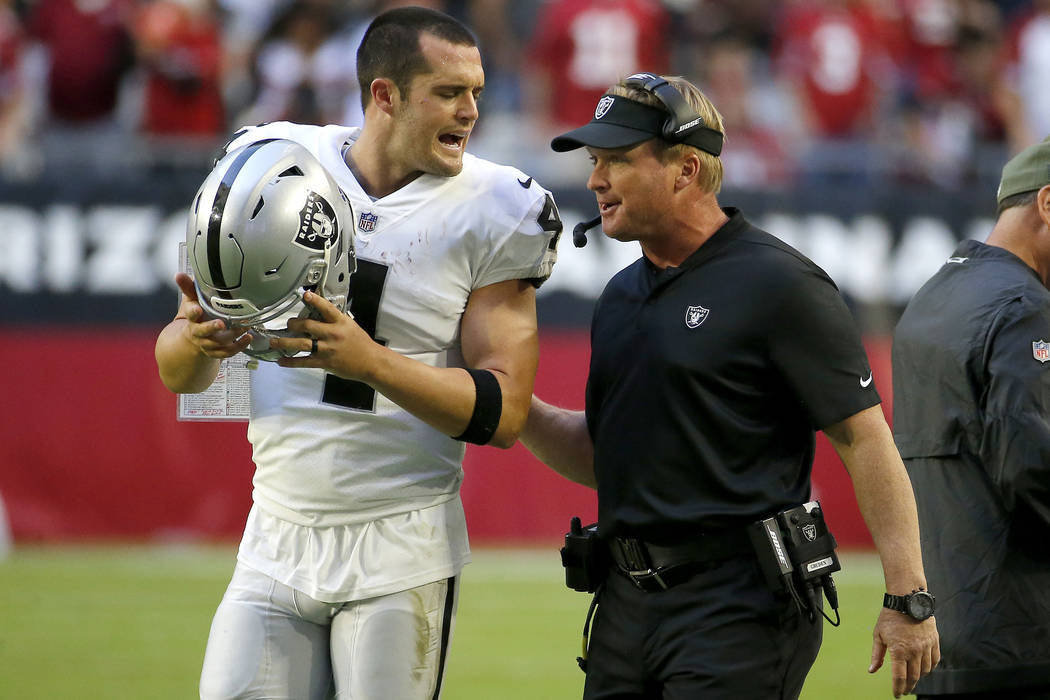 GLENDALE, Ariz. — Raiders tight end Lee Smith didn't want to take the credit for playing peacemaker.
"There was no peacemaking intent," Smith said. "I just happened to be in the vicinity. I saw the wild man's face red, so I figured I'd join the party."
The party Smith referenced was the heated exchange between Raiders coach Jon Gruden and quarterback Derek Carr during the second quarter of Sunday's game against the Arizona Cardinals.
To Smith, it was just another intense debate between his quarterback and coach. No big deal. Just two guys being competitive, Smith said.
But the cameras were rolling for outside observers, and social media quickly ran with the video of Gruden and Carr shouting at each other.
It was an afterthought in the Raiders' locker room. The players and coaches were all smiles after they escaped State Farm Stadium with a 23-21 win thanks to Daniel Carlson's game-winning 35-yard field as time expired to give the Raiders their second victory of the season.
"That's not the first it has happened," said Gruden, who's known for turning red when angry. "We're both competitors. We're both competing hard there. It was just a mild disagreement."
Gruden wanted Carr to go for the first down on third-and-5. Carr decided to go for the big play, but overthrew running back Jalen Richard on the outside. That's when the two began the shouting match on the sidelines.
"It's funny, man, I'm surprised it's the first time they've caught us," Carr said about the television cameras. "It's not the first time him and I have been that way. We're both very fiery.
"Minor disagreement on something, and the beautiful thing is that when we do that, it's never like a demeaning thing or pointing a finger."
It became a party of three when Lee grabbed his coach, but there was nothing threatening behind it.
Raiders radio reporter Chris Townsend said on air Lee grabbed Gruden by the neck to calm the coach down. Townsend said his words were taken out of context and described it as a friendly grab on the shoulder.
"Nobody said anyone needed to be restrained," Townsend tweeted. "All three were all smiles with each other before the offense went back out."
Stop over blowing Gruden, Carr and Smith on sidelines. Nobody said anyone needed to be restrained. All three were all smiles with each other before the offense went back out! #RaiderNation @BleacherReport @PGutierrezESPN

— Chris Townsend (@townsendradio) November 18, 2018
Smith jokingly said he was more worried about Gruden's health than the disagreement.
"Coach Gruden is a wild man," Smith said. "He's a lot of fun to be around. I told him, the way he's going to go to the grave is by having a stroke on the sidelines, so it was all in fun.
"There was definitely no intent behind it. They were being competitive … both of them want to win so bad."
Carr and Gruden were on the same page during the game-winning drive. The tandem dialed up the perfect play to get rookie wide receiver Marcell Ateman open for a 32-yard reception that set up Carlson's game-winning kick.
Lee said it's normal for coaches and quarterbacks to raise their voices in disagreement. But he's probably not going to join the next debate.
"I probably shouldn't grab the head coach, but I got a little fired up," Smith said. "But it was all in good fun and no negativity at all."
More Raiders: Follow at reviewjournal.com/Raiders and @NFLinVegas on Twitter.
Contact Gilbert Manzano at gmanzano@reviewjournal.com. Follow @GManzano24 on Twitter.