Raiders find new routine, switch out practice again
November 29, 2018 - 7:30 pm
Updated November 29, 2018 - 7:38 pm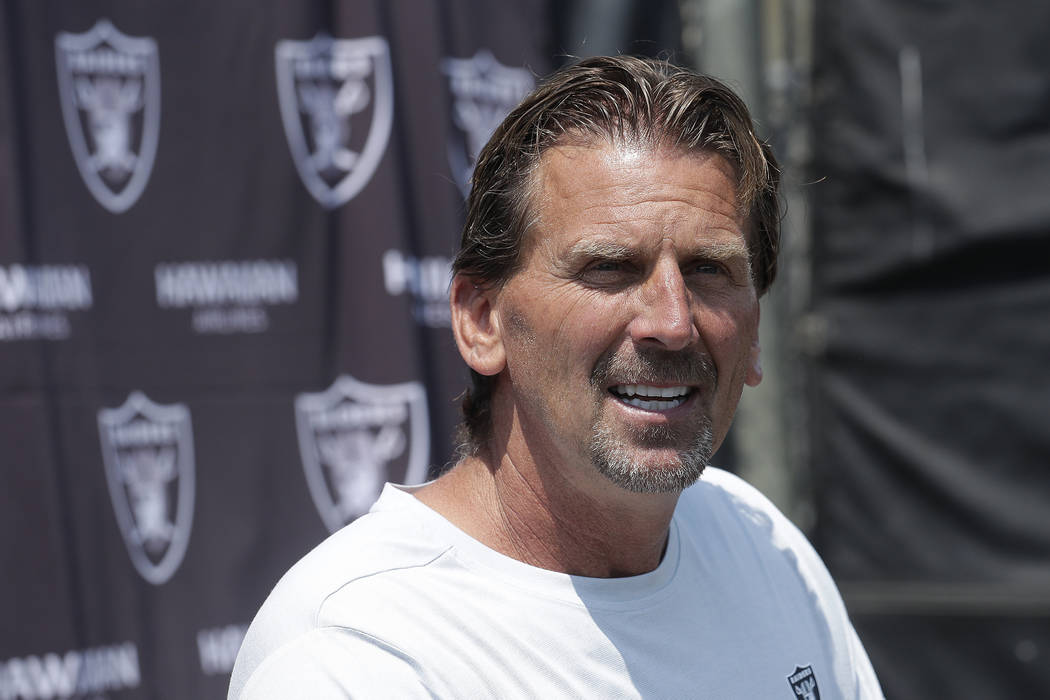 ALAMEDA, Calif. — Initially, the Raiders had no choice.
They canceled a scheduled outdoors practice Nov. 15 and 16 because, amid the deadliest wildfire in California history, the air quality at team headquarters was "very unhealthy," according to Environmental Protection Agency classification. Conditions forced the club to have a walk-through session at an indoor off-site location instead.
Last week, air-quality levels returned to normal in the Bay Area.
The team has yet to resume its normal schedule.
The Raiders changed their outdoor practice Thursday to an indoor walk-through at the same off-site location. Coaches and players loaded onto buses, following a police escort to what has become a home away from home. The club made the same adjustment Nov. 21, changing a Wednesday practice to a Wednesday walk-through.
Ideally, why these two practices were altered is a question for coach Jon Gruden, given his influence on the decision. But because he doesn't have a news conference on Thursdays, offensive coordinator Greg Olson offered an explanation.
"We found, really, they've been very productive, to be honest with you," Olson said. "We've been able to get a lot of plays and work done in a controlled indoor environment with reducing the risk of possible injury on the field or (two weeks ago) air quality. We feel like we've got a tremendous amount of work done when we did it, so that's kind of what makes the decision a little bit easier when you look at the amount of work that we got when we were there during the poor air quality practices."
Olson also cited the heavy rain Thursday as a factor.
Notably, the Raiders snapped a five-game losing streak Nov. 18 against the Arizona Cardinals after the air quality forced them indoors on the Thursday and Friday before the Sunday game.
Notable
— Defensive tackle Mo Hurst Jr. (ankle), wide receiver Martavis Bryant (knee) and cornerback Leon Hall (back) did not participate in Thursday's walk-through, according to the Raiders' injury report. They've yet to practice this week. Defensive end Arden Key (knee), center Rodney Hudson (ankle), defensive end Frostee Rucker (neck) and cornerback Daryl Worley (shoulder) were listed as limited participants for a second straight day.
— Since the spring, Raiders coaches have praised running back Doug Martin. After five games as a starter, that opinion hasn't changed. Martin has averaged 4.8 yards per carry in the five games with Marshawn Lynch (groin) on injured reserve, totaling 60 carries for 285 yards and a touchdown. "We're still excited about Doug Martin," Olson said. "We liked his running style. We feel like he can continue to be a feature back. … He doesn't play every down right now because we feel so good about Jalen (Richard), but he is a strong running back."
More Raiders: Follow all of our Raiders coverage online at reviewjournal.com/Raiders and @NFLinVegas on Twitter.
Contact reporter Michael Gehlken at mgehlken@reviewjournal.com. Follow @GehlkenNFL on Twitter.