Raiders look toward veteran kicker Mike Nugent in Week 1
August 28, 2018 - 6:29 pm
Updated August 28, 2018 - 7:29 pm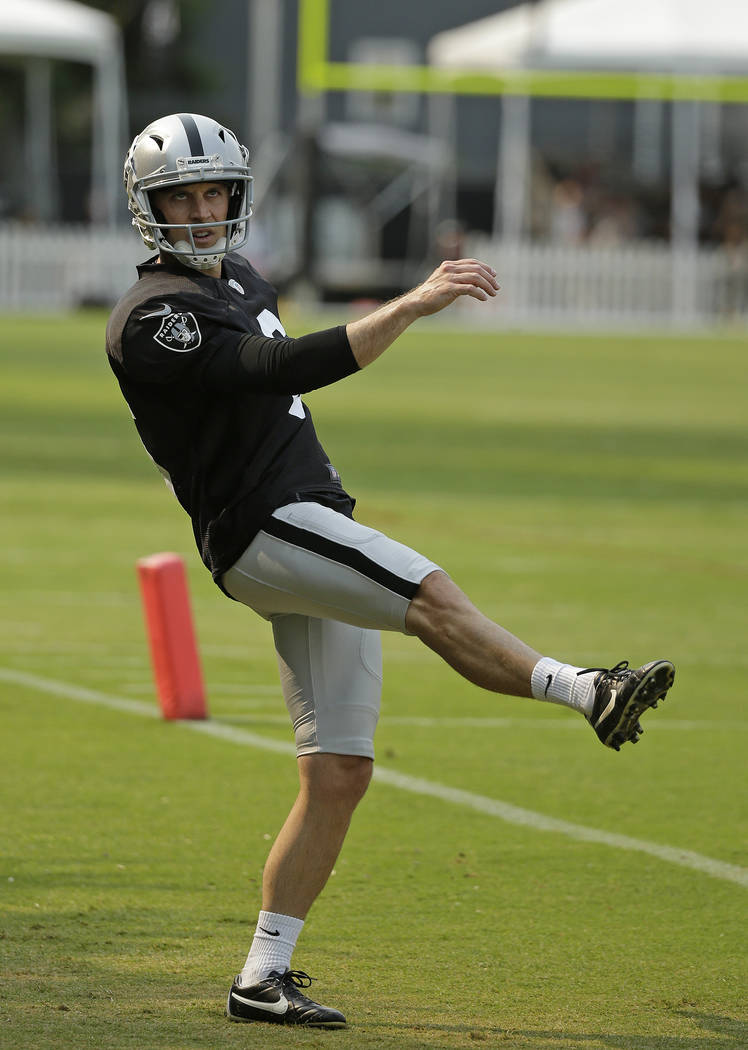 ALAMEDA, Calif. — It seemed innocuous enough.
On Aug. 15, before the final practice of training camp, Raiders rookie kicker Eddy Pineiro walked off the field with head athletic trainer H. Rod Martin. From afar, no limp was discernible. Pineiro wasn't assigned to kick that day, so it was no surprise when he did not return.
Then he missed an exhibition. And the one after that. Two weeks later, he has yet to resume practice, and he won't appear in Thursday's preseason finale at the Seattle Seahawks.
The Raiders are preparing for a continued absence.
Mike Nugent was signed Aug. 3 to serve as right-footed competition for Pineiro. The 36-year-old has developed into more than that. While the team has not provided a timetable for Pineiro's recovery from a groin injury, the probability appears to increase by the day that Nugent will be the kicker during the Sept. 10 opener against the Los Angeles Rams.
NFL teams are required to reduce their roster from 90 to 53 players by 1 p.m. Saturday. Today, it is difficult to foresee a scenario in which the Raiders would cut Nugent in favor of an undrafted rookie who has not practiced in two weeks. Rather, it's more likely Nugent is the Raiders' leg to start the year.
Coach Jon Gruden acknowledged that outcome.
"Yeah, it's possible — very possible," Gruden said Monday. "He's an 80 percent kicker for 13 years. I don't know what the exact percentage is, but he's a good kicker. He's been a good kicker for a long time. You don't make it in this business unless you are. He's got the mental toughness, the reliability to overcome a bad game or a bad kick. Right now, he's the leader in the clubhouse because Eddy is not healthy."
Nugent has been steady.
He is coming off a season in which he appeared in eight games, four apiece for the Dallas Cowboys and Chicago Bears. He converted 11 of 13 fields, a clip of 84.6 percent. That is about on track with his 81 percent career rate. He is 3-for-4 this preseason, the lone miss veering wide left from 49 yards on Saturday.
Nugent expects to be the kicker in Week 1. At least, he is preparing for the scenario.
"The best approach to really take is to assume you're going to kick every kick, every practice, every game, and you're going to play the entire season," Nugent said. "If that does happen, you're ready to go. But if you look at it a different way and say, 'Ahh, I don't know what's going to happen,' then maybe you're not well prepared. If your mind starts racing and you take a day off, then you go out to kick and think, 'I didn't expect to kick today,' then you're not at your best.
"When there is a day of kicking, be ready to go if your name is called. That's all coaches really can ask for."
Nugent has a history with this coach.
He spent a portion of last season with then-Dallas Cowboys special teams coordinator Rich Bisaccia. This marks the third go-around for the two, as they worked together for four games with the Tampa Bay Buccaneers in 2009.
With that history together, there is trust.
Bisaccia believes Nugent can handle duties if called upon. Had he not, Nugent wouldn't be here.
"No matter what happens, you have to be ready to go," Nugent said. "When it comes to kicking especially, it doesn't matter if you're 22 or 36. As long as you're in good shape and ready to go. There are going to be some days when the schedule changes and, 'Hey, we need someone else to step up.'
"I try to take pride in doing stuff like that and being able to kick if it's not my day or certain things are unplanned and be ready to go."
More Raiders: Follow all of our Raiders coverage online at reviewjournal.com/Raiders and @NFLinVegas on Twitter.
Contact reporter Michael Gehlken at mgehlken@reviewjournal.com. Follow @GehlkenNFL on Twitter.