Raiders lose pace with run-heavy Ravens in 34-17 loss
Updated November 25, 2018 - 5:09 pm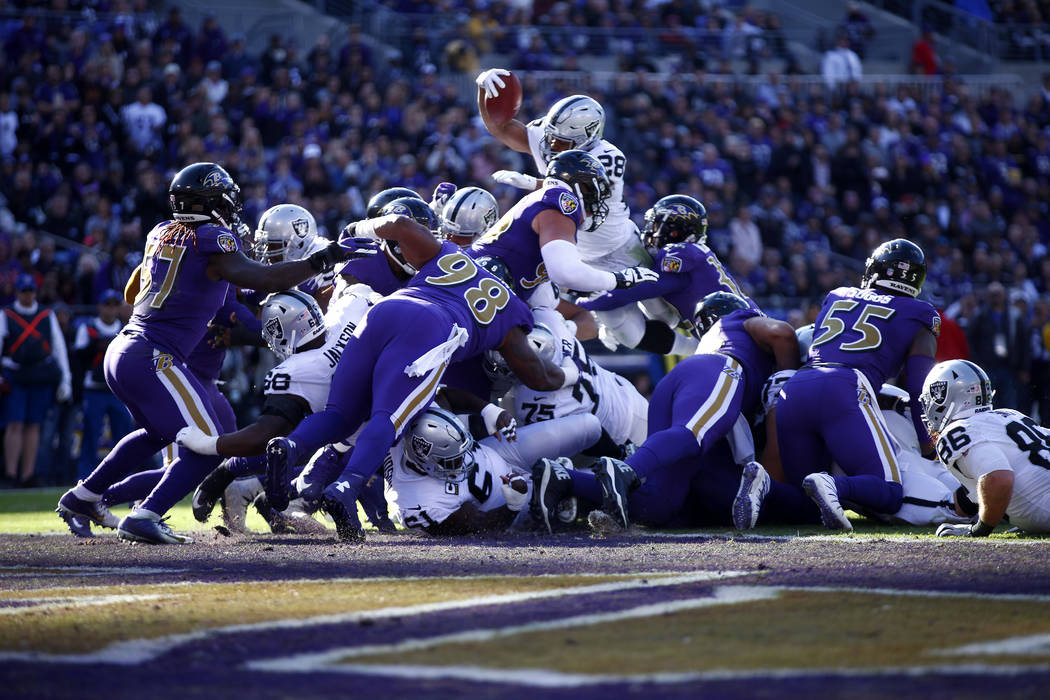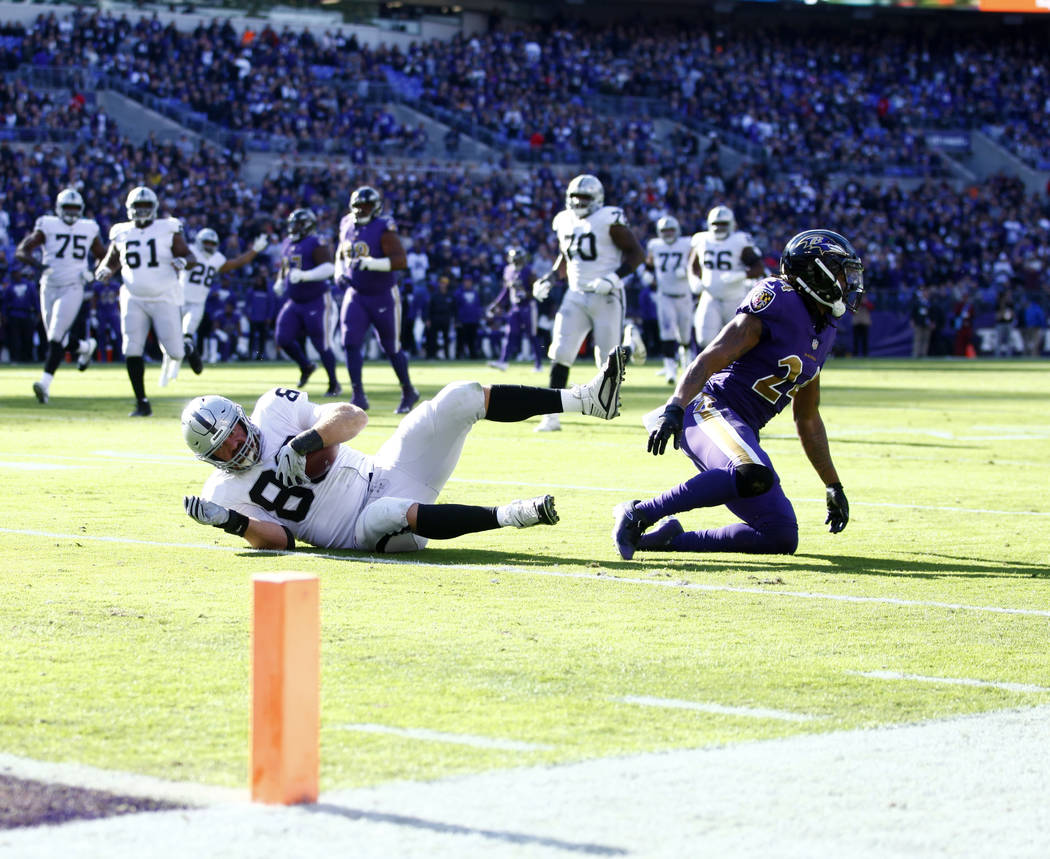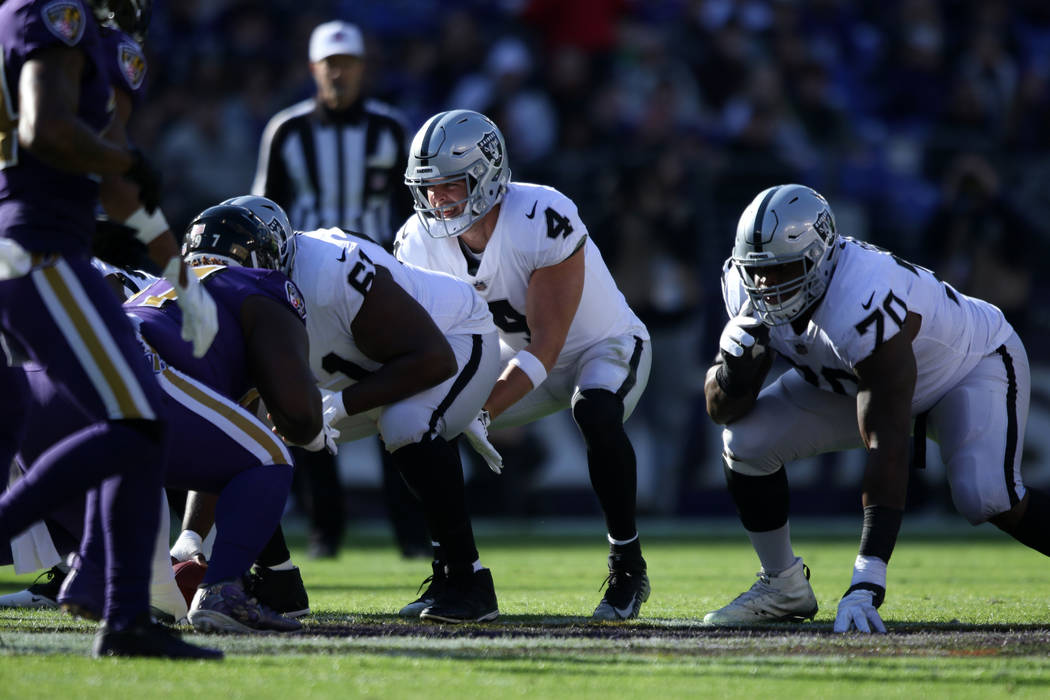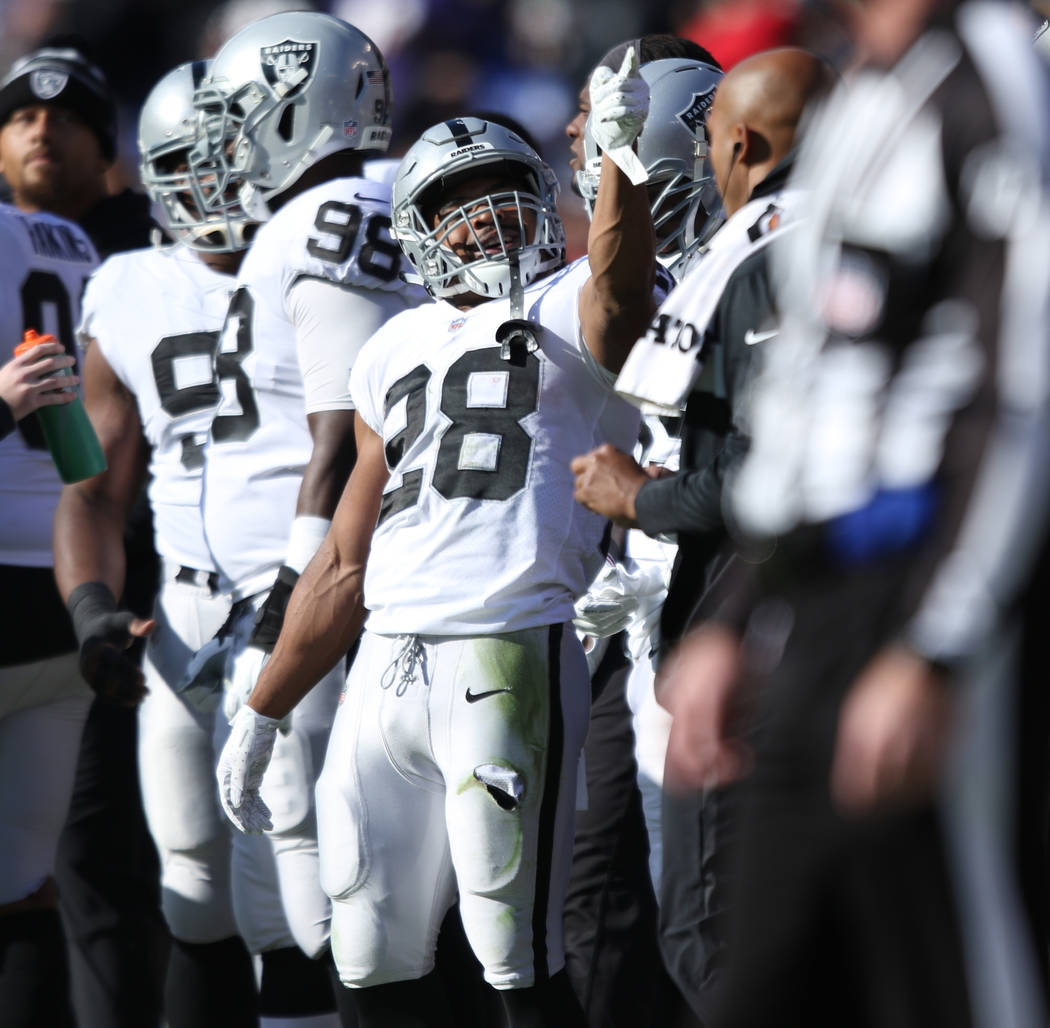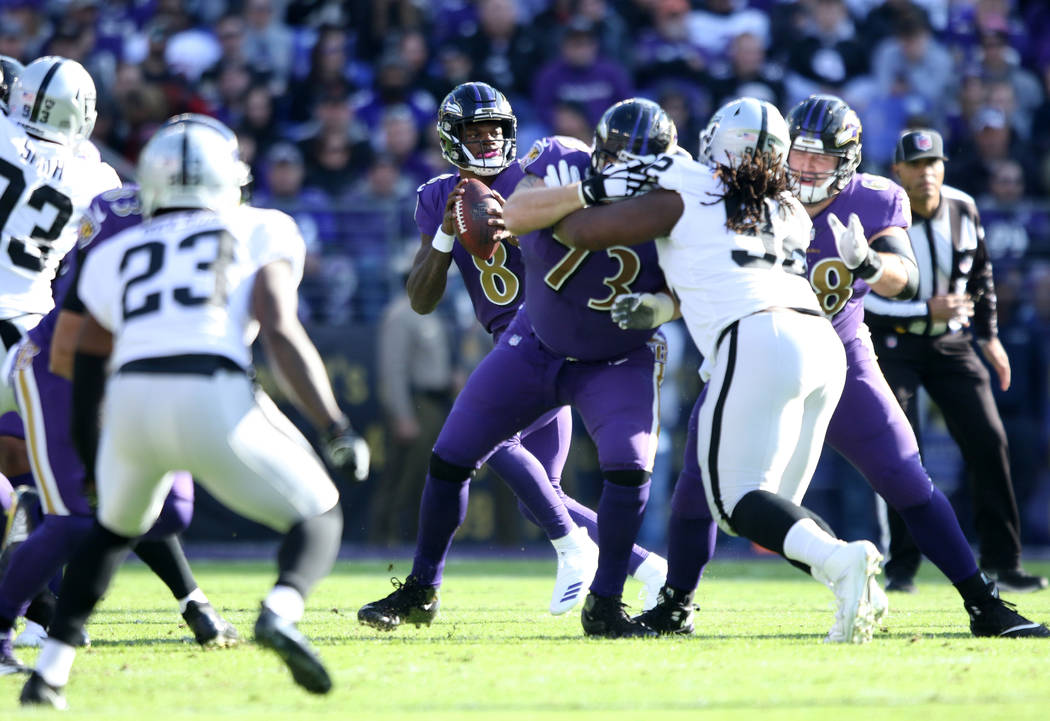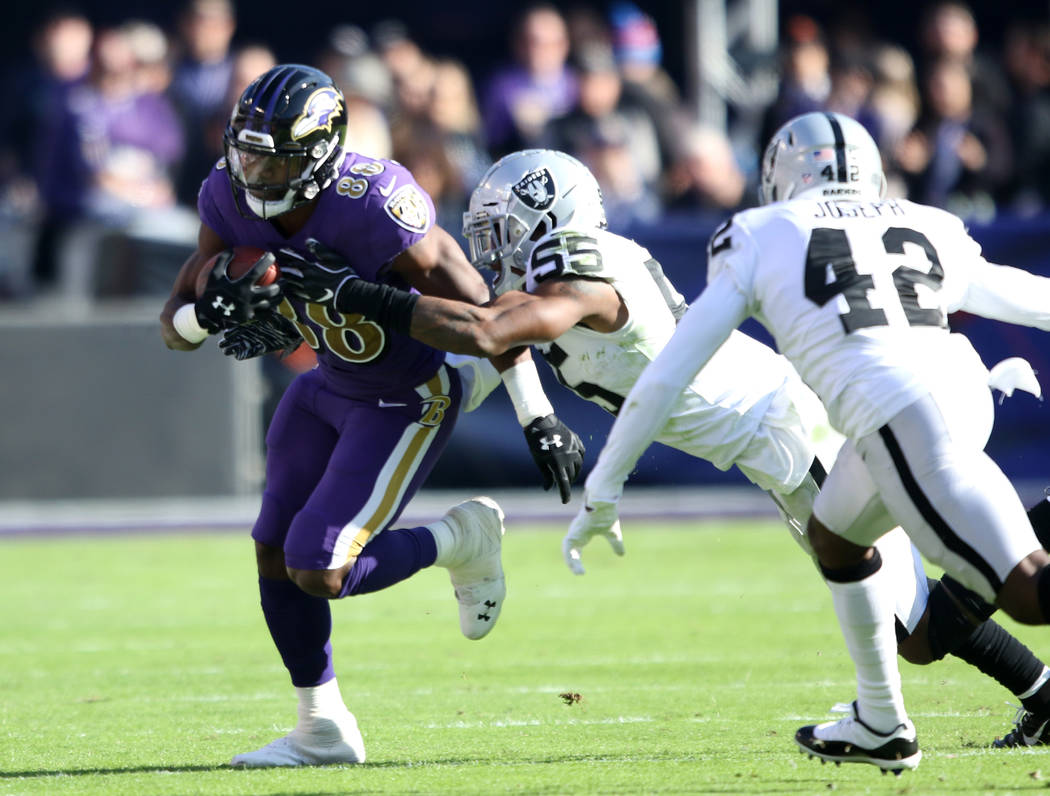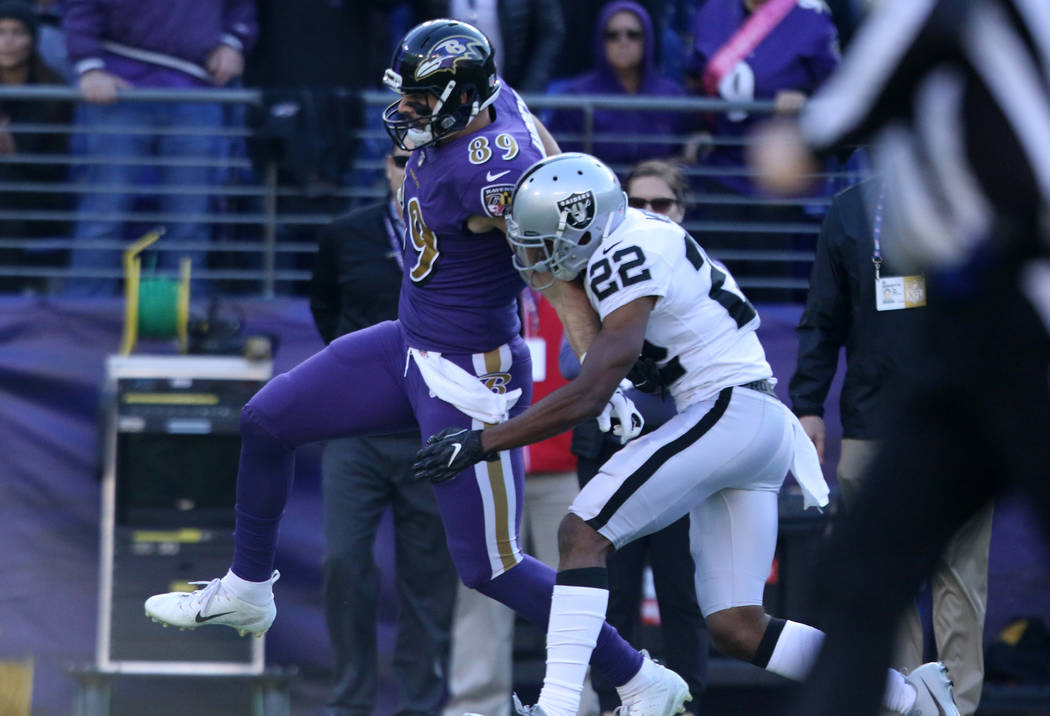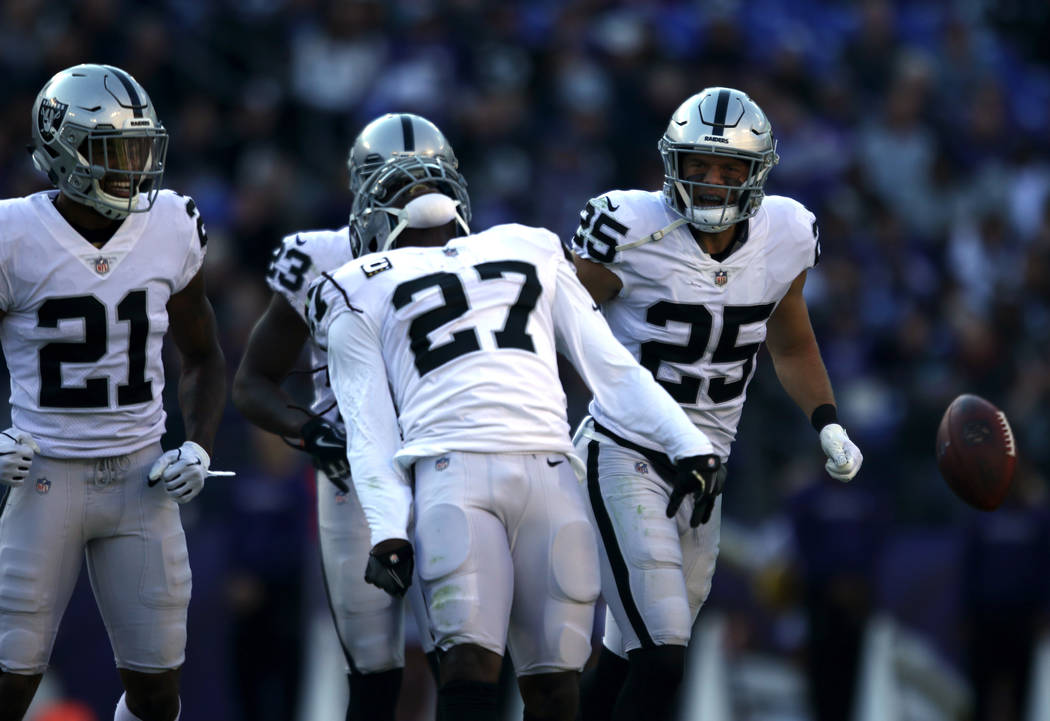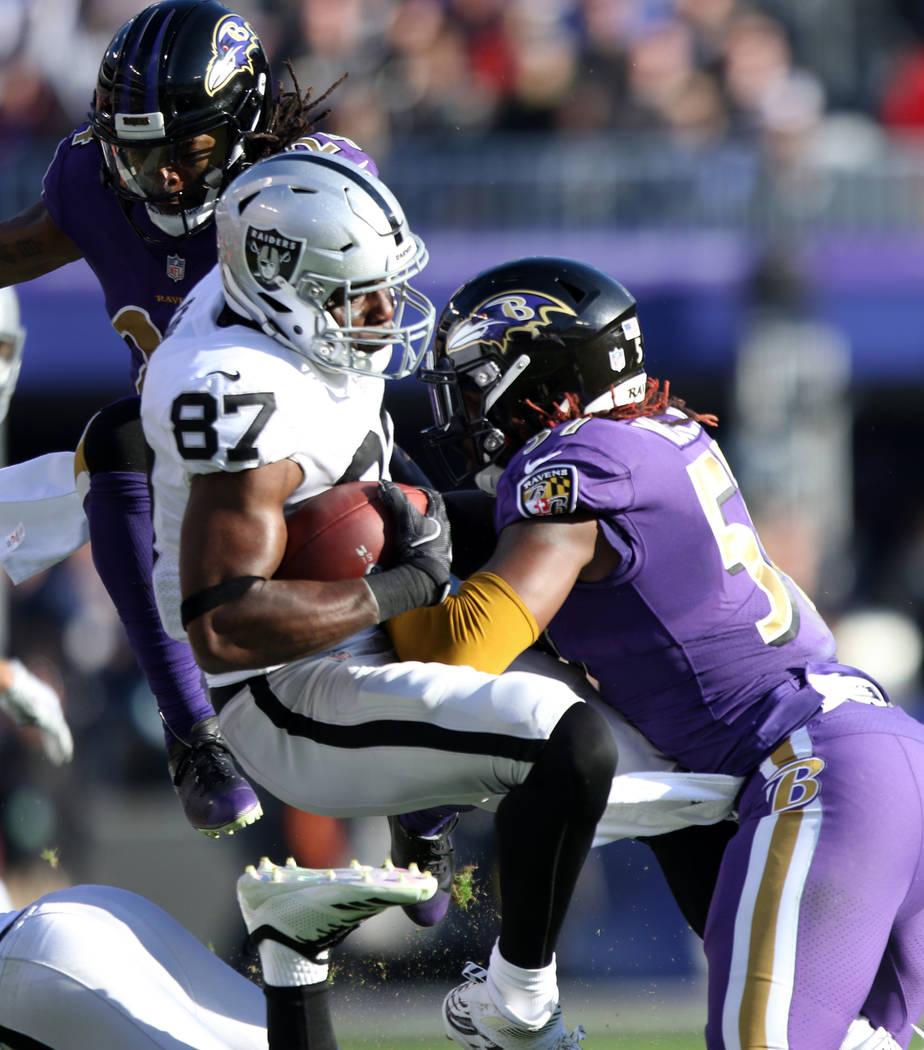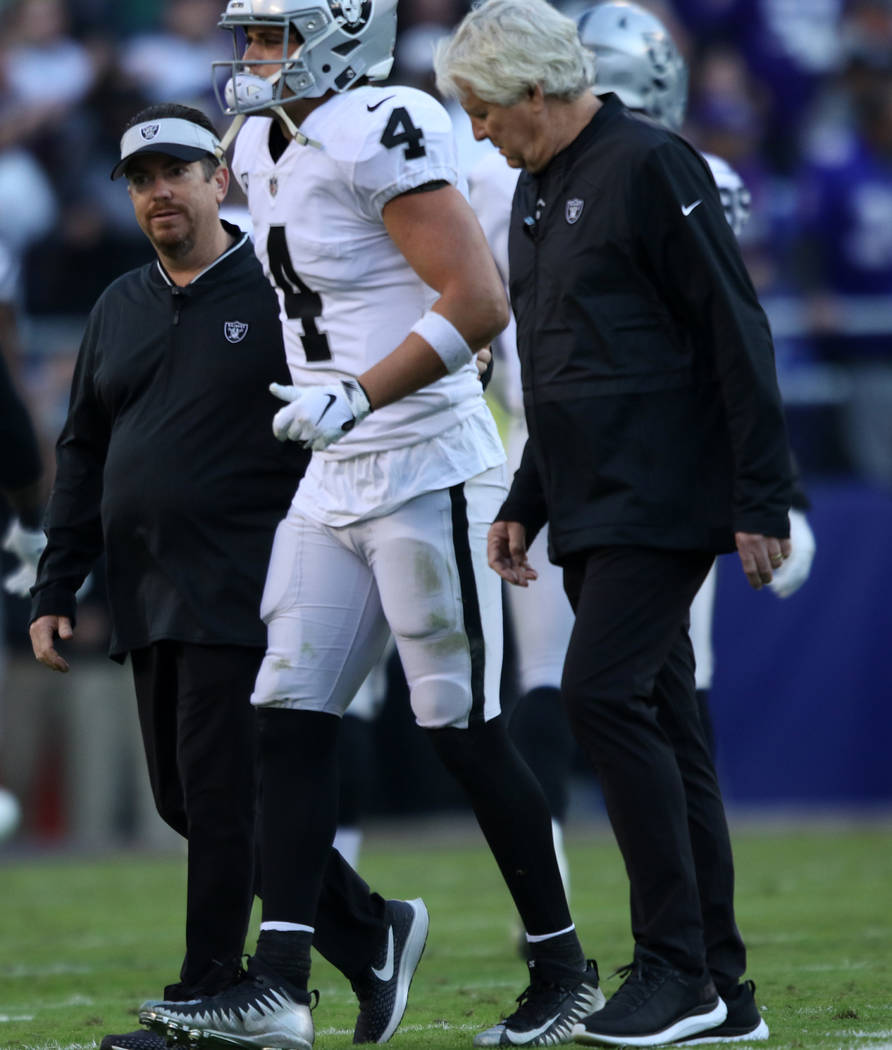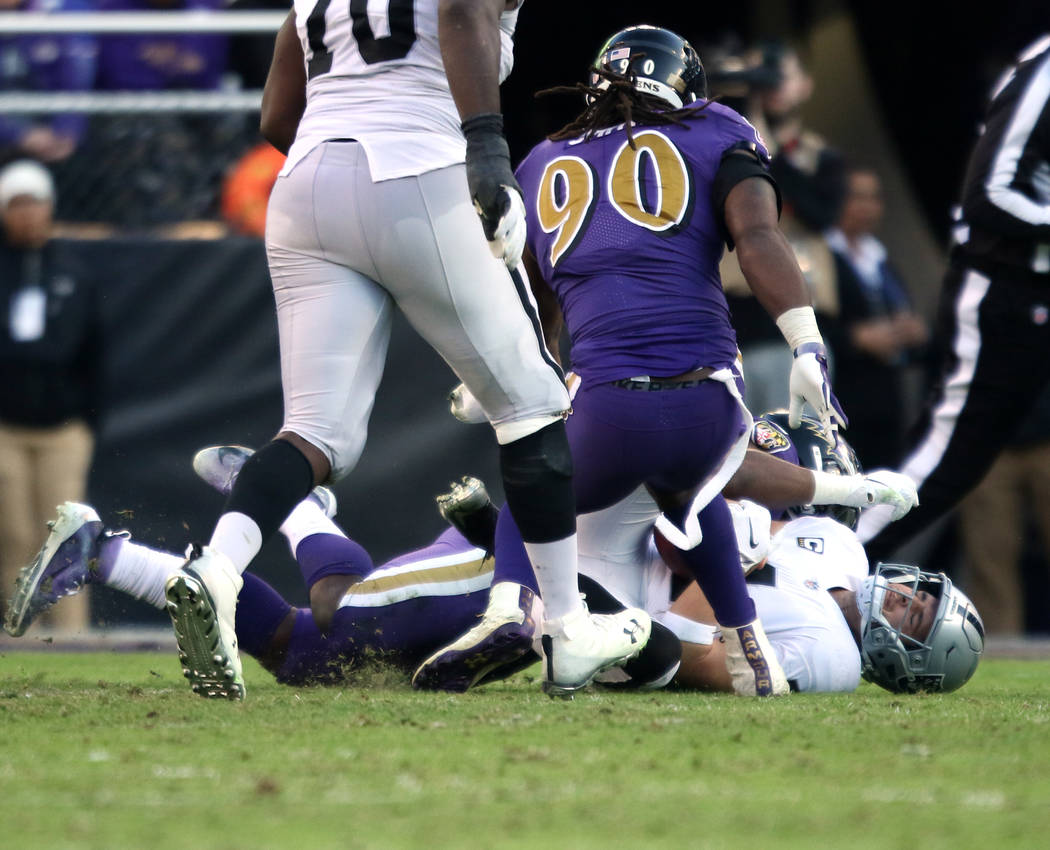 BALTIMORE — The Raiders could have procured stationery paper at halftime, penned an eloquent "thank you" letter and hand-delivered it to the home locker room Sunday inside M&T Bank Stadium.
Their opponent did them a favor.
In the first half, Baltimore Ravens quarterback Lamar Jackson was sacked once and threw 18 times, including two interceptions. Meanwhile, he logged two of the team's 10 rushes.
Somewhere in the fallout of a game one week earlier in which Jackson logged 26 carries in his first NFL start, an offense overcompensated and drifted from its strength. Call it a temporary identity crisis.
Soon, the Ravens remembered who they are. And in a 34-17 loss, the Raiders revealed themselves once more.
Baltimore rushed more in its opening possession of the second half than it did the first two quarters combined. So began a stretch in which the Raiders allowed back-to-back touchdowns on a pair of long, exhausting drives.
The Raiders consequently trailed late and failed to protect quarterback Derek Carr, who was sacked on three consecutive dropbacks in a critical sequence.
Rookie right tackle Brandon Parker surrendered all three fourth-quarter sacks. On the first one, Carr lost a fumble and tweaked his right ankle. Outside linebacker Terrell Suggs scooped up the strip and returned it for a 43-yard score.
Carr completed the game. Effectively, however, the Raiders were finished.
"They made their (halftime) adjustments, and we made ours," Raiders safety Reggie Nelson said. "Unfortunately, they just did a good job of running the ball. We've got to watch the film and see what we did wrong."
The Ravens opened the second half with a 75-yard touchdown drive on which 12 of 13 plays were runs. Jackson had four of them, including a 5-yard score off the left end. The Raiders answered with a 75-yard touchdown drive of their own, but the Ravens chewed up more clock with a 17-play, 71-yard possession. Ex-Raiders wide receiver Michael Crabtree capped it with an 8-yard touchdown, widening the lead to 27-17.
These two possessions spanned 30 plays, covered 146 yards and consumed 15 minutes, 43 seconds of game clock.
Baltimore rushed on 33 of 40 offensive plays in the second half. It totaled 178 yards of second-half rushing compared to 38 yards passing.
"They didn't make it really complicated," coach Jon Gruden said. "They have a great, I think, future Hall of Fame guard in (Marshall) Yanda. They probably called on their captain and said, 'Hey, we're going after these guys.' And that's what they did. When you can establish the inside run, the perimeter offense, all the bells and whistles with Jackson, they're very hard to defend. You've got to stop the inside run, or you have no chance to stop everything else.
"They took over the game. Credit to them."
There enlied a defining difference between the teams.
When the Raiders knew the Ravens were going to run the football, they seldom stopped them. When everyone in the stadium knew Carr would drop back to throw, the Raiders were stopped. Toss in a second quarter during which the Raiders allowed a 70-yard touchdown on a punt return and 74-yard reception to a tight end, and what is now a 2-9 record seems wholly appropriate.
Outside linebacker Matthew Judon recorded all three sacks.
After the third, he sprinted off the field and down the visitor's tunnel to celebrate.
"We have to pass protect better when we have to pass protect, when everybody knows we have to pass protect," Gruden said. "The problem all year was the problem today. When you get in a predictable pass situation, we have to rise up and do better."
No "thank you" card was necessary Sunday.
The generosity didn't last.
More Raiders: Follow at reviewjournal.com/Raiders and @NFLinVegas on Twitter.
Contact reporter Michael Gehlken at mgehlken@reviewjournal.com. Follow @GehlkenNFL on Twitter.