Raiders mailbag: 1-5 start leads to Jon Gruden countdown clock
October 18, 2018 - 11:17 am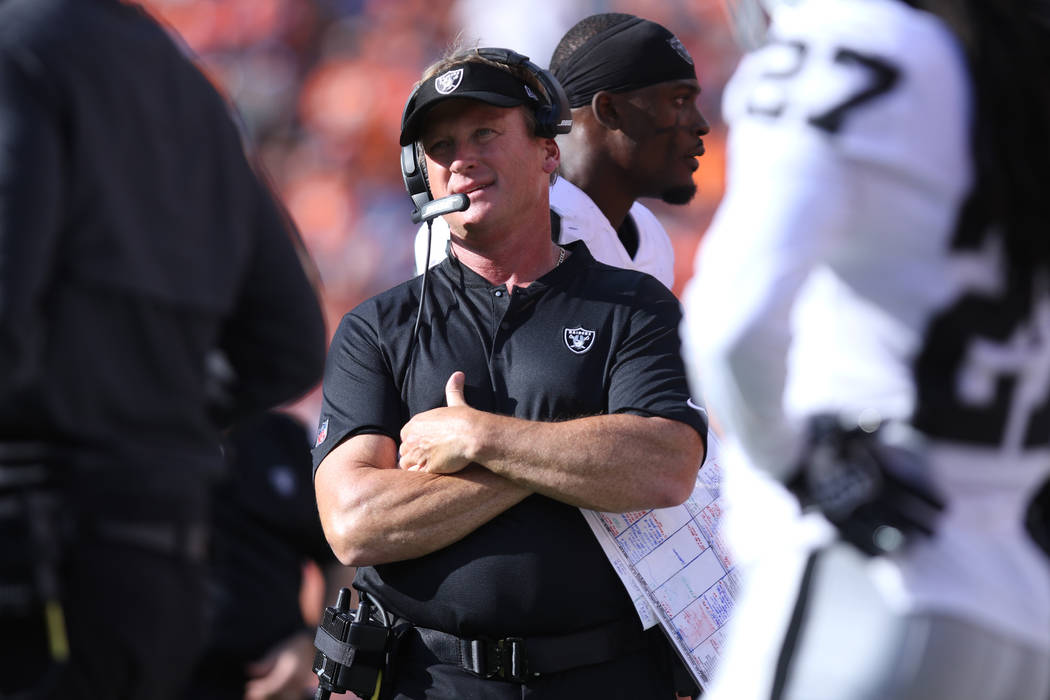 Want to be a part of the RJ Raiders mailbag? Send NFL writer Gilbert Manzano your Raiders questions and hot takes. Tweet him @GManzano24 or email gmanzano@reviewjournal.com. Enjoy the bye week mailbag:
It only took six games for someone to create a countdown for when Jon Gruden's historic 10-year coaching deal expires.
The website isgrudengoneyet.com answers its own question with a big "NO" in the center of the page and 12 digits under it. It's the years, weeks, days, hours, minutes and seconds for when the Raiders are free of the $100 million commitment they made for Gruden to return to coach the silver and black.
So far it's been a nightmare rekindled, with Gruden trading star edge rusher Khalil Mack and guiding the team to a 1-5 record.
Tampa Bay Buccaneers fans are probably grateful the team decided to throw 2018 away with coach Dirk Koetter instead of opting for 10 years of Gruden.
It's not even Halloween and Gruden is already fielding questions about tanking and rebuilding. Of course, that hasn't sit well with Raider Nation.
"How does a playoff team go to a trash team so quickly with so few player changes?" Wes Thurman (Facebook)
Two words. Injuries and trades.
Be honest. How many of you thought the two words were Jon Gruden?
Not a bad guess. He does deserve the bulk of the blame because he traded Mack to the Chicago Bears.
But a big reason why the Raiders made the postseason in 2016 was because of their stout offensive line. The offensive line has been decimated by injuries this season.
The big guys in the trenches got off to a good start with rookie Kolton Miller at left tackle and Donald Penn moving to right tackle.
But the downfall started with Penn (groin) being placed on injured reserve Oct. 3. Two-time Pro Bowl left guard Kelechi Osemele (knee) has missed the past two games. Miller has hurt the team by playing with an injured knee, but the Raiders don't have other options behind him.
To make matters worse, backup offensive lineman Jon Feliciano injured his ribs last week. He was filling in for Osemele.
This team has plenty of issues, but if the Raiders can't protect quarterback Derek Carr, this offense is going nowhere the rest of the season.
"Rebuild? That's hilarious. The Raiders have been 'rebuilding' for over 10 years." — Richard Main (Facebook)
Unfortunately, Raider Nation is very familiar with rebuilding projects. Or one very long rebuilding project that extends further than a decade.
It appears the Raiders are on their way of missing the playoffs for the 15th time in the past 16 seasons. The 2016 postseason appearance seems like so long ago. They had a young nucleus to build on with Mack, Carr and Amari Cooper.
Two years later, Mack is playing in Chicago, Carr can't throw deep and is turnover prone, and there are rumors that Cooper is on the trading block.
Las Vegas could be getting a brand new Raiders team in 2020.
"Raiders getting LeBron James." — Christopher Murphy (Facebook)
This 1-5 start for the Raiders is causing fans to say foolishness. But hey, nothing from this circus act in Year 1 of the Gruden era part two makes sense.
And if the Raiders somehow landed the NBA superstar, he'd be traded before the start of the 2019 season. What's the point.
More Raiders: Follow all of our Raiders coverage online at reviewjournal.com/Raiders and @NFLinVegas on Twitter.
Contact Gilbert Manzano at gmanzano@reviewjournal.com. Follow @GManzano24 on Twitter.