Raiders' pass rush in need of offseason attention
October 31, 2018 - 6:13 pm
Updated October 31, 2018 - 7:14 pm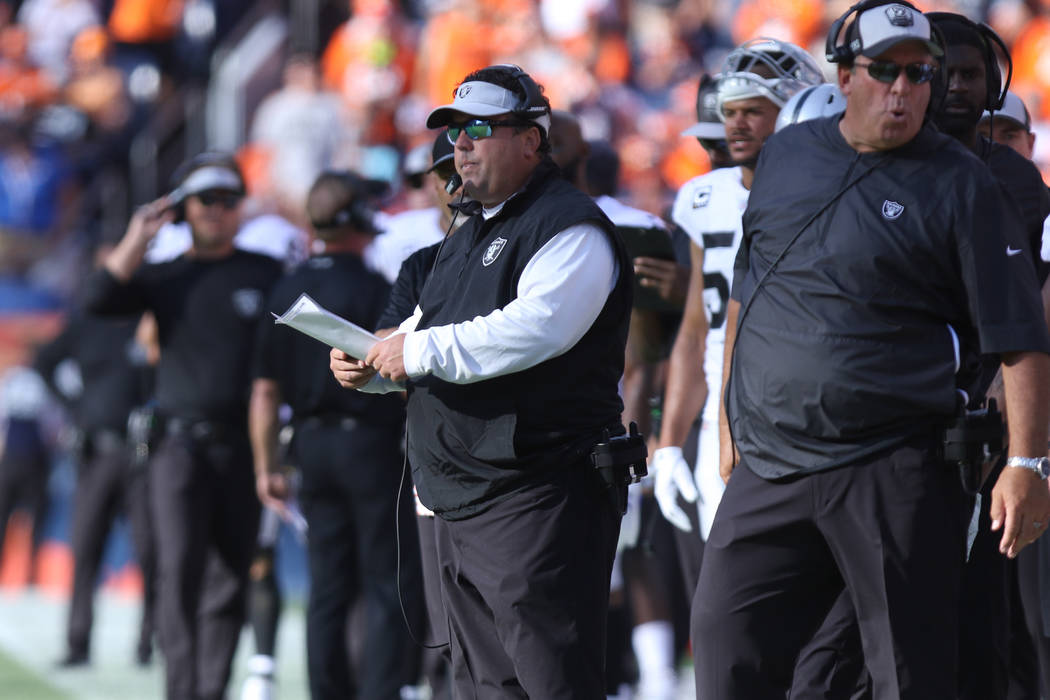 ALAMEDA, Calif. — Paul Guenther is not the problem.
That much is clear.
The Raiders defensive coordinator is the same coach who, a season ago, oversaw the Cincinnati Bengals' defense. Pass rush was no issue there. Defensive linemen Geno Atkins, Carlos Dunlap and Carl Lawson led a unit that totaled 316 pressures, including 216 hurries and 54 quarterback hits.
Seven games into 2018, it's an issue in Oakland.
The defense has a league-low 56 pressures with 34 hurries and eight quarterback hits, according to Pro Football Focus. No other NFL defense has fewer than 100 pressures.
Guenther might be the same coach as in 2017, but he has very different personnel. The latter cannot be addressed adequately until next offseason when the franchise carries significant cap space and a draft arsenal featuring three first-round picks. In the interim, the Raiders hope to continue to develop their young talent in these final nine games, starting Thursday evening against the San Francisco 49ers.
Help is not coming this year. That much became official Tuesday when the trade deadline passed.
"Just keep working with them," Guenther said. "It's not like Bruce Smith and Reggie White are going to walk off the bus and dress up as Raiders. You just keep working with them.
"The guys we have, I said, 'Nobody is showing up here, and the trade deadline is gone, so you don't have to worry about that.' We've got what we got on this team right now. We have to improve and improve quickly."
There is no easy answer.
Blitz more? According to Pro Football Focus, the Raiders have generated pressure on 34.1 percent of their blitzes, last in the NFL. Blitz less? Pressure arrives on 22.3 percent of non-blitzed dropbacks, last in the NFL. On the defensive line, the Raiders have used a stunt on 33.9 percent of plays, seventh-most in the league. They generate a quarterback pressure on 31.4 percent of those stunt plays, again last in the league.
Oakland can boost its pass rush with a better run defense.
More success on early downs would create more third-and-long opportunities. Transformative progress, however, will have to wait.
This is who the Raiders are.
"We've done some different things here than I've done in Cincinnati, based on the guys we have," Guenther said. "At the end of the day, when (the offense is) in a three-receiver set, there's only so many different alignments you can line up in and coverages you can play."
Notable
■ Left guard Kelechi Osemele (knee) was a limited participant in Wednesday's practice. He is considered a game-day decision, coach Jon Gruden said. Osemele has missed the past three games. Officially, the Raiders designated him "questionable" to play.
■ Cornerbacks Gareon Conley (foot) and Daryl Worley (shoulder) also were limited Wednesday and listed as questionable.
More Raiders: Follow all of our Raiders coverage online at reviewjournal.com/Raiders and @NFLinVegas on Twitter.
Contact reporter Michael Gehlken at mgehlken@reviewjournal.com. Follow @GehlkenNFL on Twitter.