Raiders preach image isn't everything for Las Vegas-bound team
Updated June 25, 2017 - 5:13 pm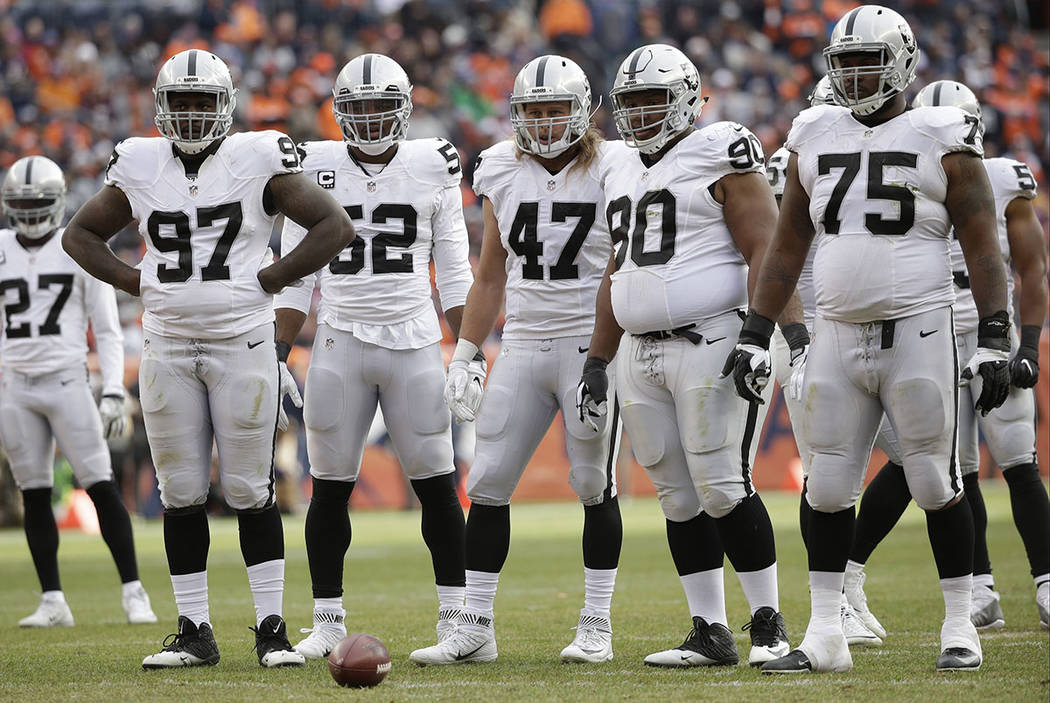 OAKLAND, Calif. — Las Vegas is not its image.
To this, any local can attest.
It is not all neon lights and slot machines and pool bars and dance clubs. It is not all themed casinos and headliner shows and adult entertainment. From its suburbs to Red Rock Canyon, there is more to the city than the Strip. There is the image, and there is reality.
This is what makes the Raiders and Las Vegas a suitable fit.
The Raiders, dating back decades, have a reputation steeped in swagger and intimidation. But they are not that image, either. They recently devoted three days to a rookie transition program in which all first-year players were exposed to topics and tips designed to prepare them for life during and after football.
Each NFL team holds such a program.
But for the Raiders, it is prudent to highlight. The principles preached at the mandatory seminar are the same that many in the team's locker room already practice, a reason why no NFL team claims a longer active streak without a reported arrest, according to the USA Today tracker. The organization seeks to bring these principles to Las Vegas.
Lamonte Winston, the Raiders' director of player engagement, helped lead the program.
"The people that know the Raiders in Las Vegas, they know the Oakland Raiders, the Los Angeles Raiders, through parents, uncles and aunts," Winston said in a phone interview. "There was a certain persona. Well, that's totally changed. …These are the new Raiders where we have educational platforms, where our guys are going back to school, where our guys are establishing businesses. We want young people in Las Vegas, student-athletes, to know that character counts with us. It really is important to us.
"Before we put the pads on and start knocking heads, (for) the men who put on those helmets, character counts. Professionalism counts. Academics count. Respect counts. That's what we want to bring to the community."
Hence the importance of an orientation program.
Social media awareness
This one touched upon on everything from financial and time management, decision-making, substance abuse, media relations and what resources are available to players during their careers that can enable a smooth transition once their playing days end.
Raiders edge rusher James Cowser is one example on that last point. He speaks fluent Mandarin. Knowing that, the Raiders were able to help arrange an internship with NFL China earlier this year. Cowser since has discussed the program while on national television and also met with league commissioner Roger Goodell, Winston said.
"If he never played football again, the NFL will hire him to be an ambassador of its NFL China platform," Winston said. "One thing I told the guys is people won't do for you tomorrow what they'll do for you today. Approach your career with that in mind."
The seminar largely was held at the Raiders' facility in Alameda.
An exception was their Tuesday visit of Facebook headquarters in Menlo Park, California. It focused on branding.
Athletes, be it on Facebook or other social-media platforms like Twitter, Instagram and Snapchat, carry a tool to reach millions of followers directly and instantly. The accounts of such athletes as Tom Brady and Benjamin Watson were used as examples of the benefits this can provide. But tools become weapons if mishandled. That reality was discussed, too, with the risks of using a live microphone, particularly when emotional.
The education and practice of such lessons are part of the image the Raiders want to continue to develop.
"This is what the Las Vegas Raiders are going to be about when we get there," Winston said. "For right now, we want our youth in Oakland (to know) this is what your guys are about."
Contact reporter Michael Gehlken at mgehlken@reviewjournal.com. Follow @GehlkenNFL on Twitter.