Raiders punter Johnny Townsend gets shot vs. Chiefs' Tyreek Hill
November 29, 2018 - 6:30 pm
Updated November 29, 2018 - 6:58 pm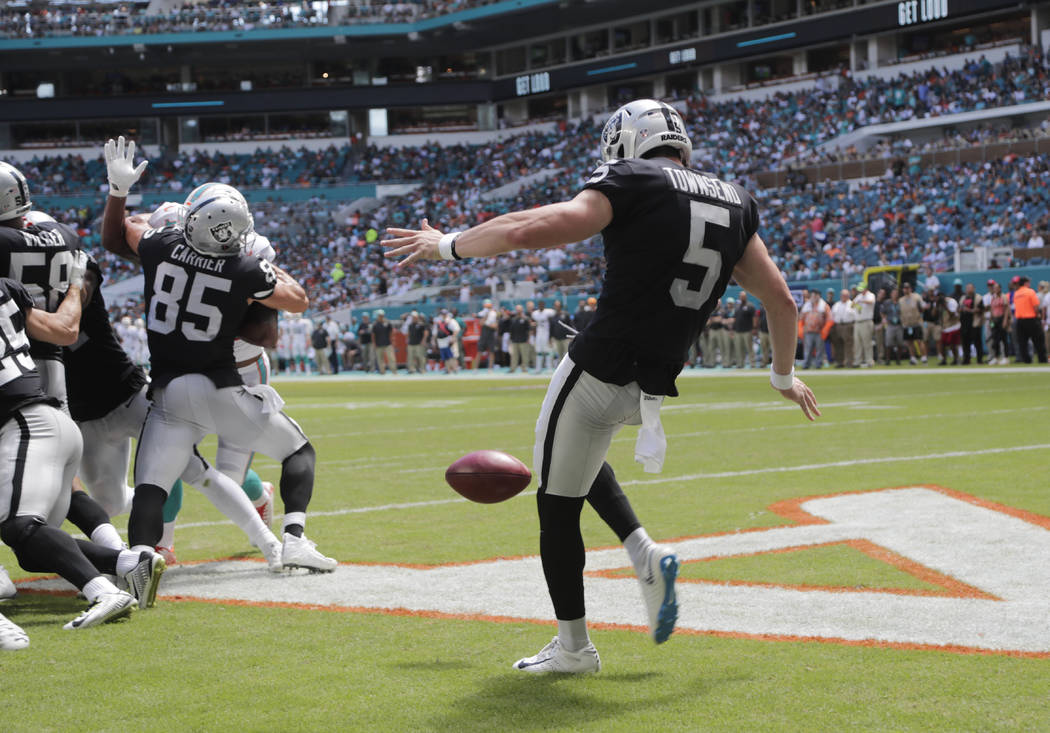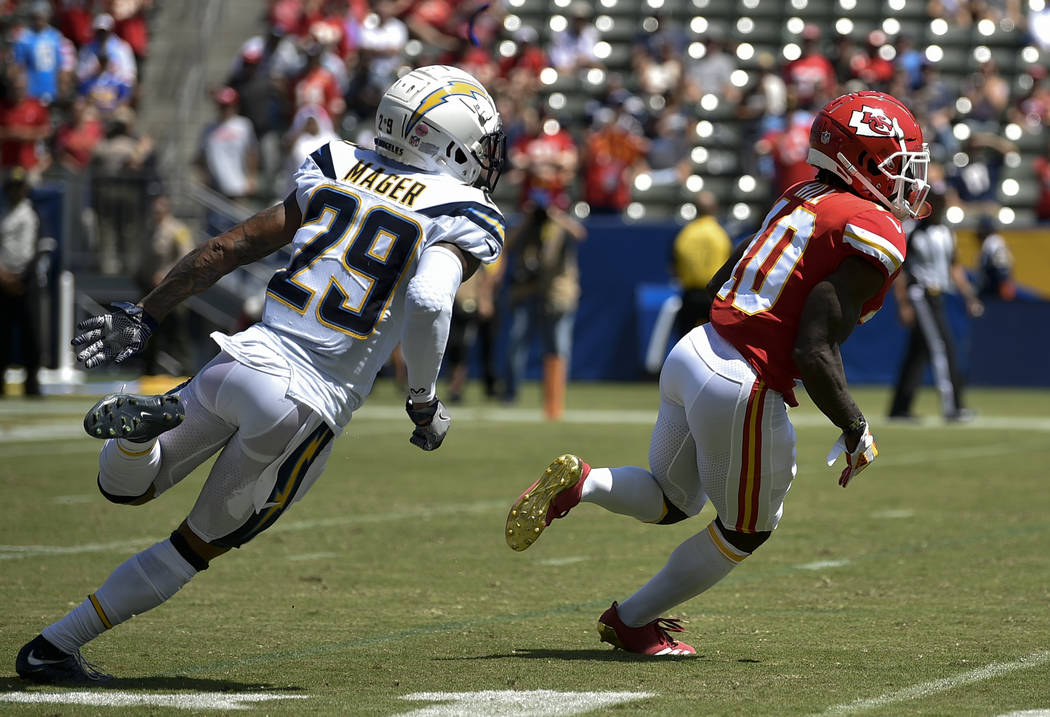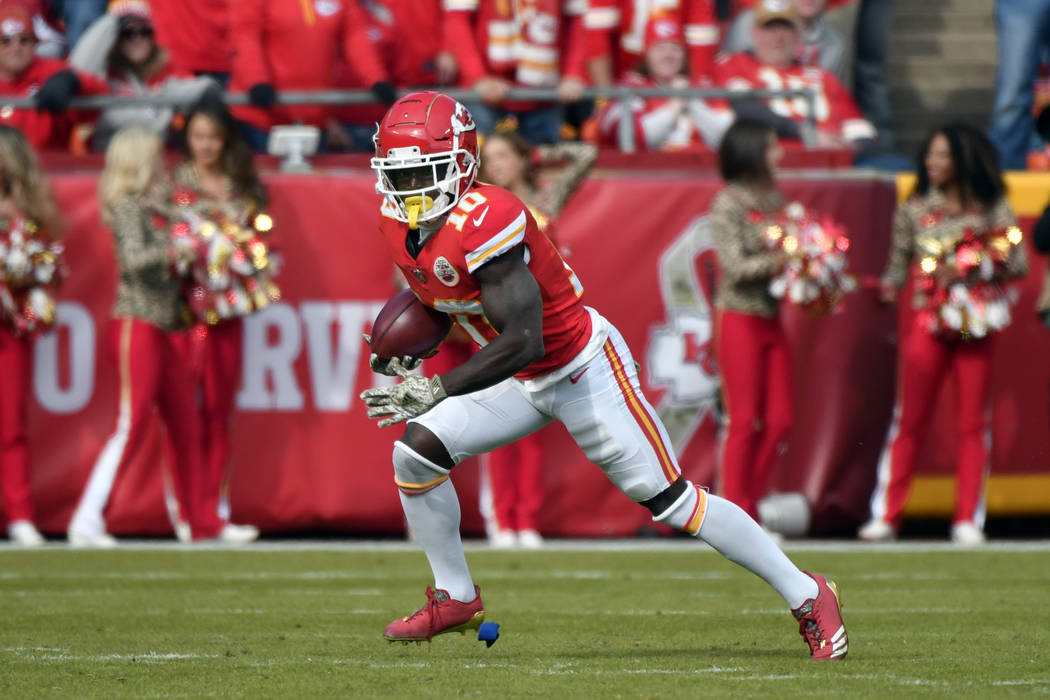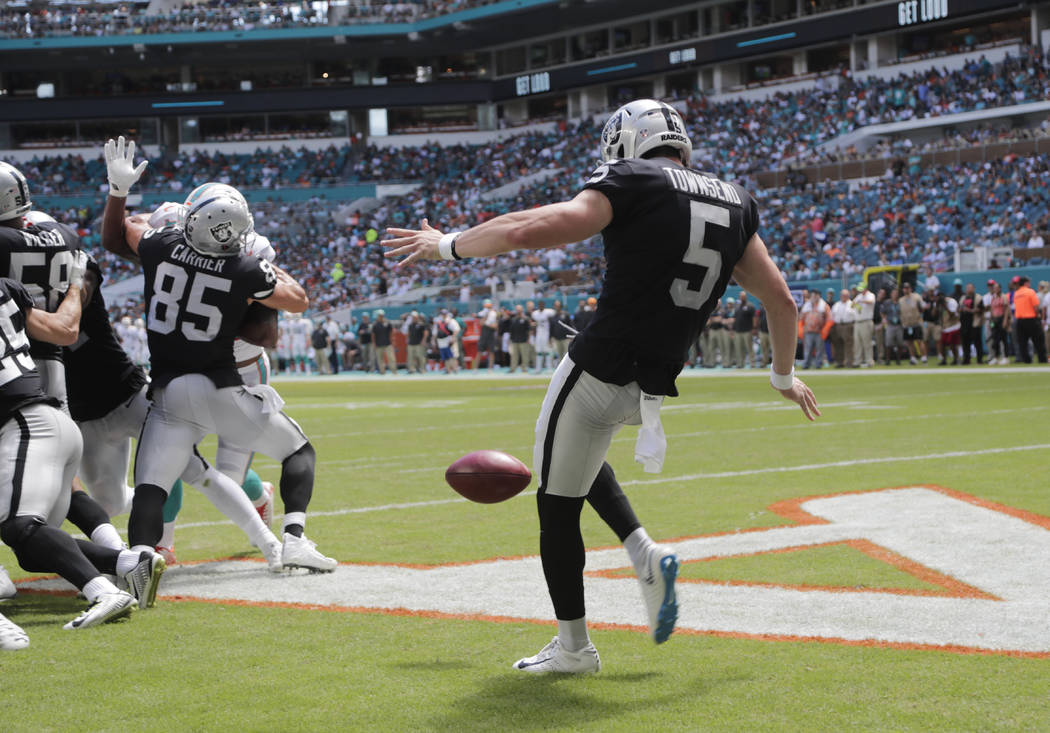 ALAMEDA, Calif. — Johnny Townsend is due to face Kansas City Chiefs punt returner Tyreek Hill twice in the next month.
This isn't a chance assignment. He was handpicked for it.
In April, the Raiders drafted the punter in the fifth round in part for his demonstrated capacity to handle the matchup — or at least, as best as one can. Townsend showed a knack at Florida for directional punting, his ability to place the football near or into the sideline, the sort of skill that can help neutralize even the most explosive returners.
Sunday is his first opportunity versus Hill.
He won't go at it alone.
Containing the versatile Pro Bowler will require a group effort, from the game plan that special teams coordinator Rich Bisaccia installed this week to players' execution of it. The Raiders respect the stakes. Last Sunday, the unit allowed a 70-yard punt return for a touchdown to Baltimore Ravens cornerback Cyrus Jones. Hill has returned an NFL-high four punts for touchdowns since 2016.
Townsend punted the ball 52 yards on Jones' score.
Upon receiving the ball, Jones had room to run.
"We didn't hit our landmark," Raiders coach Jon Gruden said Wednesday. "We gave them a low-hanging punt that gave (Jones) a two-way go, and that's hard to defend. If we do that against this guy, we'll have very little chance to win this game. This guy is really unique. Tyreek Hill, he's a unique skill set. You have to limit his opportunities every way you can, on offense and in the kicking game."
Gruden has discussed publicly this matchup for months.
Before this week, the last such occurrence came Sept. 12, three days after he watched Hill record a 91-yard touchdown in the season opener against the Los Angeles Chargers. Among all players with at least 40 punt returns since 2016, Hill leads the league, averaging 12.3 yards.
"There's a guy in Kansas City we don't want to kick the ball to," Gruden said in September. "I saw him the other day. As soon as I sat down, he was dancing. So, directional punting, minimizing the returns is a big part of Johnny Townsend's strengths and why he's here."
There is no easy way to kick to Hill.
In a recent conference call with Raiders reporters, Chiefs coach Andy Reid was asked how he would punt to him.
"That's a tough question," Reid said. "You guys have one of the really good special teams coaches around (Bisaccia), so I'm sure he'll have a trick up his sleeve for us. Obviously, Tyreek is a good returner. We've seen about everything with him that you can show somebody, whether it's kicking away from him, kicking to him or driving it close to the sidelines. We've seen about everything. Your guy will have something for us, I'm sure."
It probably will involve working the sideline.
That is, after all, a core reason as to why Townsend is here.
"In college, I was a big directional punter," Townsend said. "That's what I took pride in, having that ability. We're going to do a little bit better job of kicking to the sidelines this week and try to get some out of bounds, really not giving him the chance to touch the ball if we we can."
More Raiders: Follow online at reviewjournal.com/Raiders and @NFLinVegas on Twitter.
Contact reporter Michael Gehlken at mgehlken@reviewjournal.com. Follow @GehlkenNFL on Twitter.