Raiders QB Derek Carr not done dreaming big
August 5, 2017 - 11:46 pm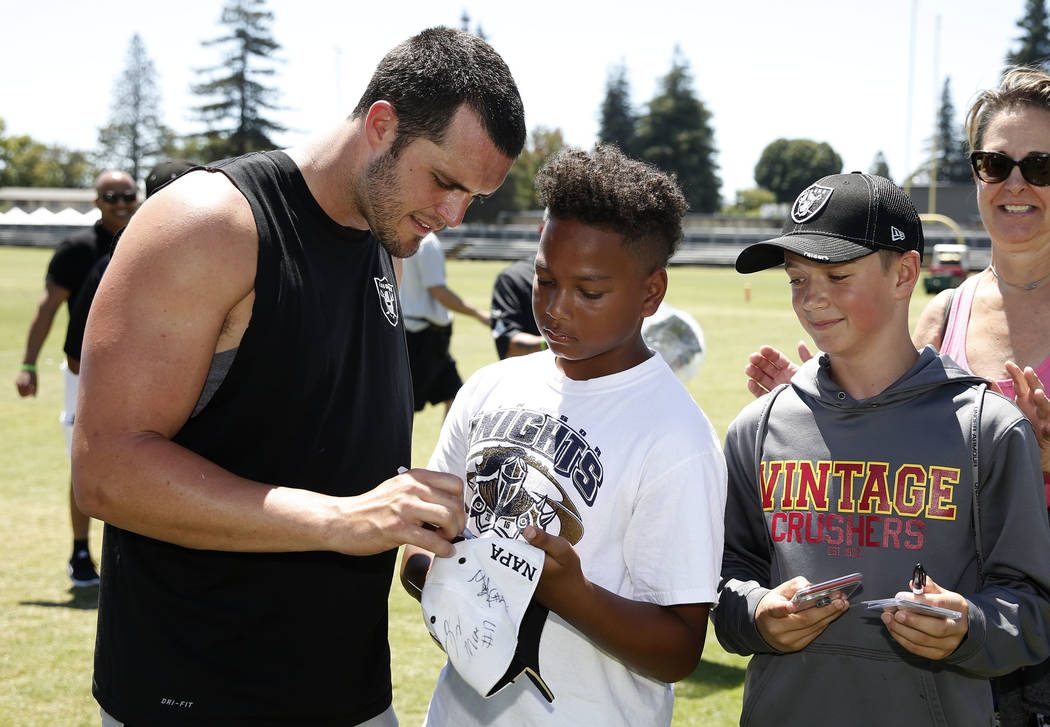 NAPA, Calif. — Derek Carr has a knack for living out his dreams.
As a boy, it wasn't enough to hope to become an NFL quarterback like his brother David. He wanted to play for the Raiders, the team he grew up supporting. And it wasn't enough to hope to follow David's path by playing at Fresno State. He wanted to have his college number retired like him, too.
Today, at age 26, Carr is the Raiders' franchise quarterback. His No. 4 jersey is scheduled to be retired at Fresno State in a few weeks.
That just leaves the big one.
"Win a Super Bowl," Carr said. "And not just one but multiple."
To some, that may sound ambitious — some of the NFL's greatest quarterbacks can go their entire careers without a title, let alone two. But ambition is partly what has driven Carr this far. He recently discussed that goal as well as the upcoming Fresno State retirement, his comments indicative of his journey to date.
David's jersey was retired in 2005.
Derek Carr was 14 at the time, a freshman at Clements High in Sugar Land, Texas. David's No. 8 is one of six jerseys retired at Bulldog Stadium before Carr's upcoming ceremony on Sept. 2.
"Every time I walked down that ramp for practice, a game, a lift, a run at 6 a.m. … I would look up and see 'Carr No. 8,' and it was motivating every single day that I'm going to get my name up there," Carr said. "It was a reminder. I can remember times in some of the hardest games where I would look up, and I'd see it, and it was just a reminder of how hard I needed to go in that game. …
"It sounds silly to some people, but I wanted to leave my imprint on that community and on that school. The fact that they called and they want to do that is a dream come true. It was one of my top goals. I have a lot of goals, but there's very few at the top that I wanted to reach and for my football career that was one of them. It really is a humbling thing. I was very emotional when they told me."
Imagine a Super Bowl or two.
Carr and the Raiders expect to have a window to contend, a window that appears open now. Their roster is very much still coming together in training camp at a number of key places, be it offensive tackle, linebacker, the secondary and on special teams. But a young core is clearly in place between the likes of Carr, defensive end Khalil Mack and wide receiver Amari Cooper.
Carr did not become the Raiders' quarterback alone. It required a support system and flat-out luck.
He didn't earn his jersey retirement alone. Again, it required a supporting cast and some luck.
Winning Super Bowls will be no different. He cannot do it alone, and the achievement would be far from all about him.
"That is for our city, for our fans, for my teammates, these coaches, all of us that are away from our family in this silly, little hotel for weeks on end. The hours that we put in, there is so much that I could get into that I want to win that so badly for everybody else because there's nothing like … I'll never forget when we won that game my rookie year versus Kansas City.
"We won one game, we were 1-10, and to sit there and watch everybody celebrate, there's nothing like it. I just sat there and enjoyed it. That's probably number one."
Contact reporter Michael Gehlken at mgehlken@reviewjournal.com. Follow @GehlkenNFL on Twitter.