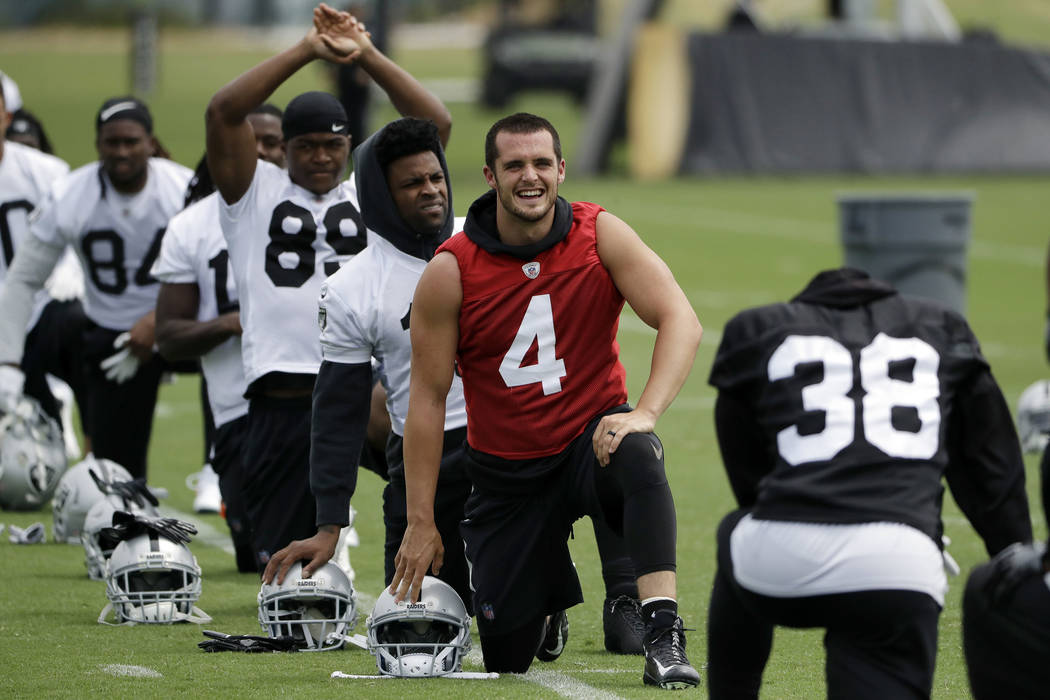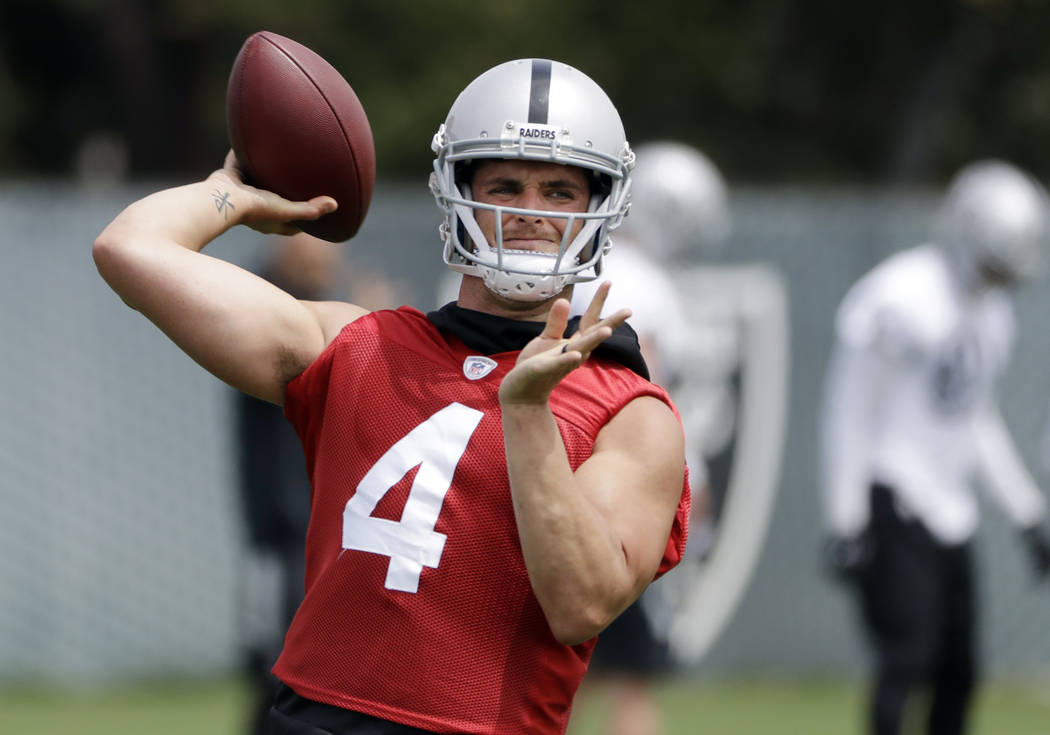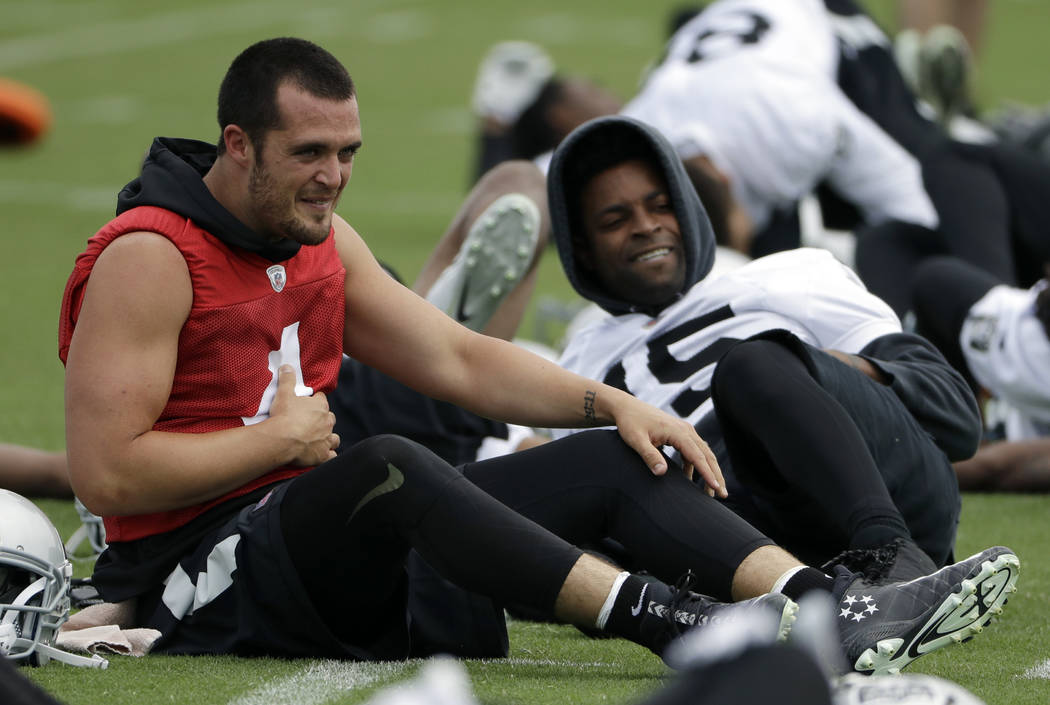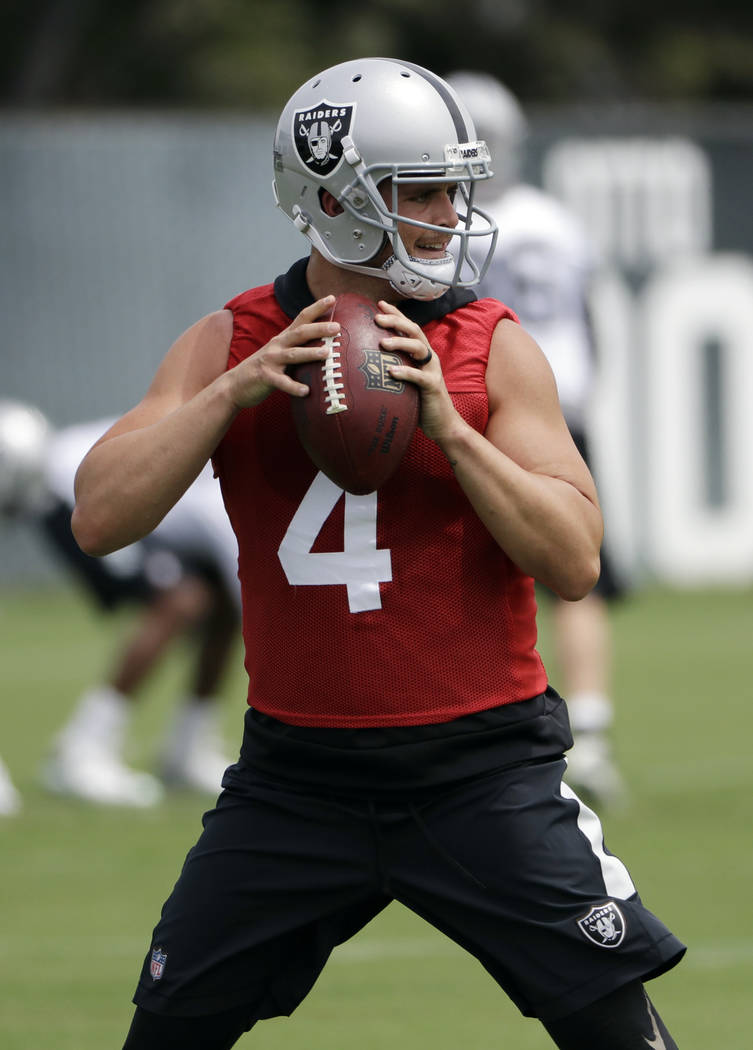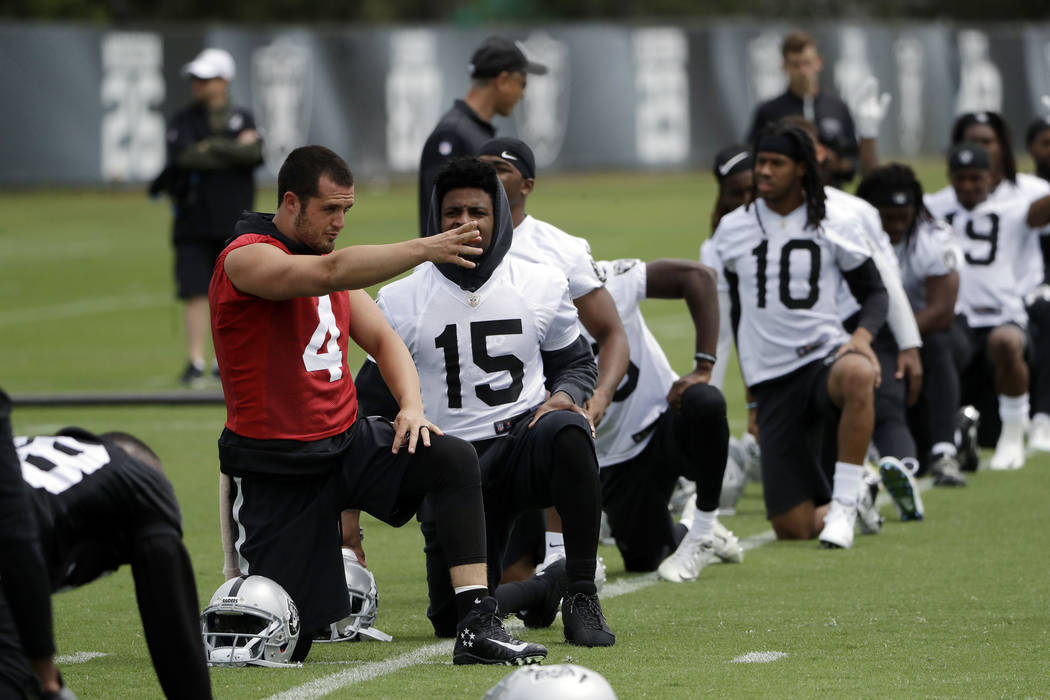 ALAMEDA, Calif. — Derek Carr will sign a contract extension in less than two months.
Or he won't this year at all.
The Raiders quarterback has expressed that he wants a contract extension before training camp begins in late July. On Tuesday, he took that point a step further, emphasizing the degree to which discussions will end if no deal is done at that point.
Carr is entering the final season of a four-year rookie contract.
He and the Raiders have expressed a desire for a long-term extension, and optimism continues to swirl that a deal will occur before camp.
It must.
"I wouldn't even answer my phone," Carr said during a media conference that followed a Raiders practice. "The money isn't the thing that drives me. If it was, then I shouldn't be standing here. What drives me is making sure I'm giving everything I have in my abilities and making sure that we win. I don't want anything distracting my thought process at all. It's not a jab or anything like that. That's just me saying, 'I'm not going to deal with anything that's not helping me focus on winning.'"
To that end, Carr said that he recently saw teammate Khalil Mack appear on an ESPN segment.
During that interview, Mack was asked about Carr's contract, and it "bugged the heck out of me," Carr said. Such questions to teammates are what he wants to avoid by the time the Raiders open camp in Napa, California.
"There's nothing new to report to right now," Carr said, "but I'm hoping those things will pick up here real soon, which we're expecting. They've been talking to Tim (Younger), my agent. That should get going real soon, I hope, because once training camp hits, I'm all football. I'm not going to distract my teammates. You guys (the media) are going to want to know. Trust me: If it's not done by training camp, we won't be talking about it. I'm focused on football because I just want to win."
Whatever discussion or speculation that surrounds Carr's contract should prove moot.
This deal almost certainly will get done.
The team has budgeted out its offseason — how much it can spend on a certain free agent, how much it cannot — with an eye toward extending not only Carr in the coming months but also his right guard, Gabe Jackson. Both players are coveted and expected to receive new deals.
Carr first established himself as a rookie second-round pick in 2014.
He's gradually ascended since then. While quarterback rating is an imperfect barometer, it reflects his rise, Carr moving from a 76.6 rookie rating to 91.1 in 2015 and 96.7 last season. He also is part of a young core that has led a cultural shift within the organization. The Raiders went from three wins in 2014 to 7-9 in Carr's second season and 12-4 last year. Their playoff berth in 2016 was the first since 2002, when they reached Super Bowl.
Carr, 26, is only beginning to enter his prime.
That figures to produce an annual playoff contender, something projects to continue into the franchise's relocation to Las Vegas. The move is scheduled to occur in time for the 2020 season.
"I've made it very clear that I want to be a Raider for my entire career," Carr said. "I don't want to play for anybody else. They know that. They've told me how badly they want me. So, we'll see."
More Raiders: Follow all of our Oakland Raiders-to-Las Vegas coverage online at reviewjournal.com/Raiders and @NFLinVegas on Twitter.
Contact reporter Michael Gehlken at mgehlken@reviewjournal.com. Follow @GehlkenNFL on Twitter.