Raiders rookies must overcome time away from field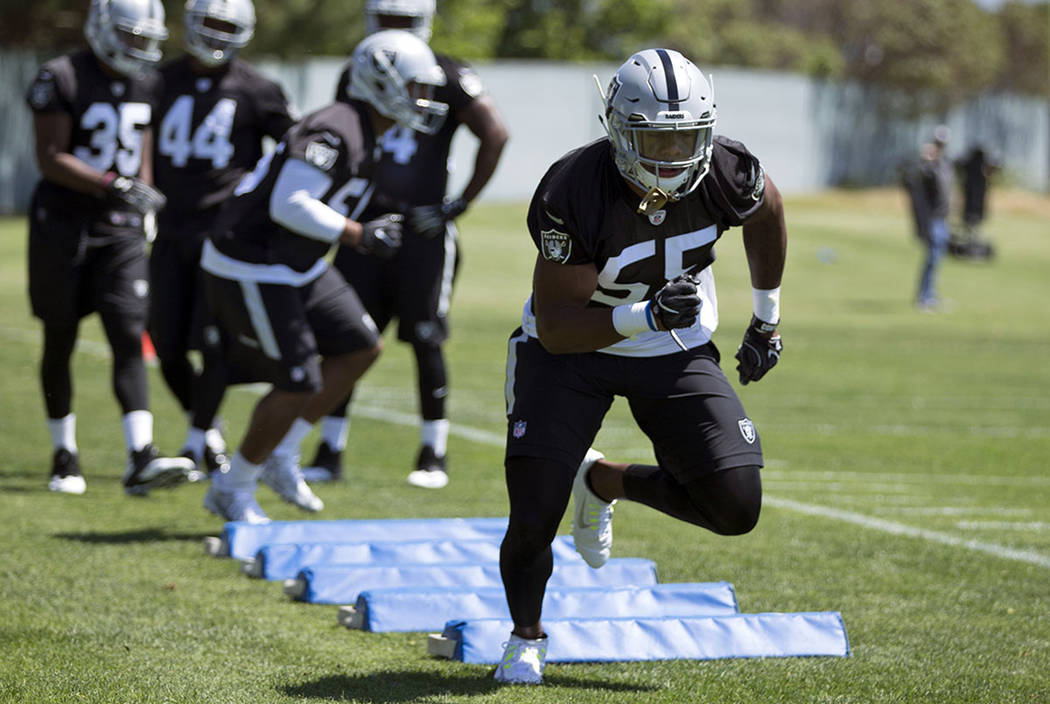 OAKLAND, Calif. — Nicholas Morrow did his best.
From May 5 to 7, the undrafted rookie attended the Raiders' rookie minicamp, working as the "Mike" inside linebacker. That position comes with enough on-field responsibility. Add in a new playbook for someone making the leap from a safety-linebacker hybrid position at Greenville, a Division III school in Illinois, to the NFL, and it was only natural for there to be a sense of information overload.
Being on the field is one test.
Not being is another.
The Raiders' rookie class was not allowed at the facility last week, their limitation in activity part of the regulations stipulated in the collective bargaining agreement. So after a mentally taxing minicamp, rookies like Morrow had a full week to themselves. The coaching staff will evaluate their rookies' retention of information, as they share a practice field with veterans Monday for the first time.
That is, those who can.
Not every rookie can attend practice this week because of their schools' academic schedules. Morrow is not slated to return until May 25; he has finals. Defensive tackle Eddie Vanderdoes, a third-round pick, figures to be away longest. He is not expected on the field again this spring. He must miss this upcoming practice week, all of organized team activities (OTAs)— an integral 10-practice stretch across three weeks — as well as a June minicamp because UCLA operates on the quarter system.
OTAs start May 22 and conclude June 9. The team will complete spring workouts at a June 13 to 15 minicamp.
Finals week at UCLA is from June 12 to 16.
Vanderdoes can attend the Raiders' rookie development program, a classroom-based program designed to address off-the-field topics. But his next time on the field likely won't be until late July when the Raiders open training camp in Napa, Calif.
Vanderdoes' circumstances are rare. For other rookies whose finals schedule doesn't prohibit their spring participation, Raiders coaches can issue their own personal test, eager to see not only who retained information from minicamp but who studied their playbook to expand upon it.
Ultimately, players need reps; only so much work can be achieved from afar. But player evaluation does not begin in training camp or the preseason. To a reasonable degree, it starts here. Coaches want to see how much a rookie can handle and how soon.
This week marks the third and final week of the second phase in the Raiders' spring workout program. There are three phases altogether. The level of football activity progresses with each one. Right now, players cannot wear helmets. An offensive player cannot drill against a defensive player in any fashion.
Next Monday, with OTAs, such parameters are allowed.
Raiders practices steadily are picking up speed. A challenge falls on the coaching staff to ensure everyone, especially the rookies with academic obligations, can keep pace.
Michael Gehlken can be reached at mgehlken@reviewjournal.com. Follow @GehlkenNFL on Twitter.