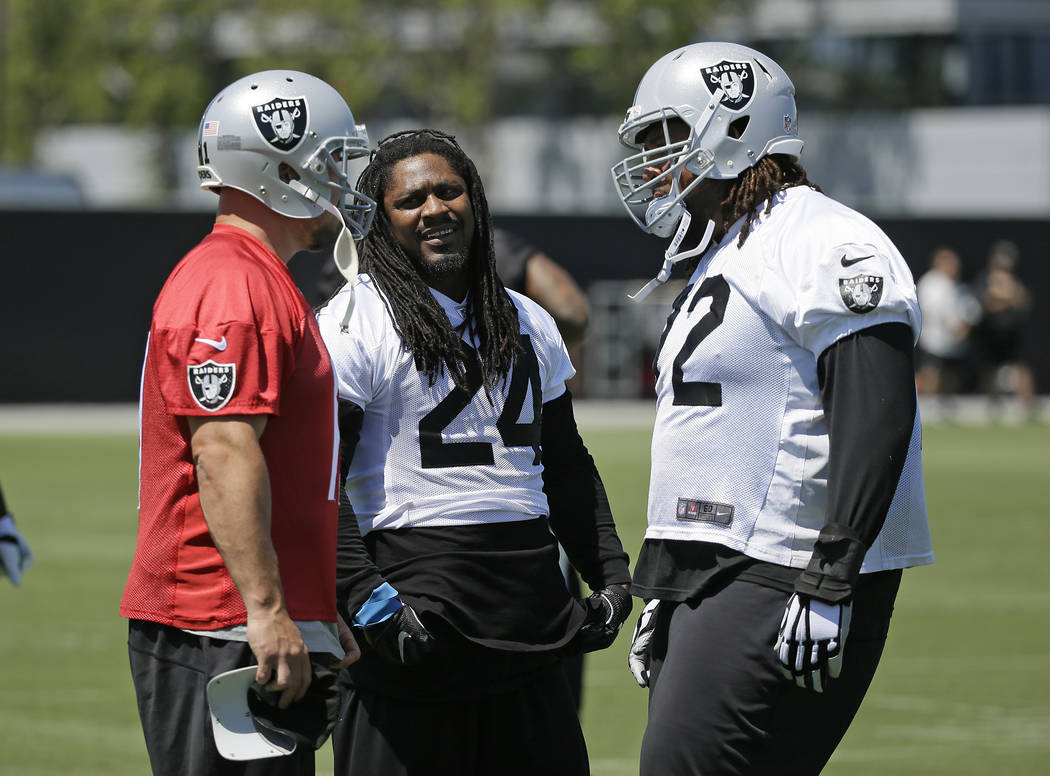 ALAMEDA, Calif. — It has been five months since The Play.
The one that ended quarterback Derek Carr's season. The one that ostensibly ended the Raiders' season. The one that, maybe to help cope with it, to help accept it, left tackle Donald Penn now considers "karma" to be used for a potential Super Bowl-bound season in 2017.
But five months are not long enough for Penn to forget the play.
How he slipped.
Penn is widely considered to have had among the best seasons in 2016 of any NFL left tackle. But there is one play he regrets more than any other, the one that occurred on Christmas Eve when Carr was under duress, fled the pocket and was sacked, suffering a broken right fibula that led to his placement on injured reserve.
Colts defensive end Trent Cole made the sack.
Penn was engaged in protection before tripping to the ground, the sort of play that can happen but the sort Penn says never had to him.
"You've got to try not to think about it too much," Penn said. "It happened. You wish you could go back and get it back. I've done that same (pass) set I don't know how many times on that same field and never just slipped out of nowhere. I took a little step. I'm not going to put it on myself. I should have been able to do something better. You know me: I'm not going to blame the slip for happening.
"I should have held on (to Cole) and brought him down with me. That play sticks with me. I'm going to try to do whatever I can do better to make sure nothing like that ever happens again. I've never gotten a quarterback hurt before in my life since I've been playing. None of my quarterbacks ever got hurt. That was the first. That's something I take pride in, and I'm going to try my hardest to make sure it doesn't happen again."
Penn is not exactly a spring chicken, either.
He joked Tuesday not to say his age too loudly, but the number, 34, did come up during a news conference after the second day of organized team activities. Carr was a full participant, running around and flinging passes as if the injury never occurred.
That Penn, who is entering his 12th NFL season, has played this long and still maintained a high level of play is a testament to his preparation. He cut his weight five pounds to 325 last season. He plans to do so again in 2017, dropping to 320.
And maybe, just maybe, this season will prove to be special.
"Everything happens for a reason," Penn said. "Last year, that play was crazy. It … happened for a reason. Maybe that reason is it wasn't our year last year; maybe this year is going to be our year. That play was just a fluke play on my part. I slipped out of nowhere. He got hurt. He's gotten tackled like that plenty of times. He never broke anything. Fluke. I'm all about karma and stuff like that, so maybe (God) was trying to tell us this is our year.
"We've got to put in the work to get it, and I know DC (Derek Carr) is happy (to be back). I'm dang sure happy to get him back."
More Raiders: Follow all of our Oakland Raiders-to-Las Vegas coverage online at reviewjournal.com/Raiders and @NFLinVegas on Twitter.
Michael Gehlken can be reached at mgehlken@reviewjournal.com. Follow @GehlkenNFL on Twitter.