Raiders TE Jared Cook resilient amid losing, targets Pro Bowl
December 1, 2018 - 5:06 pm
Updated December 1, 2018 - 5:43 pm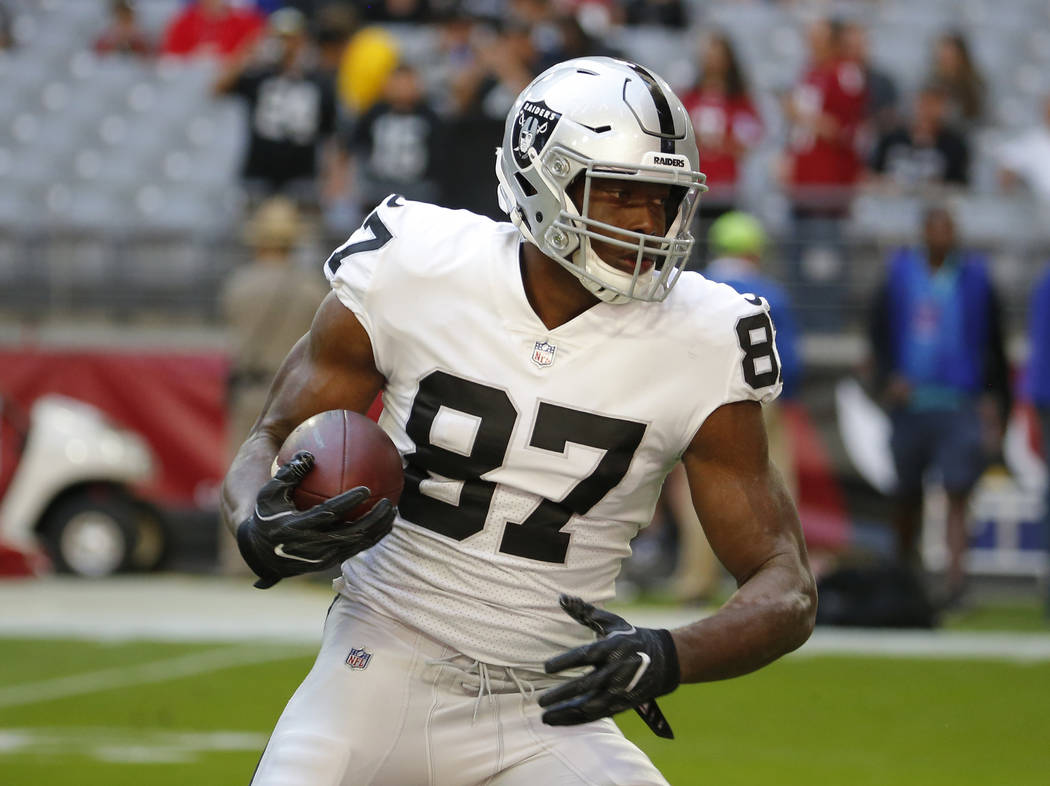 ALAMEDA, Calif. — An easygoing temperament usually accompanies Jared Cook during the workweek. He strolls into the locker room, bellows "What's gooood?" with a friendly nod and glides toward a meeting room, cafeteria or wherever else his destination might be.
Not Friday.
Not on this topic.
Five games remain in the 10th season of Cook's NFL career. With a 2-9 record, it will be the ninth not to reach the playoffs. The Raiders tight end sat at his locker, a towel draped over his shoulders, detailing how he's dealt with the difficulty of losing.
Defiance drenched his words.
"You show your true colors when you're taking L's," Cook said. "Just because we're losing, I'm not a loser. I ain't never no (expletive) loser. Ever in my life, I ain't no (expletive) loser. But that's just the way my career has gone. You put me one-on-one, I'm winning my (expletive). I ain't no loser."
At age 31, Cook is on pace to set career highs in all major statistical categories. He has 47 receptions for 609 yards and five touchdowns. He hopes the campaign will culminate in his first Pro Bowl selection, a distinction he considers a childhood dream. This past week, he received an honor perhaps more meaningful, as teammates voted him their Ed Block Courage Award recipient for 2018.
The recognition reflects how Cook carries himself in adversity.
Amid a trialing season, his next opportunity awaits Sunday against the Kansas City Chiefs (9-2).
The last time the Raiders faced the Chiefs, in 2017, Cook finished the game despite four ligament tears and chipped bones in his left wrist. He entered the December road meeting with pre-existing wrist issues. They worsened on a fourth-quarter hit, he said, resulting in his whole forearm swelling up postgame and a visit to an emergency room for evaluation.
Cook deferred surgery to the offseason, playing the final three games.
He wanted to finish beside teammates and hoped to qualify for the Pro Bowl. He narrowly missed the latter. As Cook explains, the NFL worked down its list of starters and alternates at tight end in January but still needed to fill out the position. He was told that Indianapolis Colts tight end Jack Doyle was extended an invitation before him because of their receiving yardage.
Doyle finished with 690 yards last season.
Cook had 688.
"I guess the Pro Bowl for me comes from when I was younger when the Pro Bowl meant something," Cook said. "You have a Pro Bowl attached to your last name. That meant something when I first got into the league and when I was younger in the '90s, and they used to have (the game) in Hawaii. That was a big deal. And now it's a little bit different, but it's still something that's a dream of mine from when I was a kid that I want attached to my name.
"I might never have 'Hall of Fame' attached to my name, but I could have a Pro Bowl."
It would be his latest honor.
One day, when Cook's career is reflected upon, he will be mentioned as the first tight end in NFL history to record a 100-yard game with four franchises. He did so with the Tennessee Titans, then-St. Louis Rams, the Green Bay Packers and the Raiders last season.
This season, in the Sept. 10 opener, he totaled a career-high 180 receiving yards versus the now-Los Angeles Rams. He stands atop the single-game franchise receiving mark among tight ends in Titans, Rams and Raiders history.
Tight end Lee Smith cited Cook's wrist injury last season as one reason that Smith thought Cook deserved the Ed Block Courage Award. Tight end Derek Carrier had another example, pointing to a powerful stiff arm Cook delivered Nov. 11, discarding Los Angeles Chargers cornerback Desmond King to the ground.
About a minute remained in the game.
The Raiders trailed 20-6 deep in their own territory.
"It's easy for people to pack it up," Carrier said. "You have someone who's still competing, battling."
Cook finds satisfaction in these moments.
Ideally, here in December, he would be playing for the postseason, not pride. But with the exception of his 2016 season in Green Bay, that hasn't been his NFL experience. So, he takes wins where he can. He uses his family for motivation, he said, looking to provide loved ones with more opportunity. How he finishes games and seasons is a reflection unto them.
None of that makes losing easier.
"You laugh to keep from crying," Cook said. "The fans really think the losing is bad, but once they're in this locker room, they don't get that (expletive), bro. They don't really get a glimpse of how this (expletive) really affects your daily life, your in and out, your woes, your ups and downs, just your whole demeanor. This (expletive) can switch people up on you so fast, just in this building alone.
"When guys go out there on the field, it's not like we're playing to lose. It's not like we're laying down and, 'Ahh, we're going to lose this game on purpose.' Nah, we're actually fighting our (tails) off. … But you've just got to find the little victories. What are you getting better at? How are you getting better as a person? How resilient are you? How much heart you got? If you continue to go out there and play, your heart is going to show to the world, so what are you putting on film to the world?"
Losing does not define Cook.
His defiance does.
More Raiders: Follow all of our Raiders coverage online at reviewjournal.com/Raiders and @NFLinVegas on Twitter.
Contact reporter Michael Gehlken at mgehlken@reviewjournal.com. Follow @GehlkenNFL on Twitter.