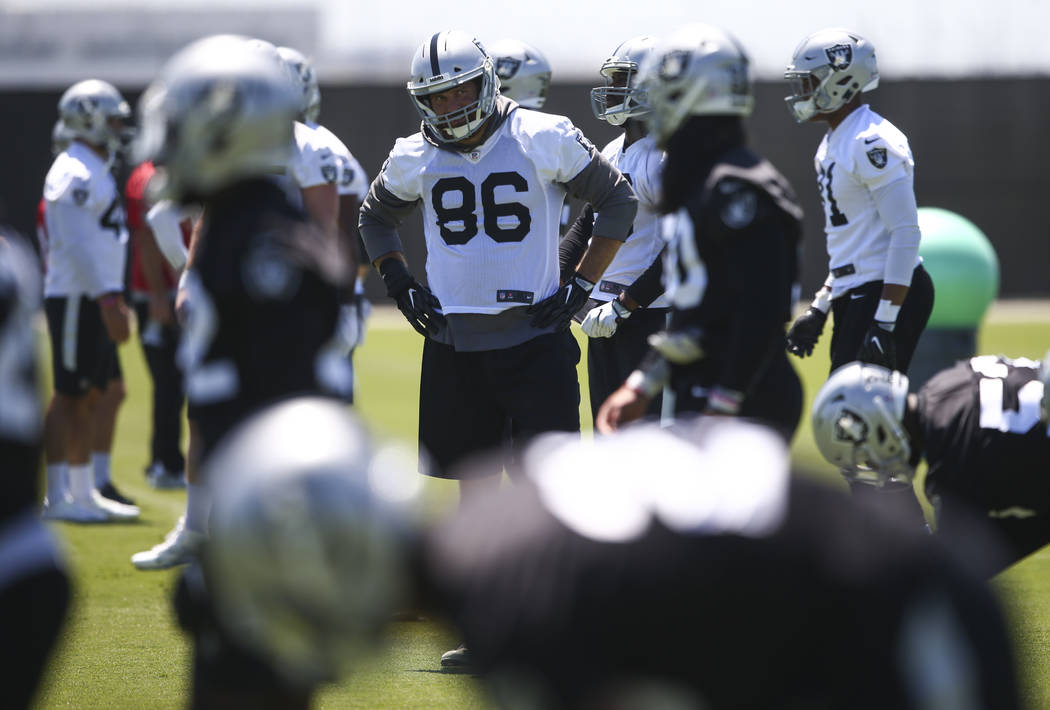 NAPA, Calif. — Lee Smith is a blocker first, receiver fourth.
And so Tuesday, when the Raiders tight end sprinted down the seam and caught a long EJ Manuel pass, quarterback Derek Carr came sprinting after him. He chased Smith 30-plus yards down the field and jumped in the air, hollering as they celebrated together.
Moments like this.
This is why Smith did the deal.
Last week, Smith signed a restructured contract upon his arrival to training camp. Effectively, his 2017 salary was reduced, his amount of guaranteed money increased, and playing time incentives were added that are designed to protect the team should he miss significant playing time to injury as he did to a broken ankle last season.
There were objective reasons for Smith to sign the contract.
Personal reasons are what compelled him.
"At the end of the day, everybody from (owner) Mark Davis to (general manager) Reggie McKenzie to (coach) Jack Del Rio — all the way down — has been great to me the moment I walked into the door here," Smith said. "I wanted to be a Raider when I hit free agency (in 2015), and I still want to be a Raider. (Offensive coordinator) Todd Downing is a friend. (Tight ends coach) Bobby Johnson is a friend. These are people I care about, and that's just my bosses.
"The relationships I have with my teammates — I can't speak enough about the people in this organization, especially my teammates, how much I love every single guy in that locker room, especially Derek. He sees my big butt catch a pass like that, and he's the first one to run down there. The relationships I have here are the number one reason I want to be here."
On his old deal, Smith was due a $2.75 million salary.
His new figure, $1 million, is fully guaranteed. He is guaranteed another $1 million via a roster bonus. As for the final $750,000 difference, a source outlined that Smith can earn up to $1 million based on the percentage of the team's offensive snaps he plays this season. The $1 million is earned in quarterly installments for the following benchmarks: 20 percent, 30 percent, 40 percent and 60 percent.
If Smith plays 40 percent, the full $750,000 returns to him.
Under the new contract, he remains scheduled to become a free agent next March.
"A week ago, I had zero guaranteed money this year," Smith said. "I could have come out here, and I was totally unprotected. Now I have a little guaranteed money. I have to earn a little bit of the rest back in incentives that are realistic. It's not like they gave me a 50-catch incentive where my max catch (in a season) is 12. You know what I mean?
"Once again, they treated me right. It was a situation that was good for me and my family to give me some upfront security. It gave them a break in cash. … It wasn't like they just freakin' cut my salary in half and told me to get over it. They treated me with respect — at the beginning of camp instead of at the end. It was a deal that was great for everybody."
Off-day
The Raiders will receive a break Wednesday from camp.
On Tuesday, they looked ready for one.
The team completed its fourth straight practice, the final two of which were in pads. It wasn't the cleanest session of the summer, coach Jack Del Rio said afterward, although that is merely a coincidence. The off-day for players was planned long ago.
No NFL team can practice more than four straight days in camp, as outlined in the league's collective bargaining agreement.
"I thought today was just OK, a little sloppy," Del Rio said. "Ball on the ground a little too much, some offsides issues, but Day 4 of camp. We're so far away from where we need to be. So much work needs to get accomplished between now and the time we break camp."
More Raiders: Follow all of our Oakland Raiders-to-Las Vegas coverage online at reviewjournal.com/Raiders and @NFLinVegas on Twitter.
Contact reporter Michael Gehlken at mgehlken@reviewjournal.com. Follow @GehlkenNFL on Twitter.