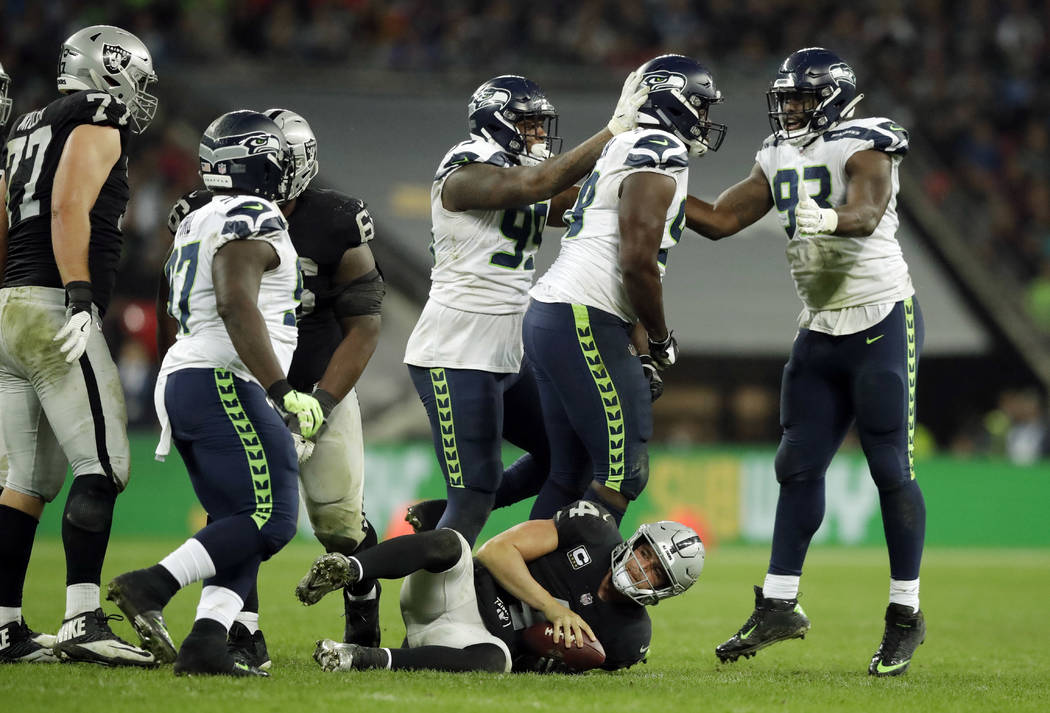 ALAMEDA, Calif. — No reporter had to request an interview Wednesday afternoon from Lee Smith.
He'd read enough. He'd watched enough.
He wanted to talk.
"I hope that everyone hears me loud and clear of what a joke it is," Smith said.
The Raiders tight end delivered an impassioned, unwritten speech inside the locker room. It spanned more than three minutes and consumed about 650 words . By the end, there was no mistaking where Smith stands following a Monday report that questioned quarterback Derek Carr's regard in the locker room.
He stands with Carr.
According to The Athletic, team sources describe a "fractured relationship" between Carr and teammates. Belief in him has "deteriorated" within the organization. And after the broadcast captured "what looked like him crying" following an Oct. 14 shoulder injury versus the Seattle Seahawks, "it's hard to see how Carr can lead this team again."
Smith vehemently disagreed with the report. His father, Daryle Smith, was a rookie offensive lineman for the Dallas Cowboys when Smith was born in 1987.
"There's a lot of NFL football that's been a part of my family and a part of my life," Smith said. "And all these reports about this locker room being fractured with Derek Carr is the most obnoxious and ridiculous thing I've heard — ever.
"It's to a point where it's comical and laughable that I'm even sitting here talking about it. Us as players have zero issue with Derek Carr. He is our leader. He's always been our leader. We put a 'C' on his chest for a reason along with Rodney Hudson. Regardless what face he makes after a tackle, what everyone wants to dive into and wear him out about, attacking his character or attacking him as a leader on this football team is a joke."
Smith's venting included a couple of unprintable words for which he later apologized.
"The attacking of our strongest leader and the strongest man in our locker room is absolute (expletive)," he said in his closing remark.
Wide receiver Jordy Nelson was among the teammates to share that overall sentiment.
Nelson spent the first 10 seasons of his NFL career with the Green Bay Packers. Unlike Smith, who has spent four of his eight seasons beside Carr, this is Nelson's first campaign with the club.
"He's the leader of this team," Nelson said. "Derek's done everything he can throughout the week to prepare and go out and play well. I think any quarterback in this league, to be honest with you, probably gets too much credit when they win and too much blame when they lose. … We have all of the faith in him. … He's been the same guy I've seen since day one that I've been here."
Cornerback Rashaan Melvin said of the report: "We definitely don't sense that. He's a big part of this team. … We all got his back. We know he's playing hard for each and every one of us."
Raiders coach Jon Gruden said he heard that a "phantom" source disparaged his quarterback. "I think Carr is going to be fine," Gruden said. "We have a lot of moving pieces now on offense. It's tough on a quarterback. In the first year of a system, it's doubly tough. I'm going to keep supporting him. I know I believe in him. I know he's going to be a great player. You watch and see. He'll play just fine on Sunday."
Carr spoke on the matter, too.
He said he "can't tell you how many" text messages from current and former teammates he received Tuesday in support of him as the Athletic report gained traction. As for the notion he appeared to be crying, he affirmed that he wasn't.
"I broke my back. I broke my ankle," Carr said. "I didn't cry then, but I guess the shoulder was really tough for me. It was funny. My trainer actually sent me some pictures of me working out, making the same face, so I guess I cry when I train, too. It just is what it is when you're losing, man."
More Raiders: Follow all of our Raiders coverage online at reviewjournal.com/Raiders and @NFLinVegas on Twitter.
Contact reporter Michael Gehlken at mgehlken@reviewjournal.com. Follow @GehlkenNFL on Twitter.