Raiders use rookie WR to simulate Ravens QB Lamar Jackson
November 21, 2018 - 3:10 pm
Updated November 21, 2018 - 4:22 pm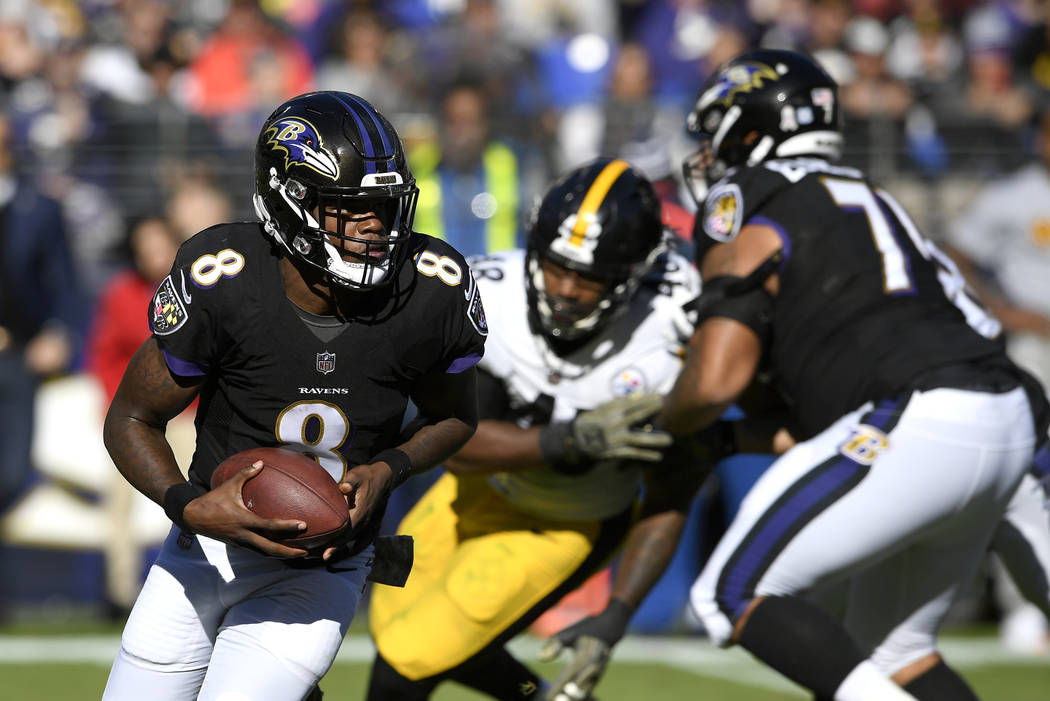 ALAMEDA, Calif. — Given the fact Rico Gafford hasn't played quarterback since his sophomore season at Des Moines East High in Iowa, and only did so in an injury pinch, it'd require a special set of circumstances for him to reprise that role in the NFL.
Baltimore Ravens quarterback Lamar Jackson qualifies.
"I think he's a very special player," Raiders quarterback Derek Carr said Wednesday.
Gafford, a rookie cornerback-turned-wide receiver on the Raiders' practice squad, is tasked with simulating Jackson during practice in advance of Sunday's game. Jackson, a rookie first-round pick, made his first professional start last weekend and logged 27 rushes for 117 yards in a win over the Cincinnati Bengals.
His carries were the most for a quarterback in a game since the 1970 NFL-AFL merger.
The 2016 Heisman Trophy winner also completed 13 of 19 passes for 150 yards with one interception.
Gafford, 22, largely played wide receiver and cornerback in high school. His size at 5 feet, 10 inches led him to focus on the latter in junior college, where he spent two seasons before an opportunity at Montana. He spent two seasons there at cornerback and ran the 40-yard dash, he said, in 4.22 seconds at his pro day.
Measurement times generally are known to be faster at pro days, where times are recorded by hand and wind can be a factor, than at the annual NFL scouting combine, where they're calculated electronically indoors. Nonetheless, his speed certainly makes him better qualified to imitate Jackson in practice than Carr's backup on the 53-man roster, A.J. McCarron.
McCarron ran 4.94 in his combine 40 in 2014.
Jackson, who elected not to run at this year's combine, reportedly was clocked at 4.34 seconds at Louisville's pro day.
"I love running," said Gafford, who sprinted numerous events in high school. "That's the one thing about me: I love running. I'm a track guy. Anyone who knows me can tell you I run. I run a lot, and I run fast. I'm just going to do the best that I can … to be the best Lamar Jackson I can be, other than him."
Notable
■ At 2-8, the Raiders are on pace for the No. 3 overall pick next April. Carr said Wednesday that he hopes the draft selection is lower. "I just want to win," Carr said. "I want to mess up the draft. I don't want the first pick. I want to win all these games. I want everybody to be mad at me for that."
■ Johnny Holton, a wide receiver who is a project as a cornerback, was promoted Wednesday from the practice squad. He should see a significant role Sunday in special-teams coverage. Holton also will serve as Gafford's backup quarterback in the event he needs a breather. Cornerback Arrion Springs was signed to the practice squad in a coresponding move.
■ The Raiders altered their practice schedule, changing Wednesday's session to an off-site, indoor walk-through. A team spokesman cited a coach's decision for the reason. Last week, on the Thursday and Friday before a Sunday win, the club did the same, citing the poor air quality from Camp Fire.
■ Coach Jon Gruden supported Tom Flores, former Raiders quarterback and head coach, in his bid for the Pro Football Hall of Fame. He was named a seminfinalist Tuesday evening. "If I had a vote, I'd certainly vote for him," Gruden said. "He's what the Hall of Fame is all about."
More Raiders: Follow online at reviewjournal.com/Raiders and @NFLinVegas on Twitter.
Contact reporter Michael Gehlken at mgehlken@reviewjournal.com. Follow @GehlkenNFL on Twitter.