Raiders WR Martavis Bryant suspended indefinitely by NFL
Updated December 14, 2018 - 4:26 pm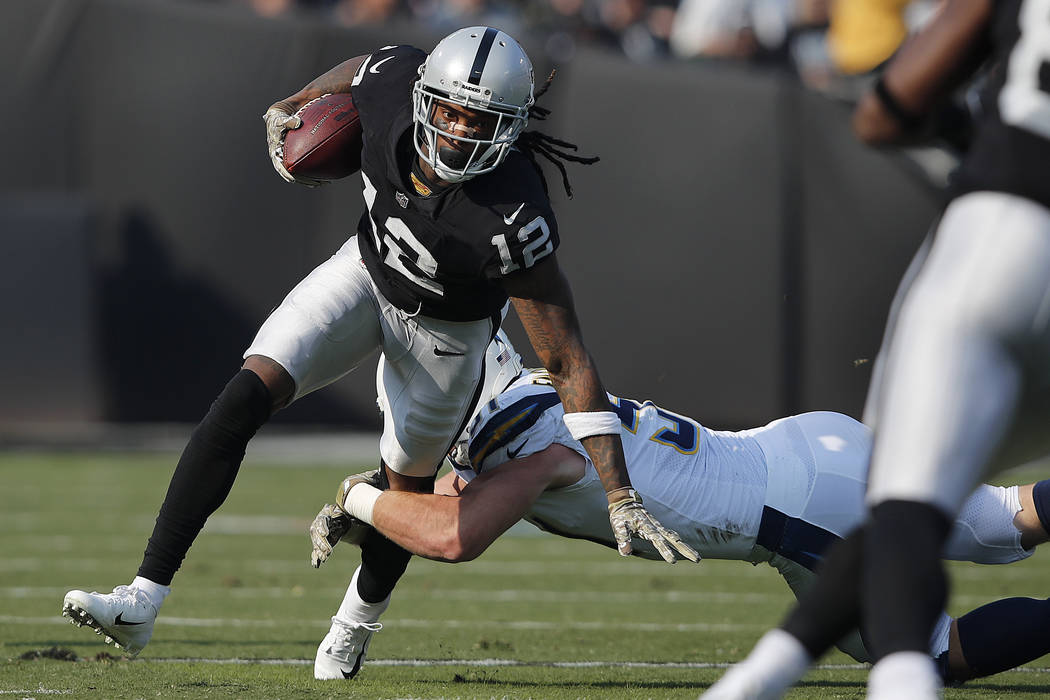 CINCINNATI, Ohio — The NFL suspended Raiders wide receiver Martavis Bryant indefinitely Friday following the conclusion of a months-long appeal process, the development a final touch to a frantic news week for the franchise.
Since at least June, the Raiders suspected a Bryant suspension could come. It arrives with him on injured reserve for a knee injury.
Said an NFL spokesperson in a statement: "Effective immediately, Martavis Bryant has been returned to the Reserve/Commissioner Suspended list indefinitely for violating the terms of his April 2017 conditional reinstatement under the Policy and Program for Substances of Abuse."
Raiders WR Martavis Bryant has been suspended indefinitely by NFL. He lost his appeal. Club feared outcome for months. It arrives with Bryant on injured reserve for knee ailment.

— Michael Gehlken (@GehlkenNFL) December 14, 2018
Bryant, who will turn 27 next week, missed the entire 2016 season following repeated violations of the league's substance abuse policy. It is unclear the nature of the missteps that were determined to have warranted this most recent change in his status.
A request for further comment from the league, namely regarding when Bryant is eligible to apply for reinstatement, was not immediately returned. His contract is due to expire March 13.
In April, the Raiders traded a 2018 third-round pick to the Pittsburgh Steelers for Bryant. The move attracted its share of criticism, given Bryant's previous eligibility issues, the pick premium, and the fact he was entering the final season of his contract. All rookie picks, by comparison, are under team control for at least four years.
Pittsburgh used the selection on Mason Rudolph, its current No. 3 quarterback.
The Raiders deemed the risk worthwhile. Bryant presented a rare combination of size and speed, and as coach Jon Gruden highlighted, any draft selection inherently carries risk, too. But over the coming months, internal concern grew as to whether he'd be eligible for the 2018 season. The club awaited news during training camp. Little word arrived.
Ultimately, Bryant was cut Sept. 1 amid an impending suspension. He was re-signed before the season's second game and was in uniform each week until he sustained knee ligament damage during a Nov. 11 game against the Los Angeles Chargers.
He finished 2018 with 19 receptions for 266 yards and three rushes for 23 yards in eight games.
Last Sunday, when the Raiders recorded the signature win of their season against the Steelers, their week was just beginning.
Team owner Mark Davis fired general manager Reggie McKenzie that evening. The city of Oakland filed a federal antitrust lawsuit Tuesday against the NFL and all 32 of its clubs in protest to the Raiders' approved relocation to Las Vegas. The Raiders rescinded a stadium-lease extension offer for usage of the Oakland-Alameda County Coliseum next year. And, as speculation intensified on their home field in 2019, the NFL announced Wednesday that the 2020 draft will be held in Las Vegas.
A suspension for Bryant loomed for months.
Its announcement Friday was as appropriate a time as any.
More Raiders: Follow at reviewjournal.com/Raiders and @NFLinVegas on Twitter.
Contact reporter Michael Gehlken at mgehlken@reviewjournal.com. Follow @GehlkenNFL on Twitter.