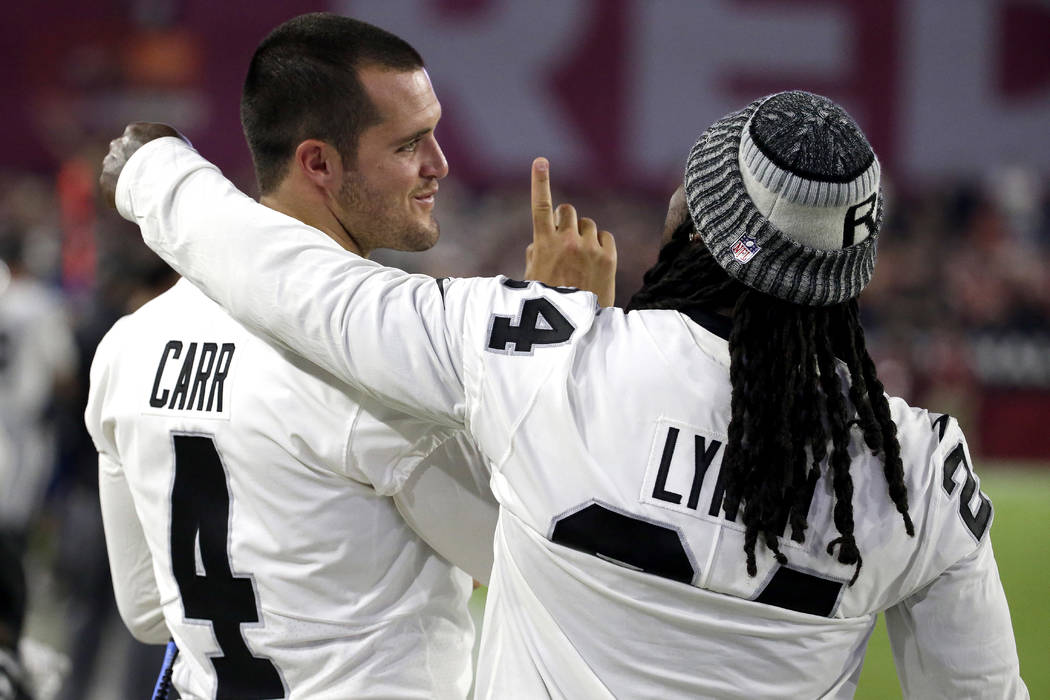 OAKLAND, Calif. — There seems little sense Friday in having Derek Carr face the Detroit Lions.
He already did this week.
In a controlled environment, the Raiders quarterback saw a wide range of work Tuesday and Wednesday during the teams' joint practices. All reps are valuable under coach Jon Gruden's offense.
Not all are necessary.
With a 7:30 p.m. kickoff, the Raiders and Lions will open their exhibition schedule at the Oakland-Alameda County Coliseum. Both teams have core players on their roster. This matchup is about identifying future fixtures.
"You go into the No. 1 preseason game Friday night, and you're not going to play your starters," Gruden said Wednesday. "If you do, you're not going to play them very much, but they got quality reps (in the joint practices). You're seeing Derek Carr versus Matt Stafford, blitz pickup, nine-on-seven, two-minute drill, move the ball, and it's as close to the real deal as you're going to get.
"So you get a lot of work done, and now you taper it off for the first-team guys, and you get a chance to really isolate who you want to see in the preseason game. I think it's going to be real beneficial."
Carr was among the nearly dozen starters held out of last year's exhibition opener.
Here are five things to watch instead.
Sideline procedure
Gruden kept around the league as an ESPN broadcaster. He communicated with myriad coaches, players and personnel executives. He studied film, attended practices and worked games.
This next part is new.
Gruden will return to an NFL sideline for the first time since coaching the Tampa Bay Buccaneers in 2008. Much has changed in the past decade. He knows that. Tasked with calling plays and managing game situations simultaneously, the preseason is very much about him finding a rhythm before the Sept. 10 opener against the Los Angeles Rams.
"I've got some things obviously I've got to work out," Gruden said. "Anticipating situations, communicating with coaches in the press box, the referees on the field, the new rules interpretations. I've got to work myself through calling plays again and managing some tough situations, and I'm anxious to see if I can do it."
A raucous atmosphere is anticipated.
Friday marks Gruden's first time coaching before the Black Hole since Sept. 26, 2004. He last did so as the Raiders' coach on Jan. 12, 2002, in a playoff win over the New York Jets.
Wide receiver battle
The Raiders could have a difficult time keeping fewer than six wide receivers on their 53-man roster.
Amari Cooper, Jordy Nelson and Ryan Switzer look to be locks. Martavis Bryant offers a size-speed combination they don't possess elsewhere. Seth Roberts is fully paid for 2018 and offers versatility. Dwayne Harris and Johnny Holton both are strong special teamers. That's seven.
And then there's Marcell Ateman, a rookie seventh-round pick who seemingly makes a play each practice. Keon Hatcher and Isaac Whitney look to build off their developmental 2017 season as undrafted rookies. This year's undrafted rookie, Saeed Blacknall, has flashed talent, too, as Griff Whalen rounds out the group.
There is no need to see Cooper and Nelson or much of Switzer on Friday. Roberts may not play after missing Wednesday's practice because he is "sore," Gruden said. The Raiders have a good sense of where Bryant's development is.
For the others, it's time to compete.
Offensive tackle
Here's one more reason for Carr not to take the field Friday.
The Raiders are pleased with the development of first-round pick Kolton Miller. Even so, he is a rookie left tackle seeing his first NFL game action. On the other side, Ian Silberman isn't much more experienced. He has played one NFL regular-season game, and that was in 2015 when he saw no offensive snaps against the Minnesota Vikings.
EJ Manuel and Connor Cook can work behind the tackles.
David Sharpe, a 2017 fourth-round pick, and Jylan Ware, a 2017 seventh-rounder, will rotate in. Third-round rookie Brandon Parker was injured during the team's fourth practice and hasn't participated in the seven sessions since. Veteran Breno Giacomini also has missed time and figures to sit.
This amounts to plenty of reps for Miller.
Sharpe and Silberman could be competing for one roster spot between them.
Rookie defenders
It's been a while since the Raiders last had an impactful draft class.
Based on practices, this one could qualify.
Defensive tackle P.J. Hall (second round), defensive end Arden Key (third round) and defensive tackle Maurice Hurst (fifth) all have shown pass-rush ability. Key, in particular, has turned heads in camp. He will take his spin move and bend-the-edge athleticism into a game situation.
Fourth-round cornerback Nick Nelson should see a heavy workload.
Linebacker Jason Cabinda is a sleeper to watch. The undrafted rookie from Penn State will be busy on all special-teams units and has a legitimate shot at making the roster.
Before the game
Gruden is all football.
From that standpoint, this fifth item should be about the competition at cornerback. Or kicker. Or backup quarterback between Cook and Manuel. Or how undrafted rookie Chris Warren, a head-turner in Napa, fares.
But the NFL isn't all football.
Part of a head coach's duties is managing situations that don't exist on practice or game film. That includes sideline protests during the national anthem. And so, right or wrong, there will be attention on how the Raiders handle this in 2018 under Gruden.
Running back Marshawn Lynch sat during the anthem before all 19 games for which he was uniform in 2017, including the preseason.
More Raiders: Follow all of our Raiders coverage online at reviewjournal.com/Raiders and @NFLinVegas on Twitter.
Contact reporter Michael Gehlken at mgehlken@reviewjournal.com. Follow @GehlkenNFL on Twitter.