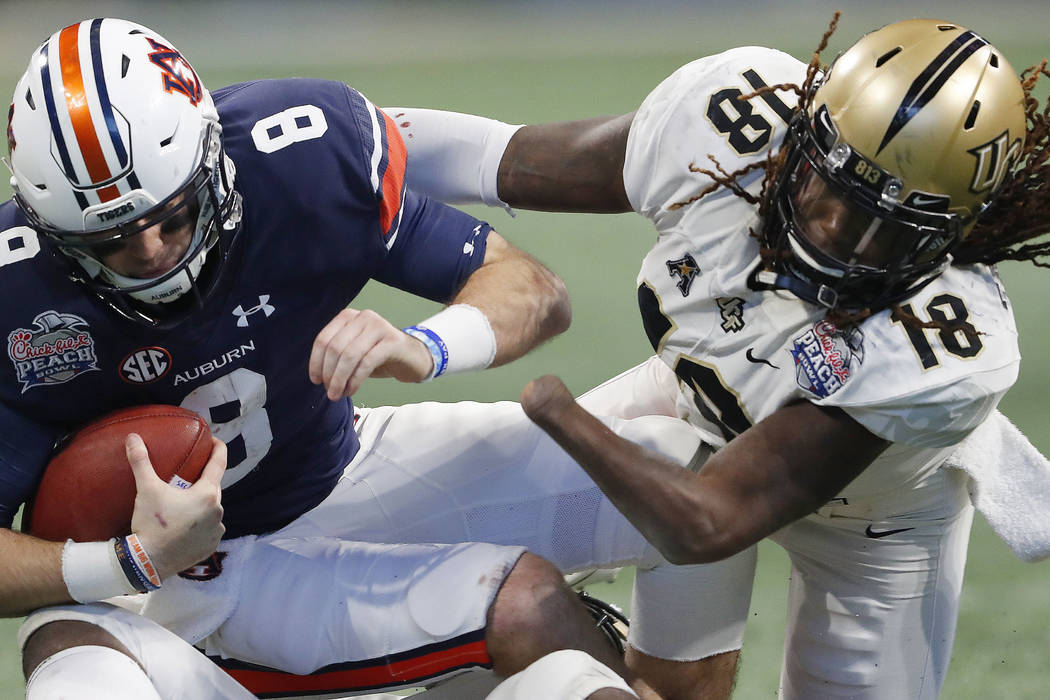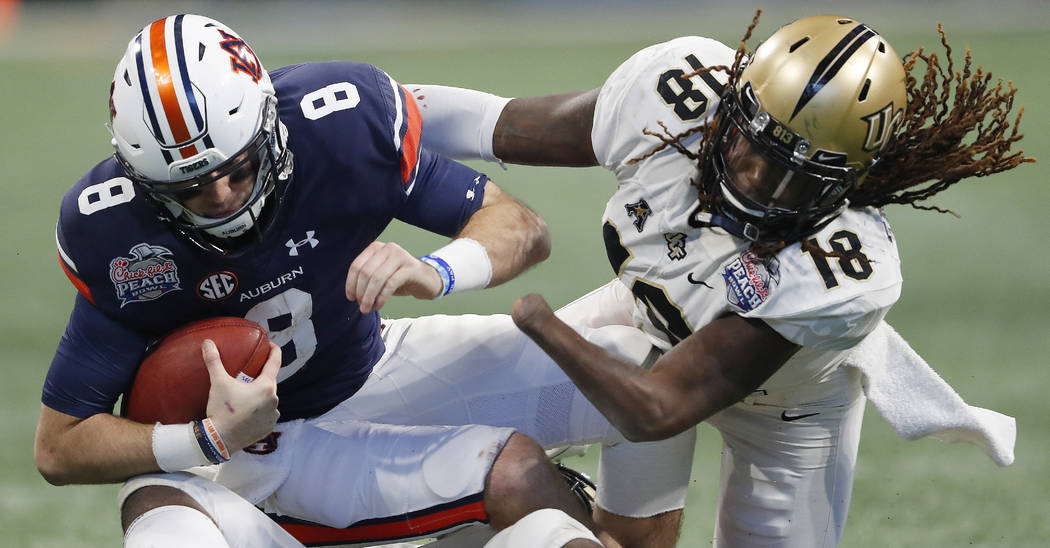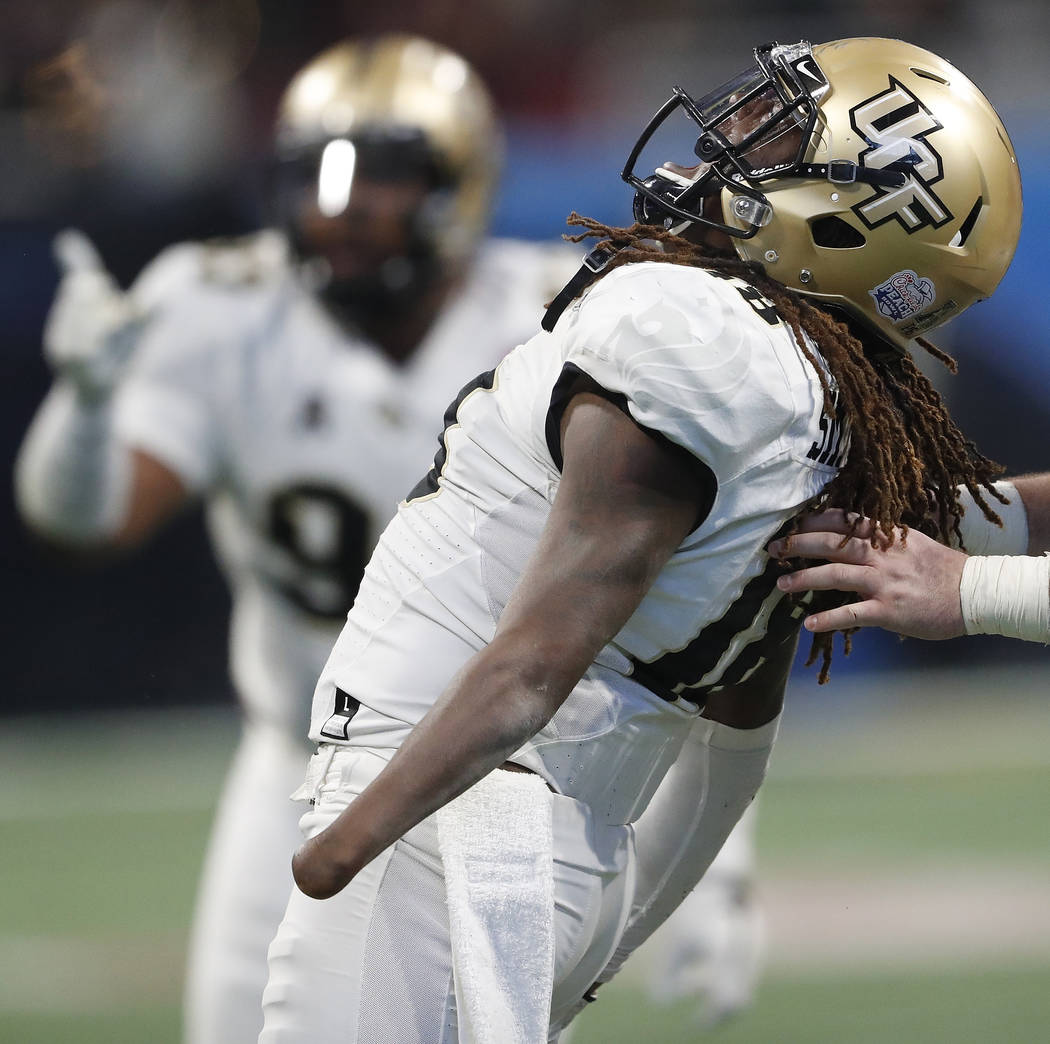 MOBILE, Ala. — Shaquem Griffin was 7 when a youth football coach sized up his future.
The Florida man saw a child unlike any NFL player he'd seen. Griffin's left hand was amputated at age 4, the procedure performed in response to amniotic band constriction, a broad-ranging congenital condition that can limit limb development, among other potential implications.
"He said, 'Football is for two-handed players,' " Griffin said. "Looking into the rule books, I've never seen a rule that only two-handed players can play football."
Soon, Griffin will wear an NFL uniform.
The former Central Florida linebacker practiced at defensive end, linebacker and safety during a Wednesday practice leading up to the Senior Bowl on Saturday. This week represents an important showcase for Griffin. So might the NFL scouting combine in early March, but he has yet to receive an invitation.
The combine is reserved for the top 300-plus draft-eligible prospects. Here in Mobile, Griffin looks the part.
San Francisco 49ers general manager John Lynch said Wednesday he would "love to" see Griffin there.
"I think he's earned it," Lynch said. "Hopefully that happens. … You talk to the people at UCF, and they talk about a program changer, a guy who's obviously inspiring but not just inspiring. He was a big-time contributor. If you keep checking the boxes, and this is another box for him, I think he's accounted for himself quite well."
The Raiders interviewed the versatile athlete Monday evening, Griffin said. He's met with several other teams, too.
In such meetings, he often cites the story involving the Florida youth coach. That anecdote is designed to help depict not only how he has faced adversity throughout his life. He's overcome it. In the game after that coach's comment, Griffin said, he recorded his first Little League interception and also blocked as a right tackle on a teammate's long touchdown run.
He hasn't spoken to the coach since.
"I didn't know him then, and I don't know him now," he said Wednesday.
Griffin has a twin brother, Shaquill, who just completed his rookie season as a Seattle Seahawks cornerback and third-round draft pick. The two are extremely close. They've spoken four times a day this week, Griffin said. They attended UCF together after Shaquill insisted to college recruiters that any school who offered him a scholarship must offer Shaquem one, too.
UCF benefited from the package deal.
The Knights finished 13-0 in 2017, capping their season with a 34-27 win over Auburn in the Peach Bowl. Griffin helped lead the way as a second-team All-American via the American Football Coaches Association. He was credited with a season-high 12 tackles and 1½ sacks, and was named the game's defensive MVP.
He began seeing significant playing time in 2016 as a redshirt junior.
In his final two seasons, he recorded 154 tackles, 30 tackles for a loss, 12 passes defensed, two interceptions, four forced fumbles and four fumble recoveries. Last season, he scooped a fumble versus Austin Peay with his right hand, controlled it with his left wrist and then cradled it with his right hand for a 20-yard touchdown.
"I never was a person who let people get down on me," Griffin said. "I never was a person who let people who have their ideas and their expectations of me dictate who I became. That's really how I live life, to be honest. I can't let anybody tell me what I'm going to be. I can't let anybody tell me what I'm not going to do. And that goes for everybody.
"No matter if you have one hand or two hands, when someone tells you you can't do something, the only thing you can do is just prove them wrong, no matter what it is, no matter how hard it is."
That coach was right: No one in the NFL looks like Griffin.
Yet.
Contact reporter Michael Gehlken at mgehlken@reviewjournal.com. Follow @GehlkenNFL on Twitter.
Senior Bowl
Who: North vs. South
When: 11:30 a.m. Saturday
Where: Ladd-Peebles Stadium, Mobile, Ala.
TV: NFL Network