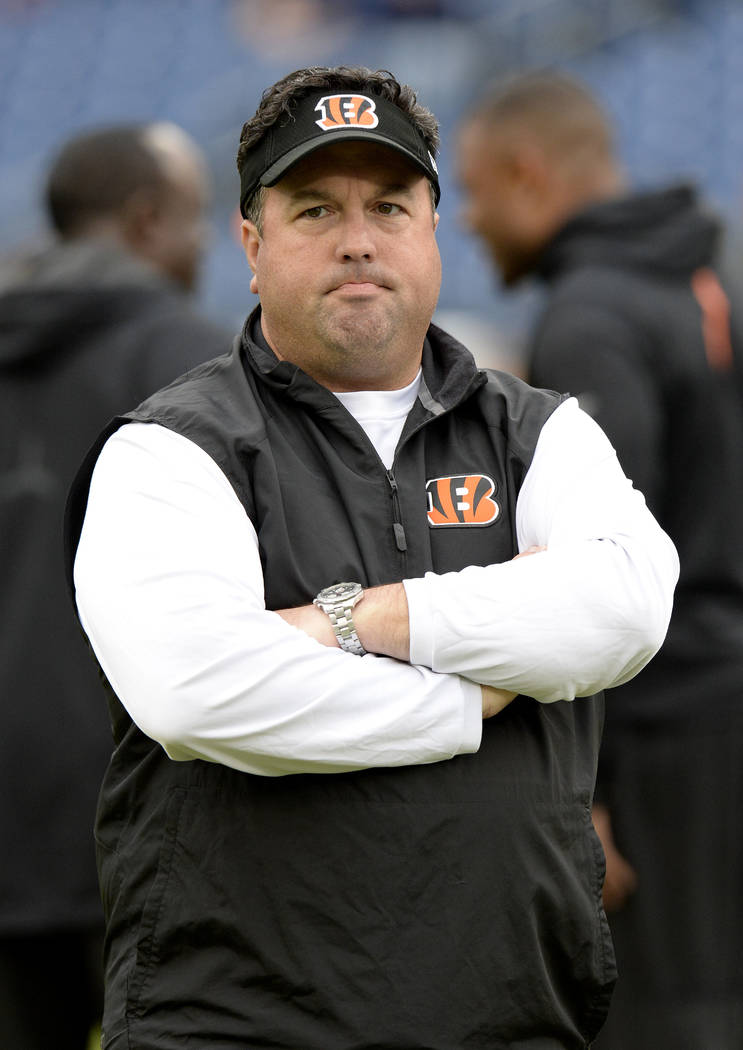 OAKLAND, Calif. — Paul Guenther was due to join a Gruden-led coaching staff.
It was just a matter of which sibling.
Last January, the Washington Redskins sought to make a hiring at defensive coordinator. Jay Gruden, their coach, and the Redskins organization reached out to the Cincinnati Bengals, submitting a request to interview Guenther, who was the Bengals' defensive coordinator at the time.
Guenther, still under contract, was not made unavailable to Jay.
Jon had better timing.
Guenther's deal with Cincinnati expired this month. On Wednesday, he spoke to reporters for the first time since joining the staff of Jon Gruden, new Raiders coach and older brother of his close friend Jay. Guenther spoke highly of the Raiders' young talent during a conference call, his praise including their top draft picks from 2017 who spent the bulk of last season sidelined largely to injury.
Guenther, 46, worked with the Bengals from 2005 to 2017.
Jay Gruden was their offensive coordinator from 2011 to 2013.
"Jay and I are real close. Very close," Guenther said. "We do a lot of stuff in the offseason. (Gruden's wife) and my wife, they're best friends. Jay and I have been best friends for a long time. Obviously, he tried to get me last year to come to Washington, but I had another year under my contract, and the Bengals didn't allow me to do that. Good friend. Good football coach. Great offensive mind. He's going to get things turned around in Washington."
This January, Guenther couldn't be kept in Ohio a second time.
That was despite the apparent efforts from the Bengals again.
"I do want to say that Cincinnati made a strong push to keep me there," said Guenther, who joined the Raiders on a four-year contract. "But the opportunity to come out here with Jon and start this thing from the ground up was way too intriguing. I just looked at it like an opportunity that I couldn't refuse."
Last April, the Raiders drafted cornerback Gareon Conley in the first round out of Ohio State and safety Obi Melifonwu in the second round from Connecticut.
Conley missed all of training camp to a shin injury, the entire preseason and the season opener before, following a two-game debut, it was determined he could not continue. He ultimately was shut down for November surgery.
Conley played 92 defensive snaps in 2017. Melifonwu managed 34; he missed the first eight games to arthroscopic knee surgery and the final three to hip surgery.
"I really like both of them," Guenther said. "(The Bengals) are not too far from Ohio State, so we drove up there. They had plenty of guys coming out. Actually, (Conley) was probably my favorite corner coming out last year. We didn't take one last year because we took one the year before, but he was my favorite corner coming out. Just his ability. He's smooth in the pedal. He's a good press corner, which we love to have. So I'm excited to work with him.
"Obi is a big guy that, when you turn on the tape, you're like, 'Who is this son of a gun?' He's playing half the field. He's down in the box, playing the run. We just need to get these guys on the grass, keep them healthy and teach them the system. … I'm going to tell the trainer to turn the temperature down to about 60 degrees in the trainer room this year so we keep them guys out of there."
Guenther spent the past four years as the Bengals' defensive coordinator.
He will call defensive plays in 2018, a role that Ken Norton Jr. handled the first 10 games last season before being fired.
More Raiders: Follow all of our Raiders coverage online at reviewjournal.com/Raiders and @NFLinVegas on Twitter.
Contact reporter Michael Gehlken at mgehlken@reviewjournal.com. Follow @GehlkenNFL on Twitter.