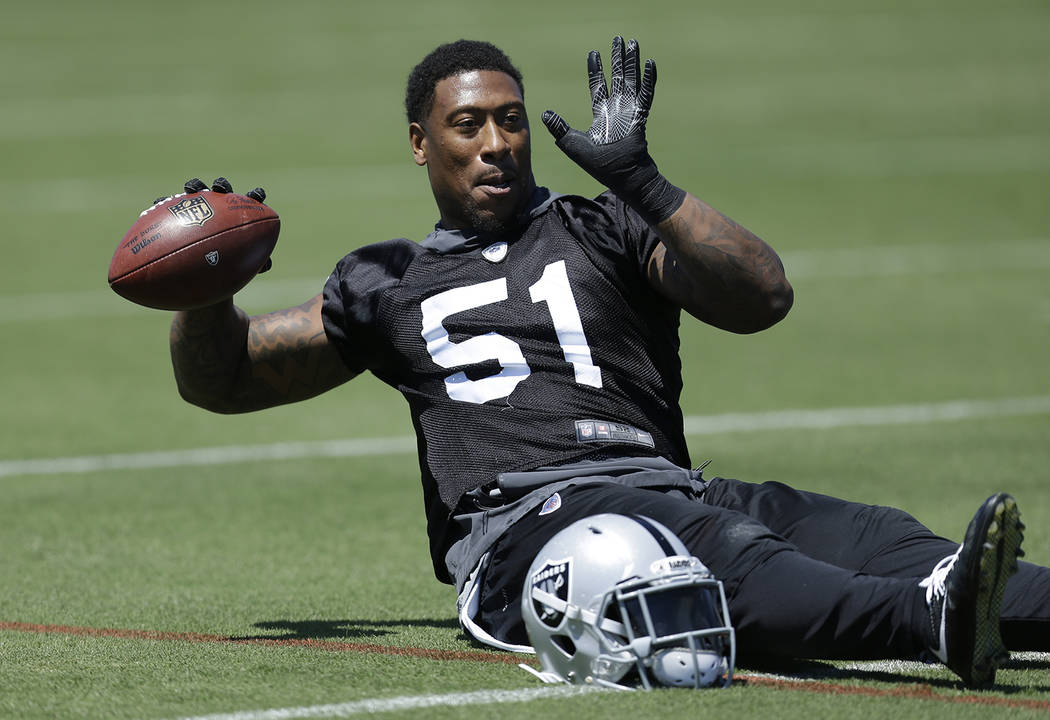 ALAMEDA, Calif. — It's no secret around the Raiders' building.
Bruce Irvin is not happy.
The outside linebacker published a one-word tweet Tuesday after news of defensive coordinator Ken Norton Jr.'s firing circulated. That word, an expletive, was in all capital letters. Teammates since have acknowledged their close ties. One described Norton, who's coached Irvin for a combined five-plus seasons on two teams, as "like a father" to him.
Before resuming practice this week, Irvin took an extra day to cool off.
He and defensive end Khalil Mack were on the practice field Wednesday before separately leaving early in the afternoon session. They officially appear on the injury report as missing practice for reasons that are "not injury related." A club spokesman followed up that classification via a group text message to reporters, saying they were given a "rest-type day."
The team official likened the treatment to what cornerback Charles Woodson received; he regularly was cleared to miss Wednesdays. Perhaps in this instance, it was a mental rest more than a physical one.
Irvin previously hadn't missed a practice this season. Mack had missed just one on Sept. 6, the Wednesday before the Raiders' Sept. 10 season opener against the Tenneseee Titans.
Irvin and Mack are expected to resume practice Thursday.
Norton worked as the Seattle Seahawks' linebackers coach from 2010 to 2014. Irvin arrived in 2012 as a first-round draft pick. He then followed Norton to Oakland in 2016, one year after Norton became the Raiders' defensive coordinator.
Earlier on Wednesday, coach Jack Del Rio addressed in a news conference Irvin's public response to the firing.
"I think the biggest thing is to understand the relationship, respect that, give him a little space and then at the end of the day, we're going to get on with our work," Del Rio said. 'But I'm human. It wasn't easy for me, either."
John Pagano, assistant head coach/defense, will handle play-calling duties. This arrangement will continue beyond the 2017 season, Del Rio said.
Concussed after all
Johnny Holton was evaluated for a concussion during the first half of Sunday's 33-8 loss to the New England Patriots. After an independent neurologist administered a diagnostic examination, he returned to play.
But it appears he did suffer a concussion Sunday.
The wide receiver missed Wednesday's practice and is in concussion protocol. He exited Sunday in the first quarter after the back of his head slammed into the turf at Estadio Azteca in Mexico City. A deep pass bounced off his shoulder pad on the play, resulting in an interception.
Holton declined a postgame interview request, saying he had a concussion. No such word from the Raiders arrived until Wednesday's injury report. It is unclear when he was officially diagnosed.
Cornerback David Amerson (foot) and right guard Gabe Jackson (ankle) joined Irvin, Mack and Holton as having not practiced. Right tackle Marshall Newhouse (hip/quad) and linebacker Cory James (knee) participated in a limited fashion.
Contact reporter Michael Gehlken at mgehlken@reviewjournal.com. Follow @GehlkenNFL on Twitter.