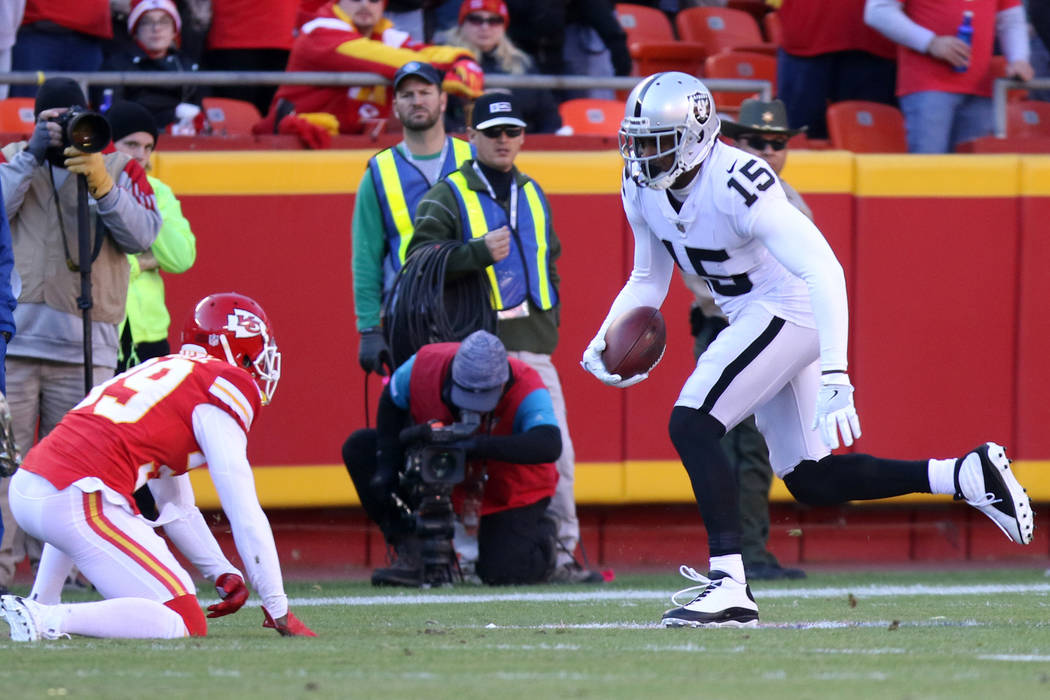 GRADING THE RAIDERS
How the Raiders performed in a 26-15 loss Sunday to the Kansas City Chiefs:
Offense: D-
It was 26-0 before the Raiders got on the board in the fourth quarter, which is all one needs to know. Oakland managed only 268 yards against a Kansas City defense made of Swiss cheese. Last season, Derek Carr directed the Raiders to seven come-from-behind wins in the fourth quarter and overtime, but only once has he done it this year. Carr failed to get the ball to receivers when they were open down field, a liability when facing a big deficit and only 11 rushing plays are attempted.
Defense: D+
The Raiders yielded 408 yards to the Chiefs and on-again, off-again Alex Smith, who was mostly on again (20 for 34 passing, 268 yards). The reason the defense gets a plus instead of a minus is that it held Kansas City to field goals three times when the Chiefs appeared headed for touchdowns. Or maybe that was just Smith being off again, or Travis Kelce (seven receptions, 74 yards) dropping a short pass that should have resulted in six. The Raiders did manage their second interception of the year (by safety Karl Johnson), but that was like receiving the home game of "Concentration" as a lovely parting gift.
Special teams: C
Other than recovering an on-side kick when the game was out of reach, nothing much to speak of here. Marcus King was on the field a lot during the first three quarters, punting seven times for a 35.6 net average with only one long one, for 53 yards. Oakland did not have a kickoff or punt return.
Coaching: D
If the Raiders didn't come out flat for their biggest game of the year, it would be easy to say they did based on the score at halftime (16-0). There was little creativity in the play-calling, but when the other side has the ball for much of the time, it's difficult to be creative. Or even mundane. When the Raiders possessed the ball after the sun went down, they mostly leaned on short passes than ones down the field. "Trying to go down and score," coach Jack Del Rio said when asked what the Raiders were trying to accomplish, which may nor may not have been a wisecrack.
Ron Kantowski Las Vegas Review-Journal